This is a simple guide to getting your new Ubuntu 20.04 LTS operating system up and running correctly, you can take it as a set of recommendations for getting started and avoiding future problems.
Before we start, I would just like to point out that Ubuntu, and for its simplicity, it has become the number 1 alternative to Windows 10 and even to Windows 11 before Linux Manjaro Where Linux Mint. It is a perfect linux distribution for everyday use whether on desktop or laptop.
After installing Ubuntu 20.04 LTS on your computer, whether it is a normal installation with all the necessary applications (Office, web browsers, etc.) or a minimal installation without any installation of additional applications, you must go through the configuration of your environment and its security, this is normally done automatically or via the installation wizard (I am talking for example of the configuration of the Ubuntu clock, the creation of a user account / System administrator, etc. ).
What to do after installing Ubuntu 20.04 LTS?
1. Connect accounts online
Then and once your first session has started, first of all remember to link all your cloud and social network accounts with your operating system such as the Ubuntu Single Sign-On account, Microsoft, Google, Nextcloud and so on. The office environment Gnome offers you to add the online accounts of these suppliers and solutions automatically in the window of Welcome to Ubuntu which opens when you open your first user session.
2. Configure Livepatch
the Livepatch or in French the live patch allows you to install the security updates which concern the kernel of your Ubuntu 20.04 LTS operating system and apply them without having to restart your computer. To be able to take advantage of this feature, you must have linked your account Ubuntu Single Sign-On to your system as I have already explained to you at step 1 and have an LTS version of Ubuntu.
This feature is normally dedicated to servers and business operating systems but it also works on Ubuntu 20.04 LTS.
To activate it, just search Livepatch in Applications and run it to be able to configure it via the graphical configuration interface.
3. Save disk space by enabling automatic deletion of recycle bin and temporary files.
Emptying and deleting the recycle bin and temporary files allows you to save storage space on your hard drive easily, and moreover you must do periodic cleaning to keep the stability and organization of your operating system. Don't panic, you're not going to be doing this manually every two or three days! Note that it is possible to configure the automatic deletion of the recycle bin and temporary files:
+ Open Overview of Activities (In the bar at the top of your screen) or just click on the Super key on your keyboard (⌘ or Windows logo) then search for: File history and recycle bin.
+ Click on File history and recycle bin to get there.
+ On the right in the window that opens, activate the two options: Automatically delete the contents of the recycle bin and Automatically delete temporary files.
+ And finally determine a period to schedule this operation (one hour, one day, each beginning of the month, etc.)
The picture :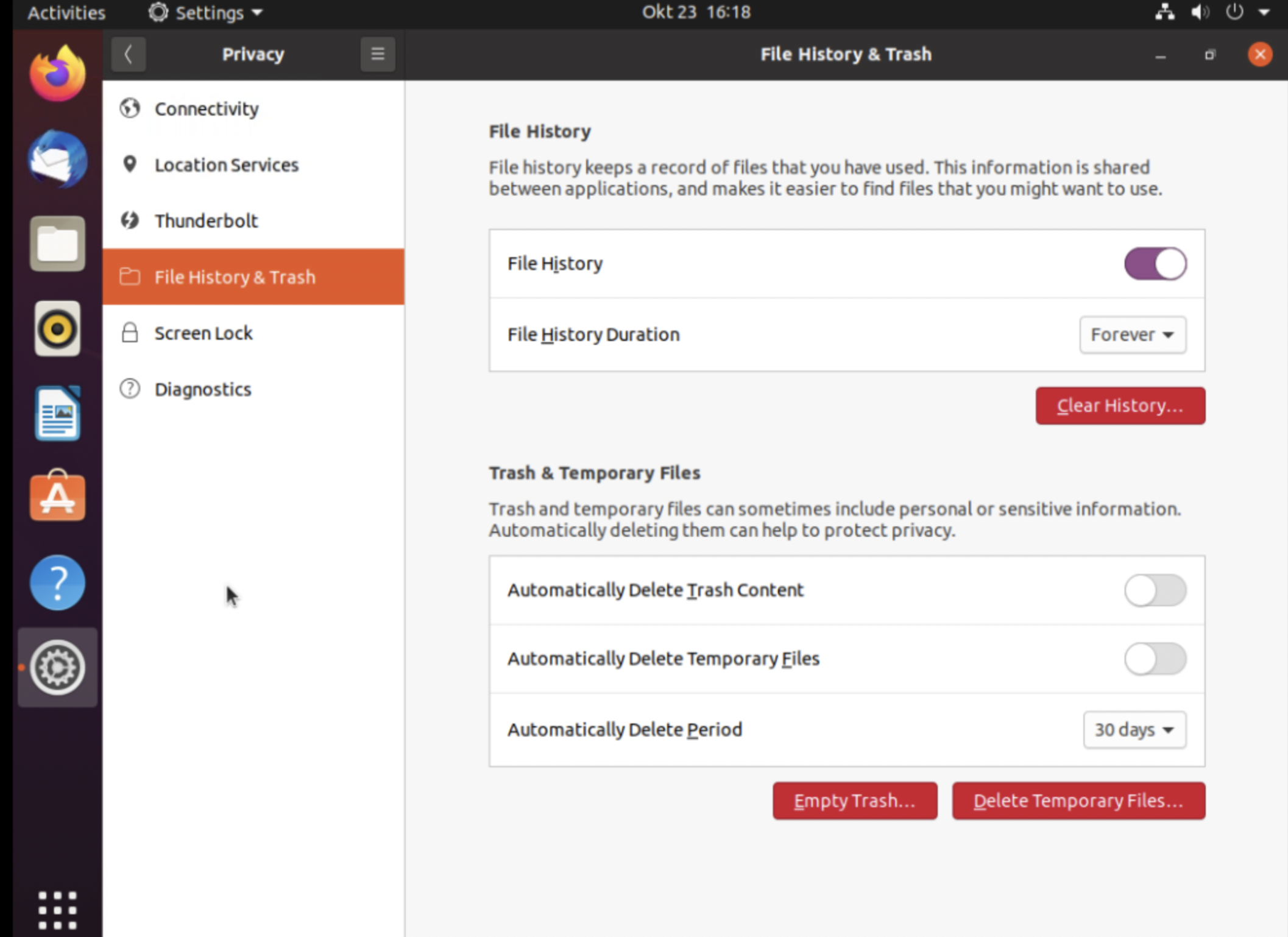 If not use an application like Bleachbit, Stacer or Sweeper to manage and clean your system manually.
4. Install the Java environment on Ubuntu 20.04 LTS
Java and the Java Virtual Machine (JVM) are required for the operation of several types of software and applications including Tomcat, Jetty, Glassfish, Cassandra, and Jenkins. Here we show you how to install the version of Java that comes with Ubuntu. This is OpenJDK 11, an open source variant of JRE and JDK:
+ First type the following command to update the package index:
sudo apt update
+ Then check if java is already installed on your operating system by typing this command:
java --version
If it is not installed, you will receive a message such as: Command 'java' not found, but can be installed with…
+ Type the following command to install it:
sudo apt install default-jre
This command will install the JRE from OpenJDK 11
+ And finally, you might need the JDK, the Java kit that allows you to compile and run some Java based software, so type this command:
sudo apt install default-jdk
You now have the JRE and JDK installed on your Ubuntu.
5. Install Gnome-sushi
If you are about to use your new Ubuntu 20.04 system in office automation Gnome-Sushi allows you to instantly preview all types of files, images, read multimedia files, scroll through PDF and LibreOffice documents, obtain file size information, etc. and to fly over them quickly without the need to launch a dedicated application each time. Very handy as a feature and macOS users know very well what I'm talking about.
Gnome-sushi is a free and open source package. You can install it on your operating system from the Ubuntu Software center. Just search for the word "sushi" then click on install GNOME Sushi on Ubuntu. That's all !
6. Install essential applications for Ubuntu users
Finally, it remains for me to offer you some useful and essential applications for you to take full advantage of this magnificent operating system, I will only give you the names and it's up to you to find and install them, it's simple thanks to the software library Ubuntu Software.
+ Google's web browser, Google chrome
+ The multimedia player Lollypop Music Player
+ Gimp, an alternative to Photoshop to edit images and photos.
+ Kdenlive Video Editor
+ Telegram Desktop : the social network and the instant messaging service but for the office
+ VLC media player
+ VSCode : another code editor for developers and programmers like Gedit, Atom, Sublime Text and Notepad ++
– Our Best VPN in 2021 –