Difficult today to navigate between the multiple screen technologies. Whether OLED, Micro-LED or Mini-LED, these new technologies add up, and choosing a television can now be more complex than expected. We help you differentiate between these three technologies.
Our TV screens have evolved over time. If TN and LCD screens are gradually tending to disappear, other technologies are arriving and / or democratizing, like OLED, Micro-LED, or Mini-LED. We differentiate between these last three. And if you would rather go directly to the purchase, here is our file: best OLED, QLED and LED TVs: our 2021 buying guide.
OLED screens
OLED screens (for Organic Light-Emitting Diode) incorporate diodes capable of producing light from an organic substance which lights up when an electric current passes through it. Each pixel of an OLED display has 4 sub-pixels (one Red, one Green, one Blue, and one White) which all materialize as an OLED that emits its own light. By means of a transistor film, which passes the electric current to turn the sub-pixel assembly on and off, covers both sides of the panel. A system that does not require any backlighting to operate.
In fact, OLED screens offer more contrasting images, more responsive screens, less thick, higher brightness, a more panoramic vision, too. On the other hand, it is a technology that is still quite expensive today, and OLED screens are still offered at relatively high prices today. The LG A1 range, however, promises to lower prices from 2021.
See on the same subject: Samsung: OLED screens arrive on laptops, with their share of benefits
Warning: even if it is to be mistaken, the OLED screen technology has no connection with the QLED technology. This is a Samsung technology which only concerns certain models of the brand. They are equipped with an LED backlighting system associated with a quantum dot filter (Quantum Dot in English), interposed between the backlight and the LCD panel. While they often offer better value for money than OLED, they are not similar in design.
Micro-LED screens
Micro-LED technology is emerging. Micro-LED tiles are made up of microscopic LED arrays forming a set of individual pixels. Compared to LCD technology for example, which is much more widespread, micro-LED screens offer much better contrast, a faster response time (for video games) and better energy efficiency.
See as well : The Mandalorian: giant screens soon to be released by Sony
On the other hand, micro-LED screens are more intended for devices with low energy consumption, such as connected watches or smartphones. OLED and micro-LED both offer significantly reduced power requirements compared to conventional LCD systems, while providing an infinite contrast ratio. However, their price remains considerably high, and their availability on the market is almost non-existent.
Mini-LED screens
Neo QLED, LG QNED, TCL C825 and TCL X925 Pro… miniLED or Mini-LED screens are increasingly appearing on the market. In themselves, they are very similar in design to Samsung's QLED screens, since they use an LCD matrix to filter the backlight and they are also equipped with quantum well filters.
See also: iPad Pro: mini-LED screen in 2021, then OLED in 2022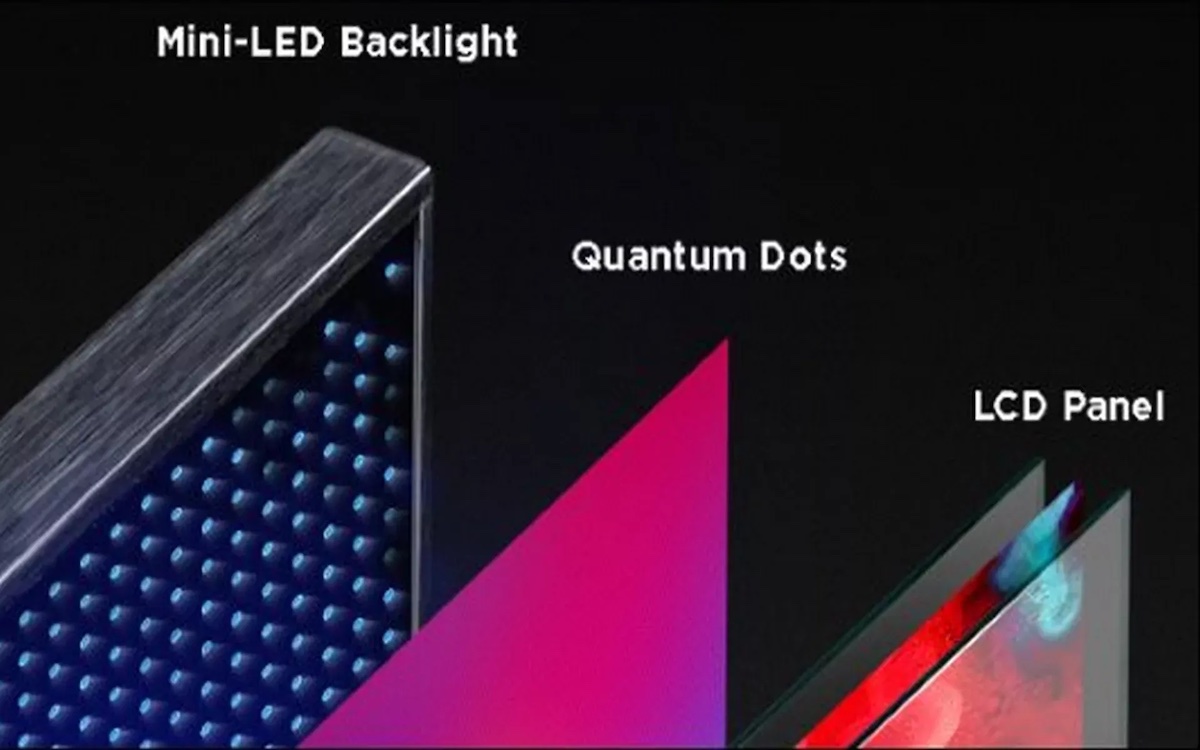 The only difference being the tiny size of the LEDs (less than 0.2mm in diameter), which allows as many as possible to be accommodated under the panel. In reality, it is thus a new backlighting system, relatively close to the LCD, but offering more contrast. Slabs are also simpler and less expensive to produce than OLED, and much less than Micro-LED.
What to choose between an OLED, Micro-LED or Mini-LED screen?
While our advice will always be to see the screens for yourself, in order to make up your own mind, the display technology you choose will of course depend on the price, screen size, brightness and temperature. the overall quality of the image.
If budget is (really) not a concern for you, Micro-LED displays will soon be the choice. They offer all the benefits of OLED, in addition to a brighter display and better sensitivity to screen burns. However, they have barely arrived on the market: the first Micro-LED television is called The Wall, marketed by Samsung. In 146 inches, the price is estimated at 331,000 euros. Other televisions will arrive during the year, and years to come.
As for mini-LED technology, it offers a competitive alternative to OLED, especially when price becomes the main determining factor in the purchase. Since each pixel does not create its own light, the blacks and contrast are not quite up to the OLED, but on the other hand they are significantly better than a traditional LED panel. Prices are still high, and the market is not yet inundated.
On the other hand, OLED becomes, over time, the most logical choice (among these three technologies). Each pixel in an OLED screen can generate its own light, which means deeper blacks, sharper contrast, and no "halo" effect as seen on some LED TVs. While the technology is still expensive at the start of 2021, prices continue to fall.