Several navigation apps offer the GPS option without internet, whether you are on Android or iOS. This feature is very useful in several cases, such as in areas where networks are unstable or when traveling abroad, in a country covered or not by roaming. Here are the best choices available.
The GPS and the navigation apps have totally changed the way we travel nowadays. We now have access to highly detailed navigation, full traffic updates, the best route to a destination, nearby hotels and many other types of handy traffic information, all in the palm of our hand. .
However, almost all of these applications require internet connection to offer their services. And unfortunately, the Internet is a luxury that is not available everywhere. If you want to be guided in an area without an internet connection or if you have a limited data plan, you need to get a GPS app that supports offline navigation.
And today we will introduce you the best offline GPS apps, for Android and iOS platforms. These will probably be of great help to you when your internet connection decides to let you down at the worst possible time.
Top 5 GPS applications that can be used offline
It's not the diversity of choices that is lacking when you think of GPS applications. Everyone has their preferences. Some will choose Waze for its alerts or modes perfectly suited to motorcyclists. Others will prefer Maps, which now shows the best route to save fuel.
But which ones allow us to use them without an Internet connection? The answer below.
1. Google Maps
Offline mode has been part of the functionality of Google maps. Everything is therefore available to the user. If the app is the one you prefer, you have the option of downloading the map of the areas you want and even making short trips around your home without 4G. However, it is impossible to download all of France at once in case you are tempted.
If the territory to be delimited is really large, you can split the records into several zones. Each of them cannot exceed more than 1.5 GB. To get an idea of ​​the proportions, the whole of Paris weighs around 250 MB. If you have never used this feature, see our article on how to use google maps offline.
Here's how to upload an offline area or city to Google Maps:
Type the name of the city or area you want to download
Slide "Directions" "Save" "Label" to the left to bring up the "Share" and "Download" options if you don't see them.
Select To download.
Establish the area you want to download.
Confirm by pressing again To download.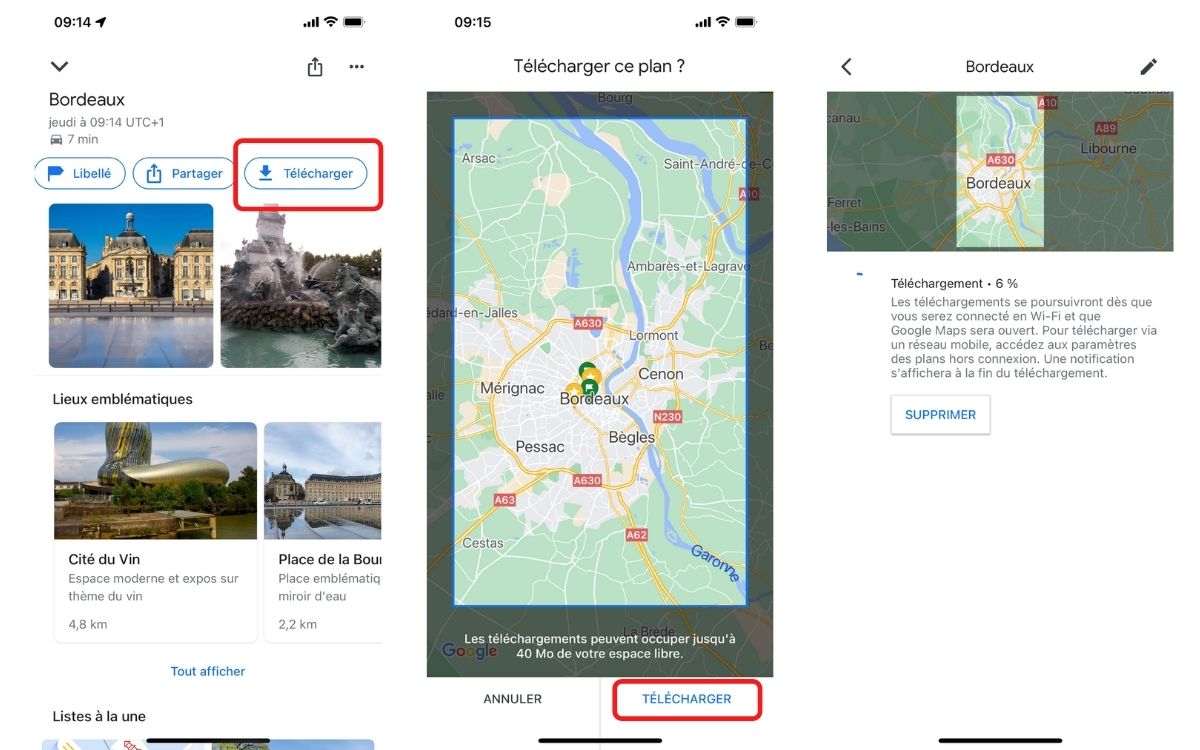 2. Sygic GPS Navigation & Maps
Synagic uses TomTom's offline 3D maps that you can download locally to your device. There is therefore no need to worry about the quality of the cards. It is one of the most downloaded apps of its kind on the Play Store, although it does come with a fee. It is aimed at both driving professionals and individuals and even offers a pedestrian mode, with tourist attractions.
You can download and try it for free for 7 days. Then the perpetual license costs € 19.99. At € 24.99, you can also benefit from real-time traffic information which requires an internet connection. Available on Android and iOS.
3. MapFactor GPS
MapFactor is a free application and can be used completely offline. This is therefore the purpose of this basic application. So don't install it if you want to have a ready-made map of the entire planet that can be explored with the Internet.
You will understand, you must first download all the areas to explore. A map update is available for download every month. MapFactor is based on OpenStreetMap free maps known for their very comprehensive databases.
4. Maps.me
Maps.me app claims over 65 million users worldwide. If it is not as high quality as the behemoths on the market, it offers good quality offline maps and a clean and precise interface.
Formerly paid, the application is now free and also offers a GPS navigation feature without an Internet connection. Available on Android and iOS.
5. HERE WeGo
Originally developed by Nokia and launched on Windows Phone, the HERE navigation application now has several years of experience to its credit. Available on both Android and iOS, its interface is simple and elegant. You can download maps for offline Internet use, enjoy real-time traffic data, as well as information on the road network of dozens of countries.
That's it, that's all for our non-exhaustive selection of best offline GPS apps. Of course, there are plenty of other apps: it's up to you to choose the one that suits you best. But there is no doubt that any of the above apps will suit your needs. And if you already use others, feel free to share them in the comments.