Board Klaxoon is a continuation ofcollaborative tools to facilitate teamwork and teleworking and to manage online meetings in a more interactive way. Even better than the other 100% videoconferencing and meeting solutions that we have dealt with before on this site.
You already know Zoom and its features and how to install it on Windows, Mac OS and Linux, you also know Microsoft Teams and you may have to use at least one of these two solutions while home confinement in your company meetings if you are professional, or as a student or college student to attend distance classes from your class or all simply between family to see your loved ones without going to the visited ones.
But today's tool that we are about to discover gives you more control and functionality. Not just for a simple videoconference or an audio or text message, but everything you need to work in a group without leaving your post. Quiz to deploy during a meeting, surveys, questions, challenges, brainstorming, all to exchange ideas and have immediate and real-time feedback from participants, which makes a meeting interactive between employees very effective.
Klaxoon is first of all a French startup (we have something to be proud of;)) created and officially launched at the end of 2014 (Source: Wikipedia) and was known by its famous case Klaxoon Box dedicated to meetings within companies in order to better and better organize work sessions in complete autonomy and in a completely secure working environment and without worrying about the internet connection (The box generates its own Wi-Fi connection locally ).
This concerns the case, but today the company offers other products in addition around the same theme: Collaborative work like for example his MeetingBoard. And its flagship product subject of our article is Board, in French Board or dashboard since it is a place, a digital space to manage all the collaborative work with several tools and functionalities.
Board Klaxoon: the dashboard
Board Where board hybrid therefore allows you to centralize all documents, files and tools in one place, to use or share them visually in a synchronized manner in real time with your collaborators who are either in the same room or remotely on the move or teleworking during the meeting. Which really helps them focus on the meeting agenda and its goals.
Among the types of content and files that you can organize and visually share with all participants in your digital workspace board are text files, links to websites, images and photos, sketches, Excel files. , power point presentations, etc. You will also find a comprehensive toolbar that will help you create and share your ideas, thoughts and notes with others.
For videoconferences and if necessary, Klaxoon integrates a feature called Live and which supports up to 50 people at the base and 250 people as an option. Thanks to this integrated videoconferencing feature, you will be able to even share your screen with your colleagues.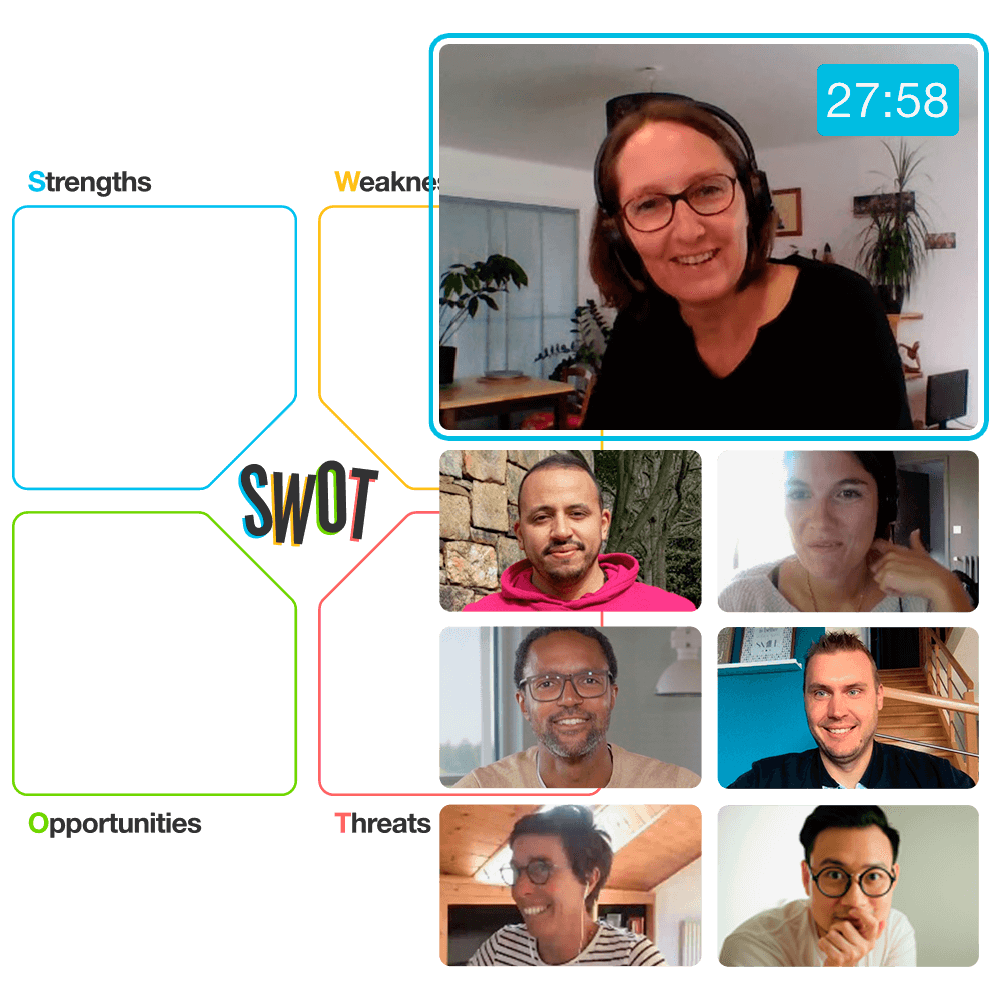 Regarding the availability of Board Klaxoon, it exists as a mobile application for Android and iOS to allow you to access and interact from a tablet or smartphone in addition to your computer.
And finally, the 3 strong points not to be overlooked here are its accessibility directly from Microsoft Teams, its Dropbox integration to easily access files, images and documents stored in the cloud and finally the integration of Jira, a tool for support and incident management.
For the price, you can use it in a free version but with limitations or in a paid version via an annual subscription that starts with € 9.90 and which varies according to the features and tools offered.
– Our Best VPN in 2021 –