We have already published an article around the mechanics and how to fix a car like a professional mechanic thanks to the site Carcare kiosk. But to be a good mechanic, you also need to know how to buy the auto parts needed for such an intervention at low prices.
There are several auto parts websites, the principle of which is very simple, you enter the registration number of your vehicle, validate the model, the year and its basic characteristics (Petrol, Diesel or Hybrid) and the site goes you take out all the parts compatible with your vehicle. With this kind of site, you no longer have to worry about the compatibility of the parts or the delivery and without the help of a salesman – commercial or mechanic who runs behind his commissions by selling you parts without checking this compatibility. .
And to be sure of the compatibility of a spare part, most of these websites use certain part numbers to identify and verify this. For example, the use of the manufacturer's reference (OEM number) of the part; the vehicle organization number (for Citroën and Peugeot cars) and the PR code or number for Volkswagen group cars: Volkswagen, Audi, Seat and Skoda.
AUTODOC: a website for auto parts
Among all the panoply of the sites which exist, I selected only one and which satisfies me fully and personally for the moment and I will explain to you why. This is AUTODOC.
Auto-doc.fr and compared to its competitors I find that in terms of parts and parts in stock, there is a wider choice of parts that you cannot find in others (The company has 40,000 m² of warehouse where are stocked nearly 2,500,000 items and around 1,210 references from 64 brands of spare parts.), this is a first positive point, and the even more positive point is that it is less expensive compared to the competition with generally promotions ranging from 20% to 30% and regularly on their site and their application for iOS and Android and this every week or even almost every day.
So do your calculations and compare its prices with other auto parts sites, taking into account what it offers you with its bonus system as part of building customer loyalty and which will allow you to save a few euros on your next orders.
AUTODOC is also an Android and iOS application for auto parts
On the same principle of the Auto-doc.fr site, that is to say the entry of a registration number to find the compatible parts and adapted to your car, the AUTODOC application for Android smartphones and for iOS (iPhone and iPad) is very practical in use especially if you are on the move or in front of a garage with our broken down vehicle!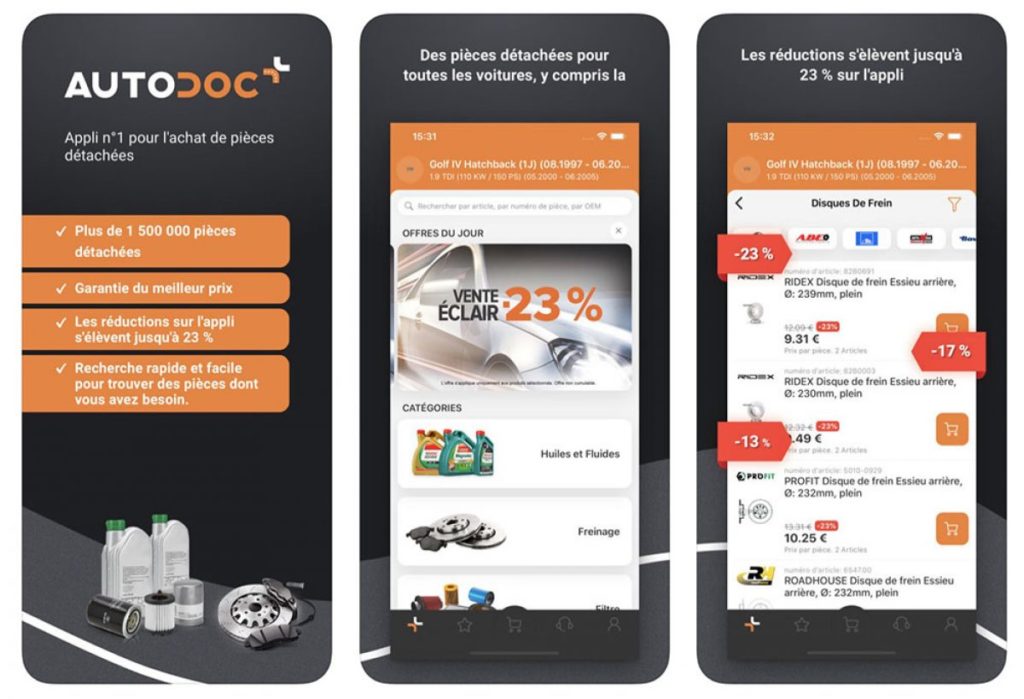 It is therefore available for Android on Google Play and on the App Store for iPhone and tablet in several languages ​​and with an easy-to-use and intuitive interface.
How to download the app
The app displays over 10 million downloads and installs on Google Play and over 140,000 reviews and comments, which makes this app a must have! To download it:
Click on the links below to install it according to the operating system of your smartphone:
Link to the application for Android or iOS (iPhone or iPad)
How does the app work
1- Once downloaded and installed, launch the application to access the entire AUTODOC catalog then press the + button at the top of the application to add a vehicle.
2- Enter the license plate of your vehicle in the field then click on Add a vehicle.
It is also possible to add the car by model, manufacturer and type if you do not have the registration number with you.
That's all ! You now have access to all the auto parts adapted and compatible with your car, you will find spare parts such as brake pads, brake discs, oil filter, air filter, cabin filter, fuel filter, spark plugs ignition, shock absorber, wheel bearing, tailgate cylinder, bar link, stabilizer, engine oil, water pump and many more.
All these pieces are displayed when you browse the application by categories or by using the internal search engine.