You want to delete Spotify account temporarily or permanently then you have got the right place because here we teach you how to delete Spotify premium account permanently. Hey, install Spotify ++ on iOS 13 + / 12 + / 11 + / 10 + / 9 + / 8 + / 7 +. Spotify ++ is the premium version of Spotify where you don't need to delete Spotify anymore.
Hello, friends, this is your favorite tech guide, now I come up with another last article for Spotify users. Then, if you want to permanently delete the Spotify account or deactivate your paid monthly subscription, and you don't know how to do this deactivation process, then don't worry, just follow the steps below and easily delete your Spotify account because here We provide a complete process for the permanent deletion of Spotify account. Deezer ++ for iOS is also available here.
How to delete a Spotify account
What is Spotify?
Spotify is the best music streaming app for iPhone / iPad / Android and desktop users, while Spotify offers a 30-day free trial period for every new user. After the open trial period ends, when users need to purchase a monthly subscription, the monthly subscription amount will be deducted from your linked credit card. Here you can download SoundCloud ++ which is an alternative to Spotify.
Note: There is no chance to delete Spotify account on your iPhone / iPad device, because Spotify does not offer any delete option on mobile devices. So this made this process on your desktop.
But in case you have decided to cancel or delete Spotify Premium, it is not a simple process because Spotify Arrange Different kind of verification in the deactivation process. And another point is that Spotify does not provide option to delete Spotify account or unsubscribe from Spotify premium account on iPhone / iPad device. So we need to complete this full deactivation process on your Windows desktop or Mac. Here I will teach you how to delete your Spotify account. Before deleting the account, download HiMusic for iOS 13 + / 12 + / 10 + / 9 + / 8 + / 7 + on iPhone / iPad which acts as the Spotify alternative.
Conditions:
Desktop PC / Laptop or Mac.
Good working internet connection.
Gmail account, which is linked to your Spotify account.
Spotify account username or Gmail account name and password.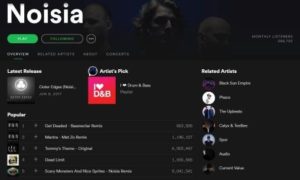 Spotify Premium preview
Delete Spotify Account Permanently or Temporarily
>> Step 1) First of all, Launch Chrome or any browser on your Windows or Mac computer, then visit Spotify official website to remove Spotify.
>> Step 2) Now Click on Login and wait a few seconds for the next screen. Once the page loads, just enter your Spotify account username and password and log into your account. In case you could forget your password or username, just click on the option "forget username and password".
https: www.spotify.com
>> Step 3) After the Log into your Spotify account, Scroll down to the bottom bar and click on the About option.
>> Step 4) Now again wait a few seconds for the new webpage to open, once the page loads, scroll down and click on the Contact us button.
>> Step 5) Then choose and click on the Account option After opening a new web page on the screen with some account management options as below.
Read also:
Download DownCloud ++ on iPhone / iPad
Free Spotify Premium Apk
Select the option below to delete the Spotify account or cancel the Premium subscription
If you want to cancel your monthly subscription, just point to Here.
"I want to cancel my Spotify premium subscription and switch to the free Spotify service.
If you want to permanently delete your Spotify account, select the option below from the list.
"I want to permanently close my Spotify account".
>> Step 6) On the Nest screen, click the Close Account option. Once you click on this close account option, you will get five verification screens for account deactivation verification.
Verification step 1. Read the options then press the button. Close the account Tab in blue color.
Verification step 2, now view and confirm your details and then tap Carry on option.
Verification step 3. Then it shows that you lose information like playlist, recorded music etc., just scroll down and tick the box and click on Carry on option.
Verification step 4.On the next screen, Spotify sends a verification link to your Gmail account linked to Spotify, now open your Gmail account and click on the deactivation verification link.
Verification step 5. In this step you get an account deactivation message.
>> Step 7) When you have completed these five steps successfully, your account will be automatically deactivated or deleted after the seven day restore period.
Note: In case you want to restore your Spotify account, when possible with a period of seven days because Spotify offers seven days to regain time each account, after submitting the deactivation application. Once the seven day period is over, there is no chance to restore your account, as it will be deleted after the deletion period.
Related Articles:
Free Spotify Premium Accounts 2020
Spotify Web Player Not Working 2020? Fix it
FAQs on How to Temporarily Delete Spotify Account
Is there any way to fix the problem of "Temporarily delete Spotify account"?
Yes, these are the methods explained above and it can be fixed without worrying about it.
If one of the methods fails, what should I do?
You have to go for the next method as the issue is raised for various reasons and the reasons require many ways to resolve the issue.
Does solving the problem require a lot of skill?
No normal knowledge and ordinary man can solve the problem of "Delete Spotify account in a tempered manner" problem.
These are the most frequently asked questions by the large number of users and the answers are given by the diverse range of the most experienced people and also with my own experience. The answers are therefore more valid and precise. If there are still questions, feel free to ask by dropping the doubt in your comments box.
Conclusion:
Finally, I conclude that this article on how to delete Spotify account temporarily or Pernmetly and with the whole account deletion process you are deleting your Spotify account, in case you have any problems, then just let me know by a comment. If you like this, just share it with your friends and family members. Loudtronix Music MP3 files available here.
This article mainly concludes you: How to Temporarily Delete Spotify Account and How to Delete Spotify Account Permanently. If you don't get the above methods, read one more time and then try these methods by following each step. If you know other methods to remove Spotify, please share your methods with us, which will be helpful for our user.
Thanks geeks, hope all the information is very valuable to you and if not, please send me a comment on your query, i will show you the best solution for this problem. There you go, guys are having a great day of your life. So feel free to ask questions, just ask them without any hesitation, I will help you overcome this situation.