Google offers a plethora of connected services. YouTube, Google Calendar, Gmail, the Chrome web browser or Google Photos for storing photos, these tools have become essential in our daily life. Wouldn't you like someone to dig through your emails, photos or calendar? Follow these 5 tips to secure your Google account and protect yourself from hackers.
Apply the basic rules for computer security
When we talk about Google we immediately think of the search engine. And yet, looking more closely, it is clear that the American giant is present in all digital markets.
Google has become essential in the daily life of millions of Internet users. There is a good chance that you are using Google Photos to store your photos online, the Drive service to back up your documents or Gmail as an email service.
You may not know it, but all of its services are managed directly from your Google account. A criminal who manages to log into your account could potentially gain access to all of your personal data and cause irreversible damage to your digital life. This is why it is important to protect your Google account well.
Use a strong password
Using a strong and robust password is good and you already know it. But unfortunately the various studies show that this advice is not really applied. Many users continue to favor very simple passwords such as 123456 or azerty.
Needless to say that with this type of password, hackers do not take long to connect to all your Google services. Below are some tips for create a secure password. Once your precious password is created, you will have to configure it in your Google account.
Open your Android smartphone settings
Select the accounts section
Click on your Google account represented by your Gmail address
Tap on the Google account section
Click on the menu button in the lower right corner
Select the personal information option
Scroll down to the password section then click on it
To continue, you will need to enter your current password
Then enter your new password
This new password will now be the username to use to connect to your Google services (Gmail, Google Photos, Drive, YouTube and I forget). Be careful, strong passwords are generally difficult to remember. Likewise, avoid communicating it to another person and always remember to disconnect from a computer before leaving it.
Enable two-step authentication
Now that you have configured a strong password, you absolutely need to set up the two-step authentication system. It is still today one of the most effective devices to counter pirate attacks even if it is not completely infallible.
Concretely once the system is activated, hackers will need your password but also physical access to your smartphone before they can access your Google account. This two-step verification takes the form (most often) by sending an SMS or an email containing a unique code.
Open the Google account section from your smartphone settings
Click on the menu button
Select the security option then two-step validation
Press the start button
Then add your phone number
Then select the mode for sending the unique code (SMS or voice call)
Google will send you an SMS
Enter the code received in the form provided for this purpose
Press the activate button to set up two-step verification
With this device, a hacker who has obtained your password will not be able to access your personal data without having your phone in their hands. Note that there is an application Google Authenticator capable of generating two-step verification codes.
Run a security scan of your Google account
To help you assess the security of your account, Google offers a tool to analyze the vulnerabilities of your configuration. It will offer you various recommendations to strengthen the protection of your data.
Access your Google account from Android settings
Scroll through the different tabs placed below your email address
Select the security option
Click on the start button of the section we ensure the security of your account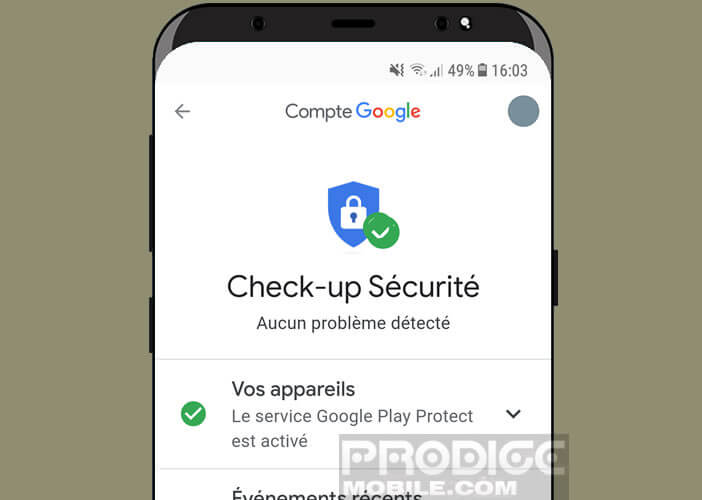 This tool will provide you with various tips to protect your smartphone and detect weaknesses in the configuration of your Google account. Its security checks include verification of validation methods as well as recent events.
Monitor devices connected to your Google account
As with anything safety related, there is no foolproof solution. Prevention should therefore be given priority to avoid any unpleasant surprises. So remember to check regularly which devices are connected to your Google account.
Go to the security tab of your Google account
Scroll down to the your devices section
Then tap on the link manage devices
You will find a list of all the devices (smartphone, tablet, connected watch, computer) that have access to your account. You will also see the time and date of the last connection and the geographic location of the device.