Put emojis in Windows 10 or any other version of this operating system is something very simple to do. However, many inexperienced users are unaware of the various options available to achieve this. Thus, in the following text explains the different methods that exist to write emoticonsEither you want to use them in your documents or in a chat other than Facebook Messenger or WhatsApp Web.
In this sense, throughout this article you will learn how to put emojis in Windows in different ways. Among which will be mentioned: the virtual keyboard of Windows 10 and a special command that gives access to a window of emoticons, where you can select the one you prefer. Likewise, when copy and paste the funny icons from other sources or using the ASCII combination, you can generate different characters. Find out all about it, below.
Using the virtual keyboard
Another feature of Windows 10 is that it allows write emojis quickly and easily, using the virtual keyboard of the operating system. This is an alternative that allows you to use the same functions of a physical keyboard, in case that does not work. Now, to use it, you need to follow the steps outlined below:
Click on the keyboard icon in the right corner of the taskbar.
To note: If you don't see the keyboard icon, you can right click on the taskbar, place the pointer on "Toolbar" and select "Touch keyboard".
In doing so, you will display a virtual keyboard from where you can use the same functions of this unit on your computer.
Now to insert the emojis into the text, click on the button with the face happy "😊" next to the space bar.
This will will display an emoji window in which you can browse through the different categories by clicking on the icons for each.
This way you can write emojis in any conversation, text or document you need using the virtual keyboard of Windows 8.1 and 10. It is important to note that this is a unique characteristic of these versions of the operating system, i.e. not available on Windows 7 or 8 computers.
Using the ASCII combination
This alternative allows you to insert emojis in any text window using the ASCII combination, which can be used with the help of the "Alt" key and numeric keypad. Now it is important to clarify that in order to activate this function at laptops you need to lean on "FN + Num Lock". In doing so, the m, j, k, l, u, i, o, 7, 8 and 9 keys will be momentarily replaced by the numbers 0 to 1, respectively.
On the other hand, you have to keep in mind that the ASCII combination he only has a few emojis, such as: musical note, smiley, heart, clover, directional arrows, etc. To know in detail the list of symbols you can insert with this option on Windows, follow this link.
Copy and paste
This technique is ideal if you have a Windows 7 or 8 computer and you don't have access to the virtual keyboard to type emojis. You just have to go to the search engine and write "emojis" how can i finish the search then you can copy and paste these funny emoticons wherever you need them. In that sense, one of the best sites to do this is fsymbols, which has a large list of options to choose the one you want.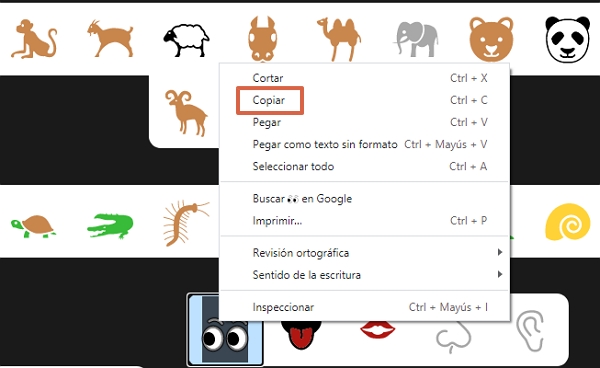 Insert manually
Some programs or websites insert emojis automatically to write them manually. For example, in the case of Word, if you write the signs ":" and "(" and press the spacebar, a sad face will appear. However, this is an inconvenient option, since it does not have not all emojis, besides, it is not totally effective in the majority of cases.
Important note
You should know that, Windows emojis are a little different that you usually see in apps like WhatsApp or Facebook. So when you try to insert one of these funny faces, you might be confused or not find the one you want. To avoid this, you can search by emoticon name just like you would on a cell phone, for example "Dog". This way you will get a list of possible matches and you can select the correct icon.
As we have seen, you can write or insert emojis in Windows 10 and 8.1 from the touch or virtual keyboard of the computer. On the other hand, if you are a Windows 8 or 7 user, you can resort to external alternatives. However, the copy-paste, combination ASCII and manual write methods work in all versions of this operating system.