In this article you will find a wide variety of programs to open and read PDF files. Each of the PDF readers mentioned here comes with additional functions or, failing that, advantages that can be very useful. You will see alternatives for converting documents, or that allow you to fill out forms and sign. Even some tools stand out for their simplicity and lightness, ideal for low-end computers.
However, in this regard, it may be important to remember that if you are using one of the most popular web browsers (Google Chrome, Mozilla Firefox or Microsoft Edge), you will have an integrated PDF reader by default. In case you need additional functions for PDF editing and reading or you have not installed these browsers, you will have to opt for the options presented below.
Adobe Acrobat Reader

This is the program that most Windows users use to read PDFs. It serves for the viewing and printing documents and also allows the user leave comments, sign and attach files. In addition, Adobe Acrobat Reader has a mobile version for those who want to read PDFs on their smartphone or tablet with the Android or iOS operating system.
In turn, said program It has a paid version and a free one. Which works great for basic activities. Now, if you need to password protect the PDF file, then you need to access a Premium plan.
Official download site: https://acrobat.adobe.com/la/es/acrobat/pdf-reader.html
Foxit Reader


This software has several interesting functions to improve the reading EPUB and PDF documents. On the one hand, it offers you the possibility of reading multimedia contents possibly attached to these documents. You also have the options of: read without distraction, mark pages, underline text, make notes and draw pictures on the document.
In addition to the basic functions, you will also have the integration with cloud storage services, such as Google Drive, Droxbox, MEGA, etc. Your download it's totally free and does not require any registration for it.
Official download site: https://www.foxitsoftware.com/es-la/pdf-reader/
Sumatra PDF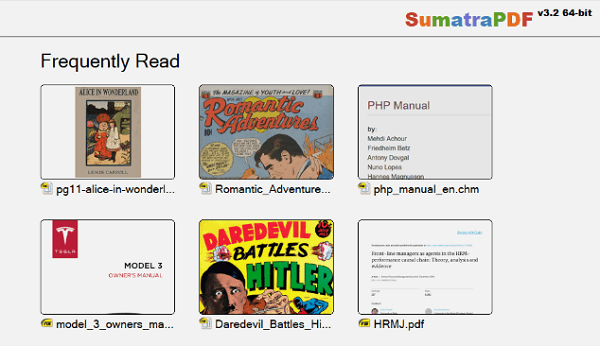 You can install Sumatra PDF on your PC or download the portable version to save it to a USB key and use it on the computer of your choice. This program is used to read PDFs and other formats such as EPUB, FB2, MOBI, CBR, CHM or CBZ. In addition, it implements the use of keyboard shortcuts for easy reading and allows you to mark pages in case you want to read them again at another time.
Official download site: https://www.sumatrapdfreader.org/free-pdf-reader.html
Slim PDF reader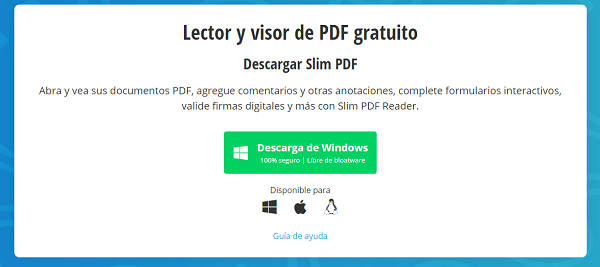 is is one of the lightest PDF reader programsbecause it weighs about 1.5 MB. It offers the possibility of add comments or annotations and fill out forms interactive, as well as digital signature validation and more. This is a great alternative for low-end computers, as having basic tools doesn't consume a lot of space. In addition to this, it is compatible with Windows, macOS and Linux and its use is free.
Official download site: https://www.investintech.com/resources/freetools/slimpdfreader/
MuPDF


This is another extremely lightweight editor. However, it can be a bit tricky to use since it doesn't have any tools in its interface. The majority of additional functions for reading of the document go through a command line. In this way, it is possible to convert files to other formats and use scripts to edit documents using Javascript.
Official download site: https://mupdf.com/
PDF expert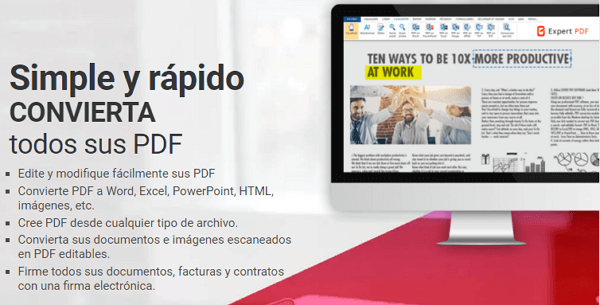 This is another tool with an interface similar to that of Microsoft products. It is lightweight, but stores a large number of functions, because allows you to complete and sign documents, as good as leave predefined annotations or comments in post-it notes. With this program, you can also open multiple documents in different tabs at the same time. Said program is compatible with Windows or Mac, offers a free version and a paid version.
Official download site: https://www.expert-pdf.com/es/
STDU PDF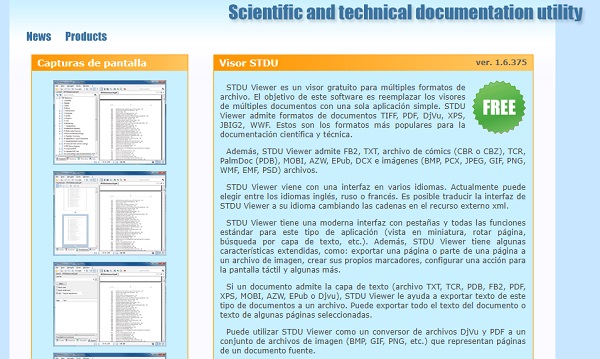 This is another option for read various types of documents including EPUB, TXT and PDF. You can also display images and even convert your files to different image formats. In addition, its function is to mark pages and once installed in Windows it offers thumbnails of the document. Especially, is compatible with different versions of Windows and its use is free.
Official download site: http://www.stdutility.com/stduviewer.html
Javelin PDF Readers


This program developed by Drumline Security, offers all basic functions from a PDF reader. However, it has additional encryption features that any tool contains. It's used for encrypt documents and limit the number of prints They can be done in a file, which is useful when it comes to a commercial distribution file.
In addition to that, this program is available for Windows, MacOs, Linux, iOS and Android computersYou will find the link to each on the web page.
Official download site: https://www.drumlinsecurity.com/javelindownloads.html
PDF-Xchange editor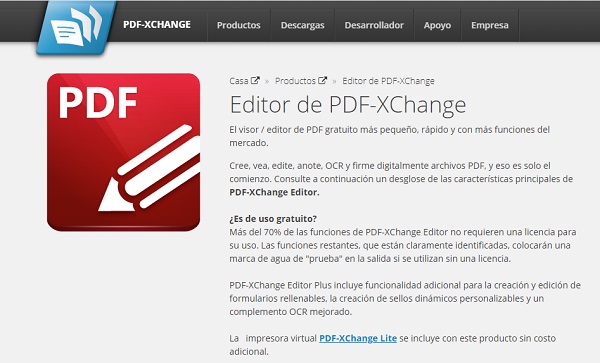 A PDF reader with free and paid version. When you use the functions that require a license without having it, the tool will leave a watermark on the document. PDF Exchange Editor allows you to open multiple files at the same time, zoom and leave notes. It even offers the possibility of customize interface elements user.
Official download site: https://www.tracker-software.com/product/pdf-xchange-editor
Nitro PDF reader


This is another program for read the free pdf with an interface similar to Microsoft Office. Nitro PDF reader has computer touch screen support. Moreover, it allows you to leave comments or annotations on the document, including the function of fill out forms or sign the document. It's free to download, although it does offer in-app purchases.
Official download site: https://www.gonitro.com/es/pdf-reader
These are the best program options for opening and reading PDF files. If you read the entire text, you will notice that most of them have various functions in addition to playing the file. Therefore, the choice of program will depend solely on your needs.