There is a wide variety of Programs for create house plans. In this article you will find the most popular and widely used design alternatives, both by professionals and by people without technical knowledge. If there is software for designing 2D plans, there is also tools to render a plan in 3D. In this way, it will be possible to admire the final result of the construction before carrying it out.
Likewise, there are several online sites that allow anyone to create their dream home without having any technical knowledge. If you want you can build the house of your dreams room by room, choose the paint for the walls, the upholstery of the furniture and the decorative objects. Some programs even contain a catalog of make the purchase of the product you are viewing.
Sketchup

This is a design program available for download and also for online use. This is a great option for easily creating plans and seeing the finish before you start building. Sketchup provides 3D designs from a 2D shape and is characterized by its usefulness for making sections, elevations and elevations in three dimensions.
Official site: https://my.sketchup.com/app
Official download site: https://www.sketchup.com/es/products/all
AutoCAD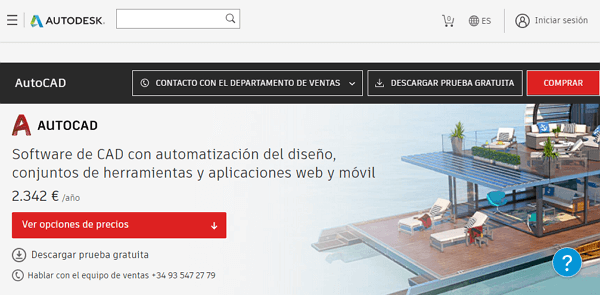 If you are looking for an alternative to create construction plans, the program preferred by professionals for this purpose it's AutoCAD. Unlike most of the tools featured in this list, AutoCAD is designed for create plans to build a house. Although it is a paid program, you can use the trial version for 30 days.
Official download site: https://www.autodesk.es/products/autocad/free-trial
Floor planner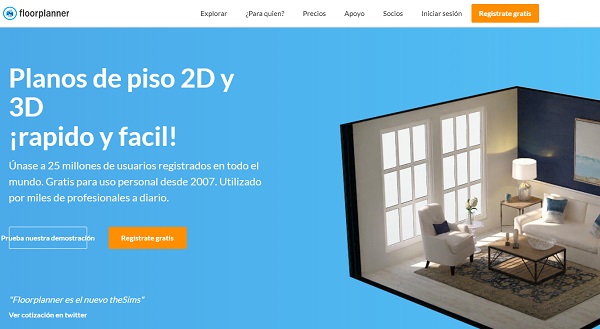 It is a tool in Spanish, very intuitive and easy to use, so recommended for people with little experience using this kind of program. You just have to drag and drop the items you want to add to the map and these will automatically turn into 3D. You can also include pre-designed furniture to easily create the interior atmosphere.
Official download site: http://www.floorplanner.com/
HomeBy Me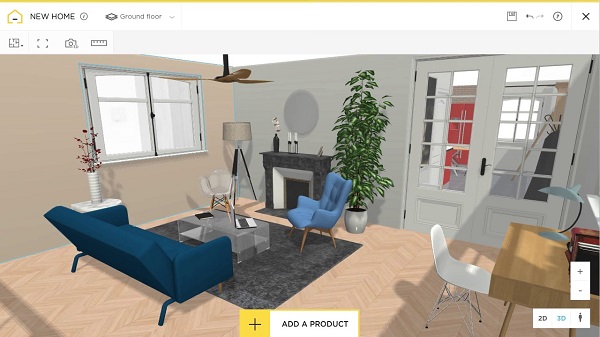 This program is very useful for to draw three-dimensional plans of houses easily. HomeByMe has products from well-known brands to implement them as part of the plan and if you want to buy them online. You can change the color of the walls and place the furniture where you prefer very easily without being a professional.
Official download site: https://home.by.me/es/
EasyHome or (formerly HomeStyler)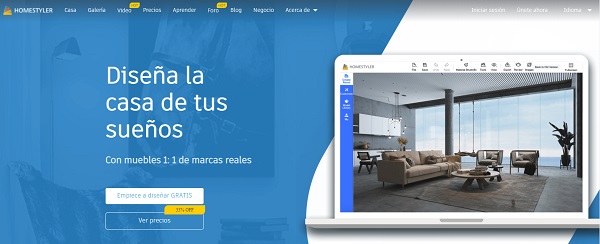 EasyHome it's a online tool created by famous developer Autodesk. You can create plans and view them in second or third dimension. It also has the presentation of different materials for floors and walls, veneers and other construction finishes, as well as furniture and interior equipment in general.
Official site: https://www.homestyler.com/
5D planner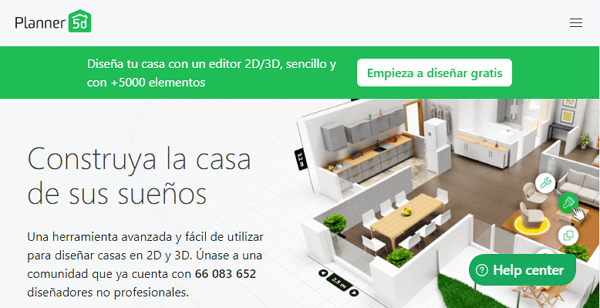 It is an online tool simple, easy to use and intuitive interface. You just have to create the spaces of your house to the dimensions you want, adding rooms with predefined shapes and including the furniture you need from the bookcase. The plans are initially displayed in 2D, but you can view them in 3D with the push of a button.
Official site: https://planner5d.com/
RoomStyler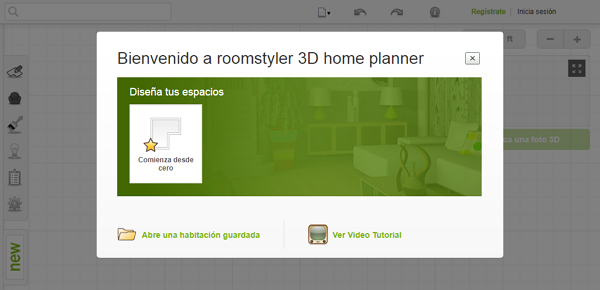 It is a user-friendly and easy to use online design program. If you wish you can draw your own walls or insert them using predefined parts that you can resize later. Paint the walls or floor and add furniture and decorative elements what you want. You can see the changes in the third dimension by moving a virtual camera around the house.
Official site: https://roomstyler.com/3dplanner?locale=es
RoomSketcher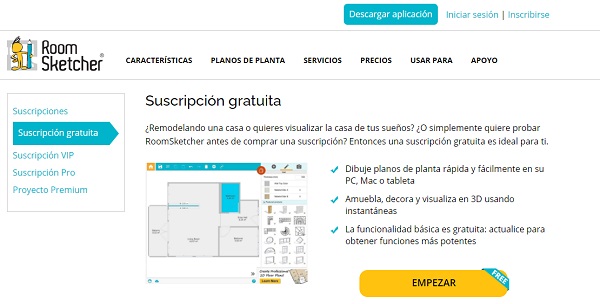 This is an application for create floor plans as well as 3D house designs. RoomSketcher is intended for professionals to design and also for people to visualize the final result in 3D. It has precise measuring tools and also the possibility to see the finished design with the different furniture, colors and textures.
Official Download Site: https://www.roomsketcher.com/subscriptions/free/
Rubens 3D (Roomle)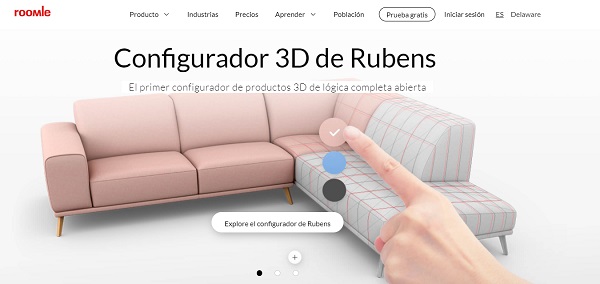 This is a comprehensive cross-platform program for visualize the remodeling and construction of the house in 3D. Rubens 3D even works in real time and with virtual reality technology on mobile devices iOS and Android. It provides a realistic view of the proposed future results for the job and allows configuring the lifetime, price and other relevant data.
Download site: https://www.roomle.com/fr
SweetHome 3D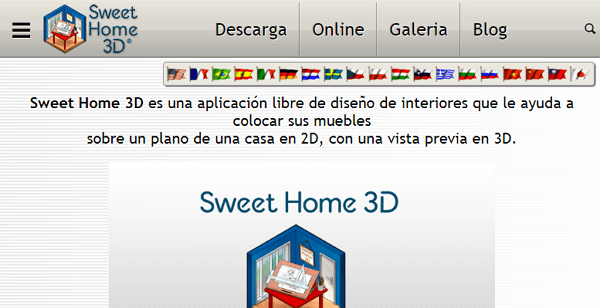 Available for download as well as for online use, SweetHome 3D is a free program for Interior layout and design in 3D. With this program you can create 2D plans and visualize them in 3D. You will have walls, ceilings, doors, windows, walls, and other pre-designed items to include in your dream home.
Official site (and download): http://www.sweethome3d.com/
DreamPlan software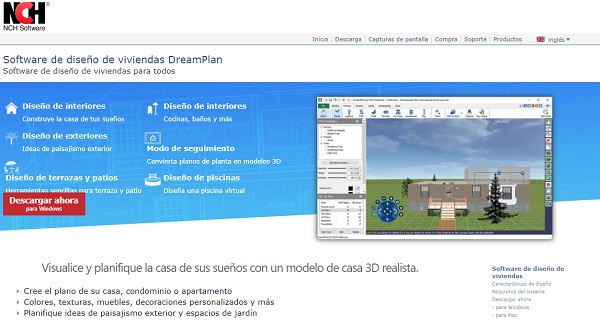 Download this program on create house plans for free for non-commercial use. The Dreamplan software is a very complete alternative because it allows you distribute parts and design both the indoor and outdoor spaces. It's a great choice for building a house from scratch and planning a renovation.
Official download site: https://www.nchsoftware.com/design/index.html
Amikasa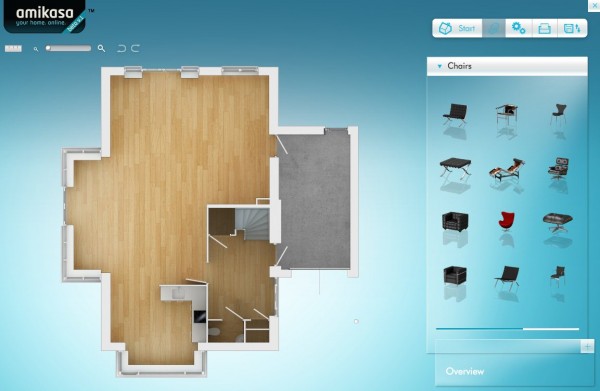 This is a paid home design program, available for Windows computers as for devices iOS mobiles. Amikasa has entertaining 3D effects to clearly see how your perfect home project is going. The program offers a large repository of furniture, walls and colors to decorate and equip the house.
Official download site: https://amikasa.com/
As you can see there are different programs for making house plans, both for download and to use online. These are characterized by different functionswell some are manufactured exclusively for professional use while others are extremely easy to use and are designed for customers. Not many people combine the two features to provide a full function, but most are chargeable.