Not all people have a scanner nearby when scanning a document if they need it, whether for professional or academic purposes. In these cases, taking a photo is not enough, as it will cause a noticeable loss of document quality. Therefore, you should know that you have various digitization programs documents what can you use both from a mobile and a PC, no problem.
It is mostly free apps and fully guaranteed, perfect for scanning various types of documents, whether they are notes on blank sheets, printed matter or book pages. Also you should know that each application has its own characteristicsincluding initial settings to create good lighting conditions, preinstalled filters for better scanning, and more. Therefore, consult the following list to find the most suitable application for you.
Android Programs
If your mobile device belongs to the Android operating system, be aware that you have many options to scan your documents like a pro, which will be detailed in the following list:
Document scanner
Document scanner this is a free application It offers all the tools you need to make document scanning a simple task. In fact he has different editing parameters, including the ability to erase shadows or watermarks after scanning, add signatures or compress different documents into a single ZIP file.
In addition, Document Scanner has a function that allows you to read barcodes and QR, making it one of the most versatile, innovative and cost-effective scanning programs available today.
CamScanner
To use CamScanner you will need a quick registration via your phone or email. The app is free and it has an easy to use interface, allowing you to choose an image from the gallery or save a new one immediately. It also has options such as rotation, automatic adjustments, tone enhancements, transform documents to black and white, adjust contrast and brightness levels, brighten the image and more.
ScanWritr
It is one of the programs for scanning documents that no registration required use. Like many apps, offers the possibility to capture the image from your gallery or take it straight. ScanWrit is free and it has automatic adjustment, although it also allows you to manually change the tone, brightness level and many other aspects of your files.
Easy scanning
The simple scan is a free application with a very simple and straightforward design, distinguished by an easy-to-use interface. With her you can scan PDF documents without any problem, since it provides you with various tools to create high quality scansincluding automatic selection of the area to scan, various sheet sizes and more.
Quick scan
With Quick Scan, you will have access to a Perfect free app for scanning PDF documents and photo clips easily. Presents an interactive interface which will allow you to directly access all the functions and functionalities offered by the application. Among them it is worth highlighting the possibility of giving a much more personal touch to your files JPG or PDF using filters, perform synchronization cycles with other platforms, as well as backup copies.
Programs for iOS
If you have an iOS device, be aware that you have several alternatives to scan documents. Although some are paid, you will find other free options. Find out what they are, below:
Small scanner
Small scans it's a free app With which you can make manual adjustments to your documents captured by the camera of your Smartphone or previously selected in the gallery. With this app you can choose the paper size, be it A5, A3, letter and others, use your device's flash for better lighting or adjust contrast for better result. In addition, the program allows share your documents by e-mail.
iScanner
With iScanner, you will enjoy a great advantage, the recognition of a large choice of languages ​​in texts that you are going to digitize, among them are Ukrainian, Chinese, Dutch and Arabic. As a result, it is a great option for those looking for a versatile application for scanning documents, as it also has an automatic shutter for take excellent quality photos before scanning.
Genius scan
It is an application with which you can save the image of the document you want scan directly or by selecting it from the gallery of your device. Genius scan allows you to choose the dimensions of the document by dragging the screen snap lines to the sides, top, and bottom. Despite this, the app itself performs automatic tone adjustment to highlight the letters and leave the background white.
Evernote
Evernote is a notes app which is also perfect for scanning documents. To do this, you need to go to the plus symbol (+) and then to the camera icon, where you will need to align the document to be scanned. Once ready, the program will frame the content automatically, so you won't need to use filters or manually crop.
Overall, Evernote stands out for its simple interface and correct operation at the time of scanning, thus scanning documents in a highly legible and error-free manner. However, it does not have OCR, i.e. optical character recognition.
Adobe scanning
Adobe Scan is a free application that will turn your device into a great portable scanner, which can convert images to PDF, store files in Adobe Document Cloud, recognize the text to be scanned automatically and automatically convert text from an image to a real one thanks to its OCR. In addition, it has editing options, such as changing document colors or rotating.
PC programs
Now if you don't have a mobile device nearby and you only have a computer, there is free and paid programs with which you can seamlessly scan your documents in PDF format for more versatility and safety.
NAPS2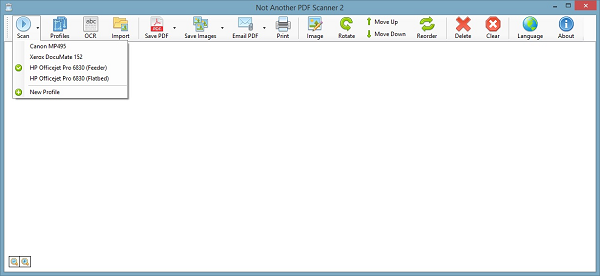 NAPS2 stands for Not Antother PDF Scanner 2, a free software which will allow you to scan PDFs in a very convenient way. The program has a very interactive interface in which you will find a user manual very detailed. Simply choose a scan profile, select a destination directory, scan your documents and save them as PDF.
Official download page: https://www.naps2.com/
CaptureOnTouch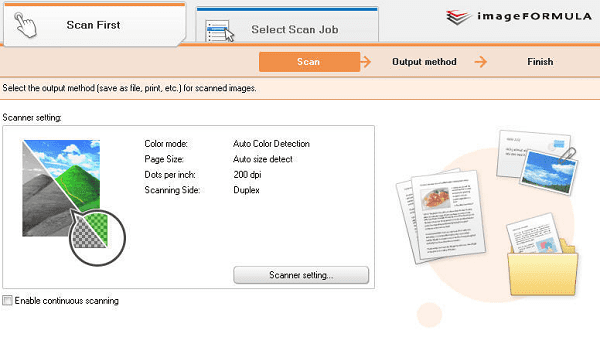 CaptureOnTouch is one of the most professional and efficient document scanning programs available today. It's free software created by the Canon company, so that stands out for the professional quality of the treatment of each document. The app offers cloud storage, so you can link it to different platforms like Google Drive, Evernote, One Drive, etc.
Official download page: https://hk.canon/fr/support/CC0000056
ABBYY FineReader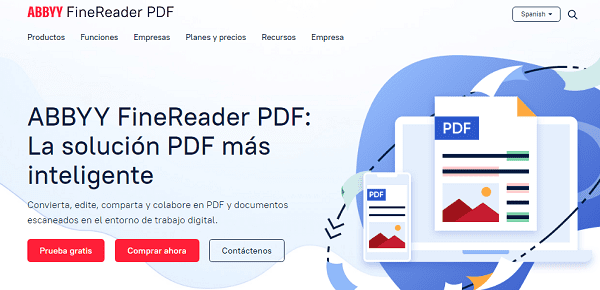 ABBYY FineReader is a great choice for professional document scanning, because in addition to scanning documents, tea allows you to edit PDF documents, convert them to other formats and even sign them. It is payment software that has a free trial with multiple functions, which makes it perfect for people who need a complete tool for office work.
Official download page: https://pdf.abbyy.com/es/
Free Advanced Scan to PDF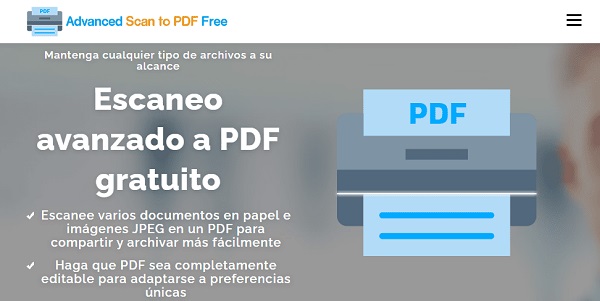 It's a totally free software for scanning documents, which ranks among the most popular scanning programs thanks to its wide selection of features. Among them it is worth noting their possibility to change the page size and adjust them to the dimensions of the document to be scanned or choose its compression type.
It also has a function to sign documents in PDF format and even protect files with a password to ensure the privacy and security of your documents at all times.
Official download page: http://www.scantopdfconverter.com/
ScanSpeeder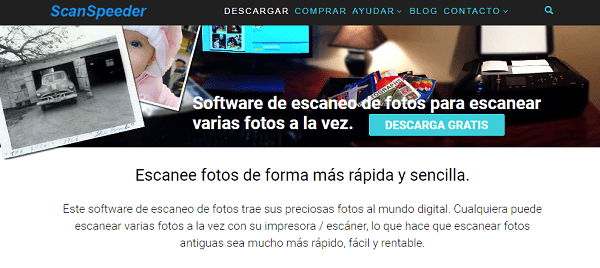 ScanSpeeder this is a free tool aimed at digitizing old documents, mostly from photos. Whether the physical images are worn out or have lost quality, this is a great option for those looking for a specific program when scanning these types of files.
However, it is only found available for Windows operating system from version 7 and is not compatible with all scanner models.
Official download page: https://scanspeeder.com/
Scanning documents offers more convenience and versatility than physical scans. Therefore, with these programs to scan on mobile and PC, you can count on digital formats that will provide you with security and better presentation of your files.