We have to be very careful with the use of data in the various mobile apps that we use, especially if the plan we have is limited. For this reason, we will teach you how to prevent android apps from using mobile data in the background.
Fortunately, Android allows us to save mobile data on our devices quite easily. It is a question of making some configurations to prevent our phone from consuming our data plan in a few days or even in just one.
We will see a bit below, a detailed guide so that you can prevent Android apps from using mobile data in the background and that way you don't run out of data when you really need it. It's pretty easy to do.
Prevent apps from using mobile data in the background
The first thing we're going to do is enter "Settings". We can do this by swiping up and down twice and then clicking on the gear icon in the lower right corner. We can also look for the "Settings" icon among the apps.
Once we are in the settings we will have to scroll down to "Apps and notifications".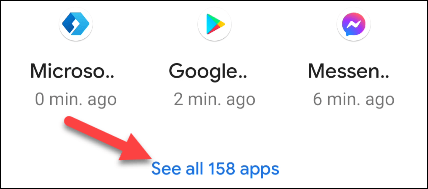 Here we will have to enter "See all apps" at the bottom, to be able to see all the apps that we have installed.

Now we are looking for the app that we want to restrict mobile data in the background to. Once we are in the application, we will select "Data usage".

We look for the "Background data" option and just turn the switch off so that it is gray.
This way the app won't use mobile data in the background. It should be clarified that if we open the app it will obviously start using mobile data unless we are connected to a Wi-Fi network. This is a good idea for apps that we don't use too much. often.
We do not recommend it for instant messaging apps like WhatsApp, Telegram, or Messenger. If you turn off background data for these apps, no new messages will arrive unless you open them.
Share this with your friends!