PDF Fix is a small, portable and free software for Windows designed to repair corrupt PDF documents that can no longer be opened, viewed or accessed via a PDF viewer as PDF reader nor with the viewer integrated in web browsers.
It often happens that you can no longer open a PDF file that has been sleeping for a long time on your computer just like Word and Excel files, and the situation becomes very delicate especially if we are talking about important documents. If this happens to you, don't be totally desperate thinking they are unrecoverable. To help you, here is PDF Fixer that I have already tested for you.
PDF Fixer is a tool that might help you recover PDF documents on Windows operating system, it is even compatible with Windows XP in addition to the most recent versions of Windows. You can run it immediately without installation since it is a portable program.
Once launched, simply drag the damaged PDF file by dropping it directly on the user interface and the tool will try to repair it, it is even possible to drop multiple PDF files for batch repair.
And according to the developer of this tool, PDF Fixer uses in its repair process a PDF Toolkit, that is to say a whole complete and powerful toolbox which allows the easy manipulation of a PDF file (encryption, decryption, compression, extraction. The tool also combines with PDF Toolkit, a software suite called GPL Ghostscript enabling processing of PostScript and PDF file formats.
As for the repaired and successfully recovered documents are automatically loaded into a PDF viewer right after the operation is completed and if the operation fails, the program still tries to recover the data and content of the file in question for export them and make them readable again.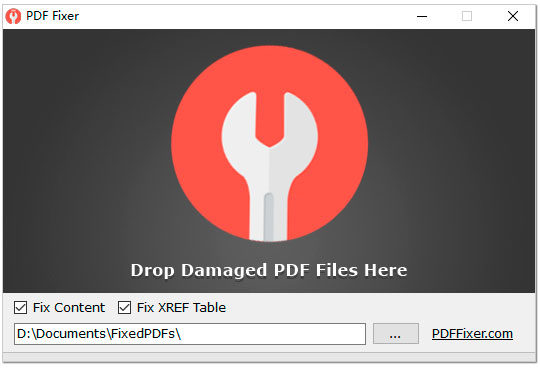 Note
Name Application
PDF Fix
Operating system
Windows
Software Category
Files
Price
Free
Application page
– Our Best VPN in 2021 –