As we all know, there are many factors that can be responsible for slowing down the speed of Android. But, the main one is the limited clock speed of the processor. Hence, we are going to share a method which will help you overclock your Android device in order to improve performance. In this article, we are going to talk about Android CPU Overclock to boost performance. Let's get started!
New and updated Android smartphones are now constantly appearing in the market with new updates and features. As a result, more and more games and apps are updated regularly to support them as well. This consumes more energy and also slows down old smartphones. You may have encountered a lag in your smartphone when you open too many apps. Not everyone can really afford to buy new smartphones every now and then. What if you learned that you can improve the performance of your Android device? You are going to ask how this is possible? However, this is possible through a method known as overclocking. Tell us more about overclocking actually. You can simply overclock Android to improve performance.
Overclock Android processor to increase performance
Overclocking actually means forcing the processor to run at higher speeds than specified speeds. If you are the one looking to overclock the smartphone then you have come to the right place! Now we are going to share the methods of overclocking your Android device. Just follow the guide below in order to overclock Android to improve the performance of your device. However, before we move forward, we need to know why your smartphones are also getting slow?
The reasons
There are also many factors that can slow down your Android device. Some of them:
Low RAM
Obsolete processor
An outdated technology
Viruses and malware
Limit Processor clock speed
In most cases, the limited clock speed of the processor is actually the reason your smartphone is slow.
Risks and Benefits of Overclocking
Well if you choose to overclock your device then you can enjoy faster speed as well. After overclocking, you will notice a significant improvement in the overall performance of your phone. If we talk about the risks, the biggest risk with overclocking is the overheating problem.
Because overclocking is a way to force your phone's processor to perform at its maximum level. Then you can expect overheating issues. Major overheating can also damage your phone's hardware. Except that, battery consumption will also increase significantly.
Overclocking new devices is never recommended as this will also void the warranty. So if you have an outdated device that is old enough to take risks, you can overclock it as well.
Things you will need before overclocking
Well, before you choose to overclock your device, make sure you have these things –
Rooted Android device
Fully charged device
Backing up your files
To note: – Processor clock speed can also cause your device to overheat and this process can also damage your processor permanently. So do it at your own risk as we will not be responsible for anything that happened.
Steps to Overclock Android to Improve Performance
Step 1: The most important, Root your Android device.
Step 2: then dDownload and install the overclocking software. (Recommended: SetCPU for root users.)
Download SetCPU for root users
Open the app
Provide superuser access
Step 3:
Allow the app to analyze the current processor speed.
After detection, configure the min. and max speed
It is important for your Android processor change.
Don't try to hurry and also increase the clock speed right away.
Do it slowly.
Also see which option works for your device
Once you feel the speed is stable, press "Set to Boot".
Step 4:
Just create a profile. Set the conditions and times whenever you want SetCPU to overclock.
For example, you want to overclock your device every time you play PUBG, and you can also configure SetCPU to overclock for the same.
That's it, and now you've successfully overclocked your device.
Other suggested apps for Overclocking Android:
Kernel Advisor
Kernel Auditor is also one of the best overclocking apps. With the help of this app, you can also successfully overclock like a pro.
Then you can manage configurations like:
Governor
Processor frequency
virtual memory
In addition, you can also back up your files and edit the build-prop.
Kernel Adiutor (ROOT) is also one of the best and best Android overclocking apps available on the Google Play Store. Guess what? With Kernel Adiutor (ROOT), you can easily change and monitor things like CPU frequency, governor, virtual memory, as well as. Not only that, however, Kernel Adiutor (ROOT) can also be used to save, also edit the build-prop, etc.
Download Kernel Adiutor (ROOT)
Improved Faux123 Pro kernel
Faux123 allows you to change the processor voltage and display the GPU frequencies in real time.
You also have full control over
processor governors
CPU frequency adjustments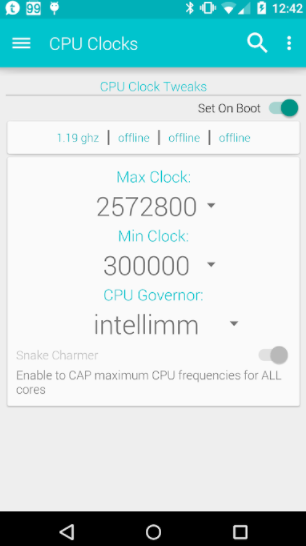 The Faux Core is another useful application if you want to change the voltage of the processor (global / individual). This app allows users to control CPU governors, CPU min / max frequency adjustments and it also displays GPU frequencies in real time.
Download Faux123 Kernel Enhancement Pro
Overclock Tegra
Tegra Overclock helps to switch between
Battery saving mode (via underclocking)
Give performance a boost (via overclocking).
Tegrak Overclock is also another powerful Android overclocking app to increase the CPU / GPU speed of your Android device. Although it supports many ROMs, you need to check whether your Android device is supported or not. You can choose from many levels of CPU frequency that this overclocking app gives (start with the lowest). In addition, the configuration of base voltage, internal voltage, etc. is also just a two-step job.
Download Regra Overclock
Performance Adjuster
Performance Tweaker is identical to Kernel Adiutor App.
We recommend you to try this app.
You can easily configure the following
CPY HotPlug
CPU frequencies
GPU frequency, etc.
But one downside is that it is actually a bit complicated to use.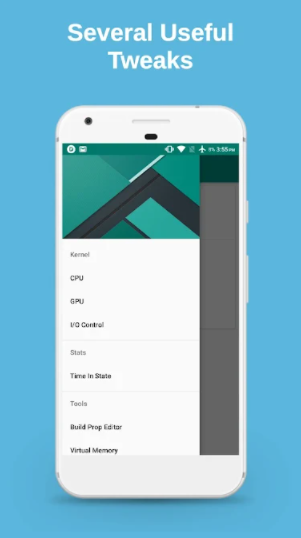 Performance Tweaker is still in Early Access, however, it's worth a try. The app is very similar to the Kernal Adiutor app listed above. With Performance Tweaker, you can easily change CPU frequencies, CPY Hotplug, GPU frequency, as well. But, the app is actually a bit complicated to use. Yet, Performance Tweaker is one of the famous processor tweaker apps that you can use right now.
Download Performance Tweaker
SetCPU for root users
Available for rooted Android devices, SetCPU is a very simple app that allows Android users to easily overclock Android's CPU frequency. The sliders will also display the maximum frequency up to which your Android's processor can be overclocked. It allows you to assign user profiles at certain times, such as when your Android is charging while the battery is running low. It can also boost your Android device's performance and then save battery, or both!
Download SetCPU for root users
Conclusion
Okay, that was all folks! I hope you enjoy this article and that it is useful to you as well. Give us your opinion on it. Also, if you have other questions and issues related to this article. So let us know in the comments section below. We will get back to you shortly.
Have a nice day!