What Outlook notifications don't work on Mac This is something that can be quite boring. We are waiting for a really important email and the notifications would help us verify when it arrives immediately.
The problem is, these notifications don't work. What can we do to fix this problem? A little further down, we will see how to deal with Outlook notifications that are not working on Mac.
Outlook notifications do not arrive on Mac
Outlook is one of the best email clients for Mac, leaving out the one that comes by default.
Best of all, it's free and works great. Obviously, when we use the app on Mac, one of the big advantages we have is Outlook notifications. If that doesn't work, what can we do?
Display an alert on the desktop
The first thing we are going to do is open the Outlook app. Then we will have to click on the Outlook option which is in the top bar and we will choose "Preferences". Then we will have to go to the "Notifications and sounds" settings. Here we will see a checkbox that says "Show alert on my desktop".
Obviously, this box must be enabled for notifications to be displayed on the Mac desktop.
Check Outlook sound settings
In case Outlook shows notifications but does not read sound. Next, we will have to check the sound settings of the app. We will do it in the same place as the previous point. We click on Outlook> Preferences> Notifications and sounds.

We need to have the boxes that appear in this section marked so that the app will play a sound every time a notification comes in.
Check system preferences
In case the Outlook settings are correct. Another option that we have is to check the system preferences. Mac offers a few options for changing notifications for many apps, including Outlook.
To open the preferences the system will just have to go to Notifications> Microsoft Outlook and from there we will see a panel that shows us some options.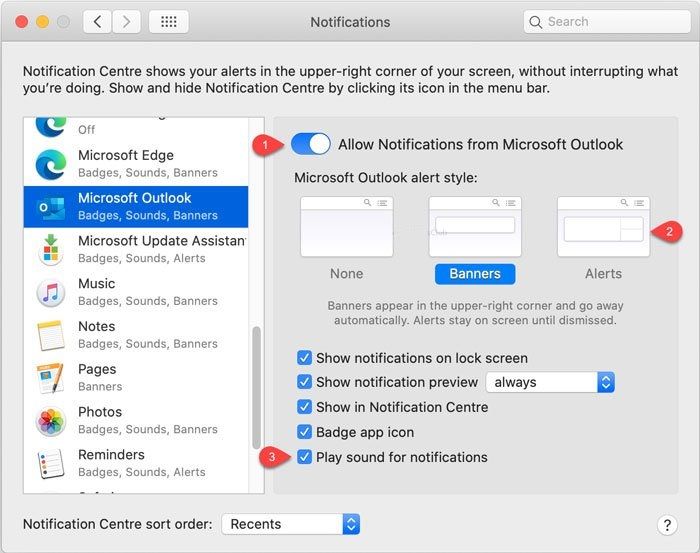 At the top we will see a switch that says "Always allow notifications from Microsoft Outlook", obviously you need to turn it on. Below we can configure between three options how we want the notifications to appear. Ideally, select the third "Alerts".
A little further down, make sure that the "Play sound for notifications" option is enabled.
Use the reset Outlook preferences tool
Microsoft has a tool that will help us reset all Outlook preferences with just one click. The tool was developed to solve a large number of issues like Outlook notifications not working on Mac.
You can download Outlook Reset Preferences Tool from Microsoft official website. Once downloaded, unzip the file, open the app, and you'll see a button that says "Reset Now".
Reset Outlook Alerts
There is also an option in "Outlook Preferences" which allows us to reset all Outlook alert settings. On many occasions, we receive alerts and mark them as "Do not show this message again". This option basically resets all of those choices, so we'll see all alerts for all messages.
For that, we will have to go to the "Notifications and sounds" panel and then simply click on "Reset alerts".
Share this with your friends!