OPPO, the Chinese smartphone manufacturer has just shared on Twitter its roadmap for the deployment of its latest interface Color OS 13 based on the latest operating system for smartphones Android 13.
This version which replaces ColorsOS 12 brings a lot of novelties and improvements at the level of some functionalities and I quote as an example of new wallpapers animations, Always-On icons, fonts and widgets for further customization. I also mention the new virtual keyboard more practical than before and a new home screen as well as the makeover of the notifications which are now larger and more attractive.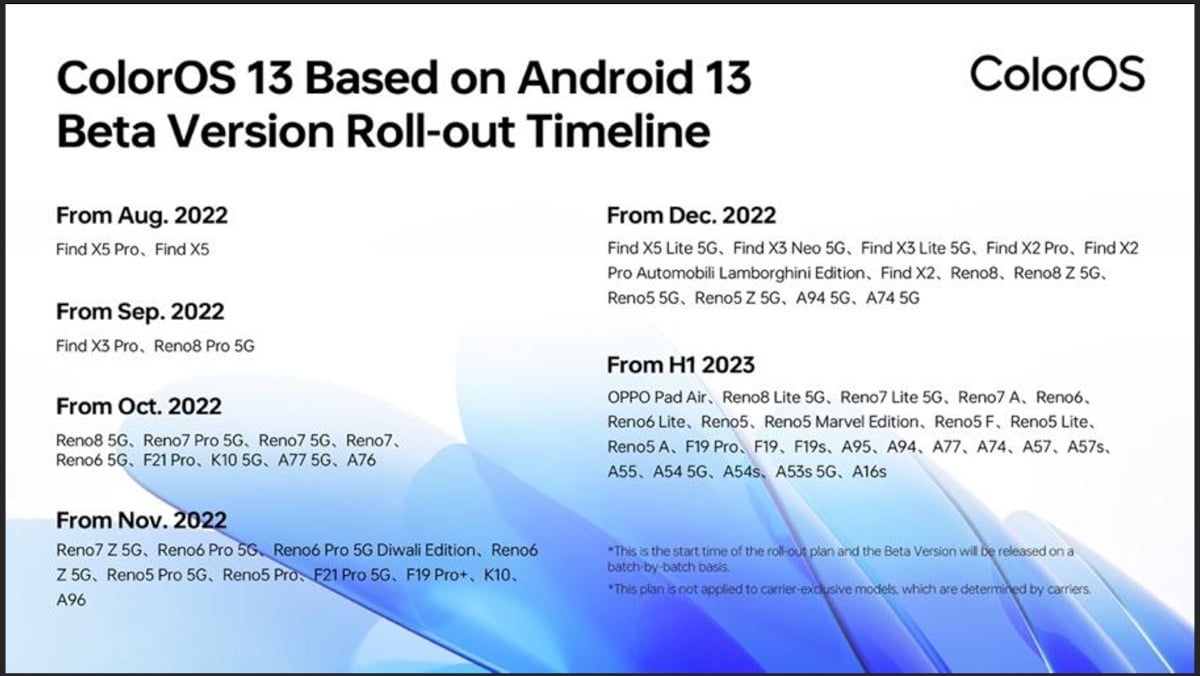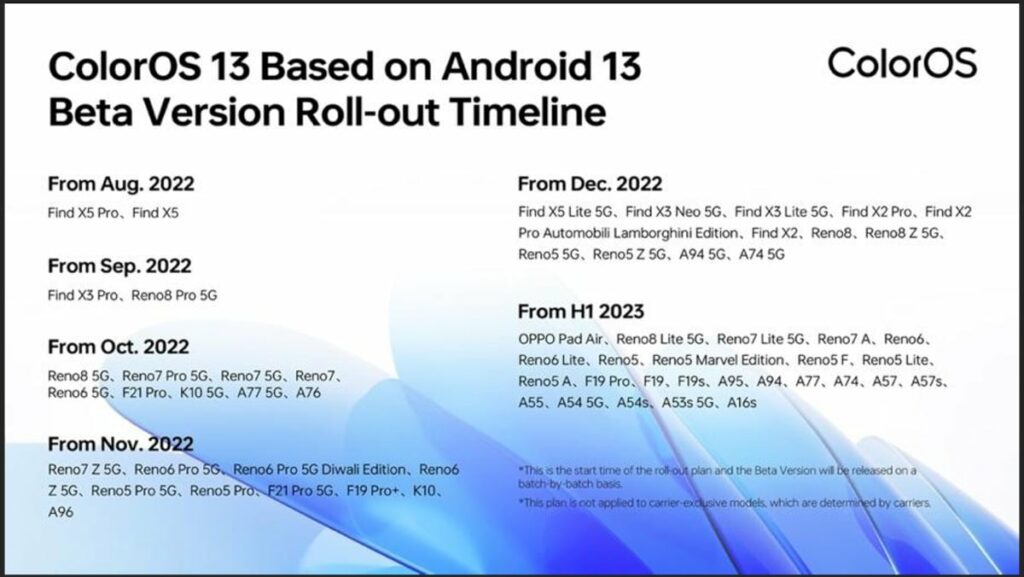 Oppo therefore and according to its roadmap plans to make available its new Color OS 13 on several of these smartphones by following a very specific schedule during this month of December 2022.
According to the manufacturer, the Find X5 series, Find X3, Reno 8 pro and Reno 8 are already receiving a stable ColorOS 13 update in certain regions of the world. And during this month, the rollout of the stable version will continue for all old Reno smartphones as well as the series Find X.
From 15 Dec. 2022
The X3 Lite 5G (France)
Reno7 5G (India)
Reno6 Pro 5G (Indonesia, Saudi Arabia)
Reno6 5G (India)
Reno5 Pro 5G (Saudi Arabia)
Reno5 5G (Indonesia)
From 21 Dec. 2022
Find X3 Neo 5G (France)
From 28 Dec. 2022
Reno6 Z 5G (Thailand)
Reno5 Pro 5G (India)
Reno5 Pro (Pakistan)
Reno5 Z 5G (UAE) F19 Pro+ (India)
From 29 Dec. 2022
The X5 Lite 5G (France)
A74 5G (India, Indonesia)
And for the deployment of the beta version, this concerns:
From 9 Dec. 2022
Reno8 Z 5G (Thailand)
F21s Pro 5G (India)
From 23 Dec. 2022
F19 and F19 (India)
A95 (Indonesia)
A77 (India, Indonesia)
A74 (Indonesia)
If you have one of these Oppo-branded phones, you'll get a chance to sample the new features coming to ColorOS 13 this month.