In these days of telecommuting from home, we are constantly managing PDF type documents, among other things, to send documentation, presentations and other very relevant content that we would not want to lose in any way. This is why it is important to learn to protect a PDF file from www.formatpdf.com.
Because? Well, think about the situations in which you are going to submit a resume for a job application, or when you need to send a survey to the educational institution where you are in training. It is very common for these entities to ask you for a more elegant format than classic Word, and then PDF is one of the most popular.
In any case, PDF files usually contain sensitive data inside, which should not fall into the hands of anyone other than our original contact. The problem is that most of the users treat these kinds of files with carelessness and when they find out that they have been intercepted, it is too late.
Benefits of protecting your PDF files
This introduction finished, let's talk a little about the Benefits which are obtained when the content of a PDF is saved thanks to this tool, and which are not limited to only security aspects.
Issues such as customization, versatility and comfort, among others, are also taken into account.
5 compelling reasons to encrypt your PDFs
First of all, of course, the main reason to protect a PDF file is to take advantage of a level of 128-bit RC4 encoding. This means that a third party, someone outside the document, is not able to access your data or information. Anytime someone wants to watch, they'll need the password.
Another virtue of this system is that the process is carried out fully online, so you don't need to download any program or anything like that. You get a protected document in seconds, without delay.
The possibility that you choose password It's not bad either, since you can change it as many times as you want, or associate it with an essential part of your life that keeps you from forgetting it. Until that much-talked-about future without passwords, for now, there is no better way than to use them for PDFs.
The no risk Linked to this operation is another aspect that we want to highlight. This is an absolutely safe tip because the whole process is done in the cloud, which makes you believe that no one else is in possession of the source file. Moreover, the resulting encrypted PDF is also hosted in the cloud, both of which are deleted from these servers after some time. If you are wary of your privacy, you have nothing to worry about.
Finally, your Versatility, because when working in browsers it doesn't matter if you have a MacOS, Windows, iOS or Android operating system. FormatPDF can be accessed from any operating system.
Protecting a PDF file with this platform is really easy, and you just need to follow these points:
Access the FormatPDF website from your browser
Once there, click on the red square button that says "Select PDF file"
As usual, you will be able to select the PDF from all the files of this type on your PC. A second solution would be to drag it from your desktop or any folder to the browser in the taskbar
After a few seconds of loading, in which the document will be encrypted and you will see a corresponding icon, you will have a thumbnail of the file, and on the right two empty windows, one for the password and another for the repeat. As we pointed out before, you can select the password yourself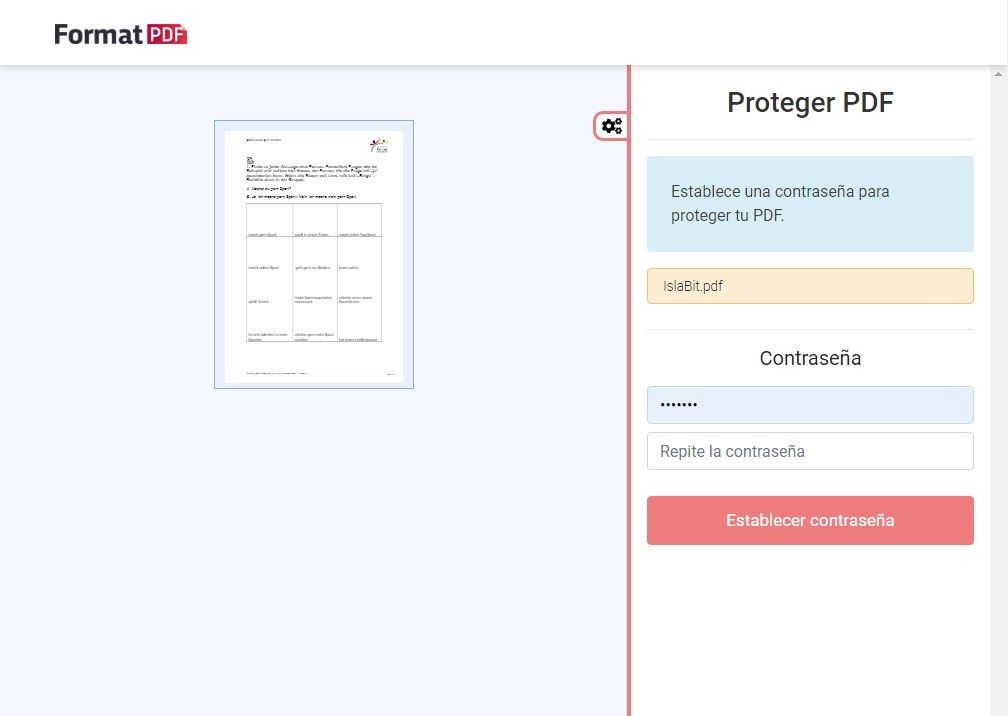 Once you have decided and made both changes, click on the red button "Set Password"
There will be another short upload period, to assign the password to the document, and you will be able to "Download PDF"
And that's it, you don't have to do anything else if you want to protect your PDFs without fees or annoying downloads.
If you need it later, too you can unblock these documents, removing the password, although you will have to use a different tool, specially designed for these purposes.
Share this with your friends!