Some of the coolest tricks possible with your Philips Hue lights are provided by Hue Entertainment and the official Hue Sync app. This Windows / macOS tool lets you sync your Philips Hue bulbs with your music, TV, movies, and games.
It works by analyzing what's on screen and adjusting your multi-colored Hue bulbs accordingly. a great way to add extra immersion to a movie night or gaming session. Connect your computer to a TV and it's even more awesome. It works regardless of what Signify devices you have. from standard Philips Hue bulbs to new Philips Hue Bluetooth bulbs and even Hue Filament.
Here we'll walk you through the process, assuming you've already set up your Philips Hue system. The app is free to download and use, and easy to configure.
Note that this is not the only app available to sync your Hue lights with movies, music, etc., but it is the best available for the moment among those we have come across (created by the company behind the Hue brand, Signify and running on the same device as your media certainly helps).
Alternatives to Hue Sync
Sync My Lights (for iOS and Android) is worth a look and uses user-programmed schedules rather than trying to watch what you're watching, while Hue Matcher for Android uses your phone's camera to keep your lights in sync with your movies. The Hue Camera for iOS does a similar job on Apple devices.
When it comes to syncing Hue lights with music, apps like Huegasm for Android and Hue Disco for Android and iOS are definitely worth a look. However, here we will focus on the official Philips tool: Hue Sync for Windows and macOS.
Signify also offers the Philips Hue Play HDMI sync box, which lets you sync your smart lights with your entertainment using the HDMI interface, which means you can plug in your different TV boxes and sync all the media that circulate there with your Hue lights.
It's still expanding the range and the new Hue Sync Play Gradient Lightstrip is a great addition – and is also a device that will work without the Box, so could be used for the method below as well.
But, if you want to know all about Hue Sync using the app, read on …
---
The material you need
For the Philips Hue Sync app to work like magic, it must be running on the same device you are watching movies on. in other words, a computer with macOS Sierra (or later) or Windows 10 installed.
This is great if you watch movies on a laptop or play games with a computer connected to a big screen; but if you want the effect to work with a standard television (perhaps for a movie night), you will need to connect your computer directly to it.
This shouldn't be too difficult on most modern laptops or desktops. Check the video output options on your computer and the video input options on your TV, and obtain a corresponding cable. In most cases, on hardware purchased in recent years, a simple HDMI connection will be what you need, although you can also use an AirPlay connection if you're on a Mac.
MacOS and Windows can automatically detect a second display once it's connected and will let you play your video on it. The Hue Sync app can also automatically handle second displays, so setting up an external display shouldn't be too much extra work.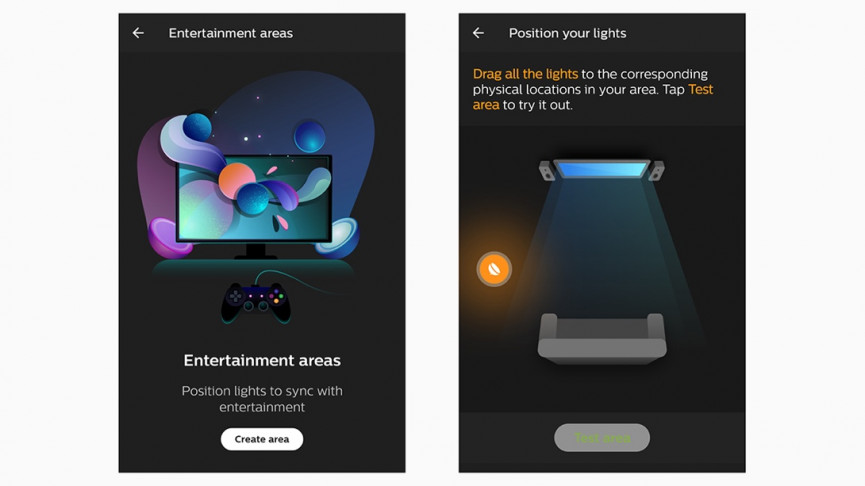 Configure your entertainment spaces
Before installing the desktop app on your computer, you need to set up what is called an "entertainment zone" in the Hue app for iOS or Android.
In the mobile app, go to the Settings tab, then tap Entertainment areas. To choose Create a zone, and then select the rooms with the lights that you want to use. you will only be able to select multi-colored bulbs installed. You can then choose individual lights, if needed.
Hit it The lights are ready when prompted, and the app shows you a typical home theater setup with a big screen TV and sofa. Drag the icons onto the app screen to match the physical location of your lights.
The app allows you to test positions and color synchronization until you are satisfied. You can then draw your attention to the desktop app.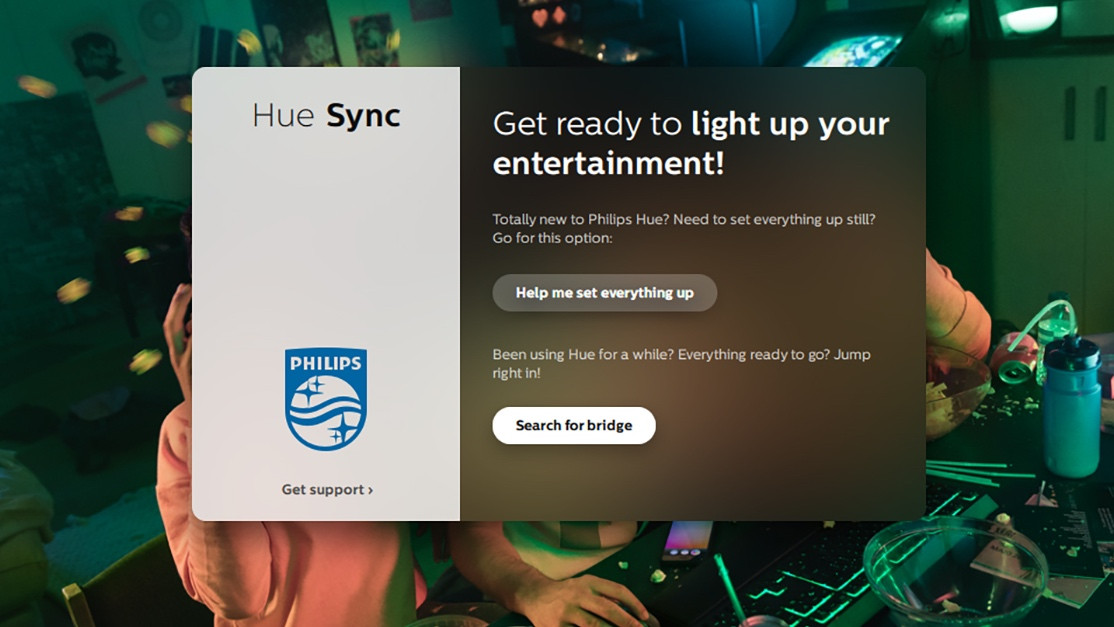 Download and install the desktop app
Go to the Philips Hue website to get the free Hue Sync app. As we mentioned earlier, you'll need a computer running macOS Sierra (or later) or Windows 10 to make it work, but the program works the same whether you use Apple's platform or from Microsoft.
Click through the usual setup screens you get with most apps (you can stick to all of the default settings), and once the program interface appears, you have the choice of setting your Hue lights to start from scratch or connect to an existing system.
To choose Search for bridge, then Connect, then go and press the connect button on top of the Hue Bridge itself when prompted. The program should automatically select the entertainment zone we configured earlier, so select it.
You will then be taken to the main control panel, where you can choose between four modes: Scenes (like the Scenes feature of the mobile app), Games, Audio and Video. Each mode works in a similar way.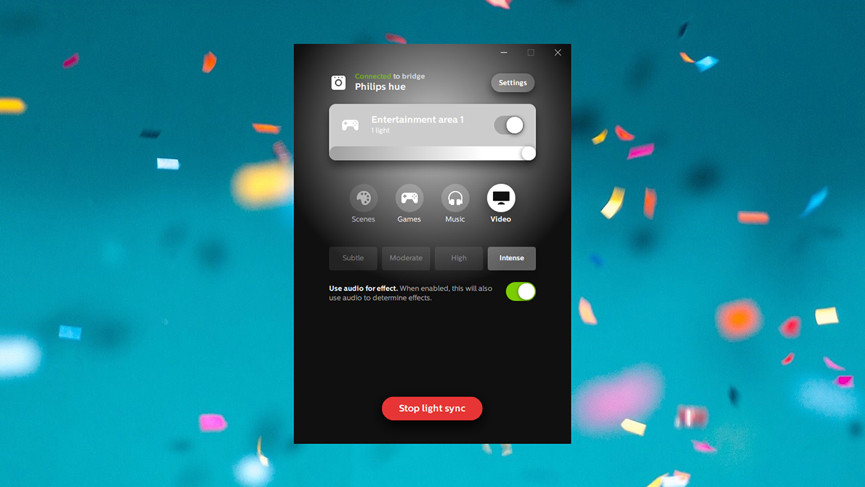 Sync your lights with a movie
We will discuss the video function first: select Video, making sure that the correct entertainment zone is also selected in the panel above.
The knobs below adjust the strength of the sync effect, as you might not want a disco style effect for slow burning European drama. Your choices are subtle, moderate, high, and intense, and the toggle switch directly below lets you tell the lights to follow the signals of the movie audio as well.
Once done, click on Start light synchronizationand view the movie or TV series you want on the screen. The Hue Sync app works with all video playback apps, whether they run as a desktop program or through your browser. For best results, put the video player in full screen mode.
Sit back and enjoy the movie, with auto color sync enabled, thanks to the screen monitoring technology built into the Hue Sync app and settings you configure. The more lights (and types of light) you have the better the effect, but play around with the configuration options to find a configuration you like.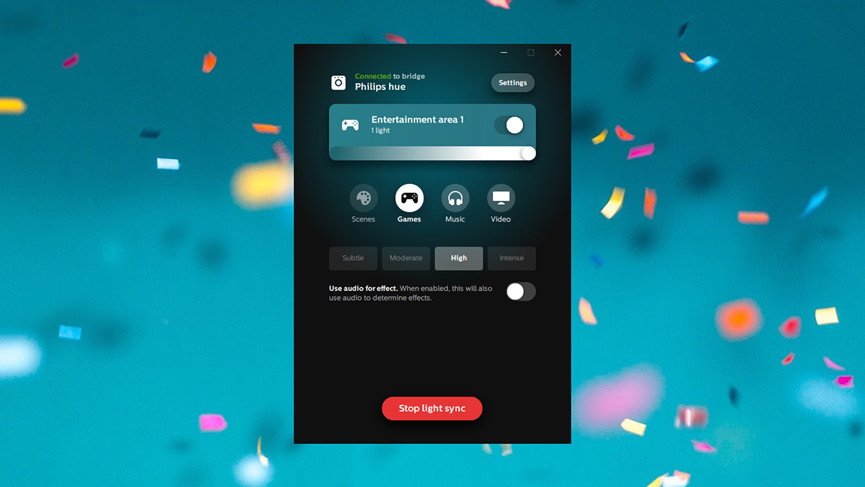 Sync your lights with your games
Once you master one type of synchronization, you more or less know how to make the others work. Back to the main menu, choose Games in the list of choices.
Your choices here are exactly the same as for the movies. You can choose between a Subtle, Moderate, High, or Heavy effect, and you can toggle the Use audio for effect switch below to have the Hue lights you selected also reflect your game's soundtrack. .
Click on Start light synchronization and the show begins. You can then bring up the game of your choice on screen and start playing, watching the colors of your chosen Hue lights change hue as your virtual surroundings do. Again, for best results, play in full screen mode.
To our untrained eyes, we can't really spot any differences between this and video mode, but it doesn't really matter. it's still very impressive, with the colors of your lights changing to match what's on screen in real time, pretty much.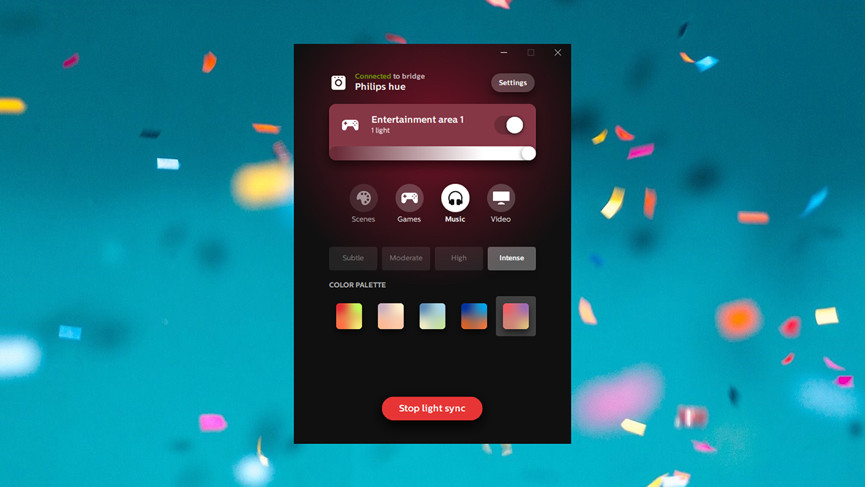 Click it The music on the dashboard of the Hue sync app, and this time you can sync your Hue lights with the tunes being played on your computer. As with the other modes, choose the group of lights you want to control from the options above.
You can choose between subtle, moderate, high, or intense light changes as before, but this time there's a choice of color palettes underneath: these palettes allow you to limit the colors that are traversed, so choose- in one that matches the musical atmosphere.
At the moment, you have no option to configure a custom palette. Click on Start light synchronization, and the Hue lights you chose will start to change to match the beat and volume of the songs you play on your computer.
It doesn't have to be music. it can be any audio from Windows or macOS. You can even have some vibrant colors to match the video chats you have with your family and friends, if you really want to.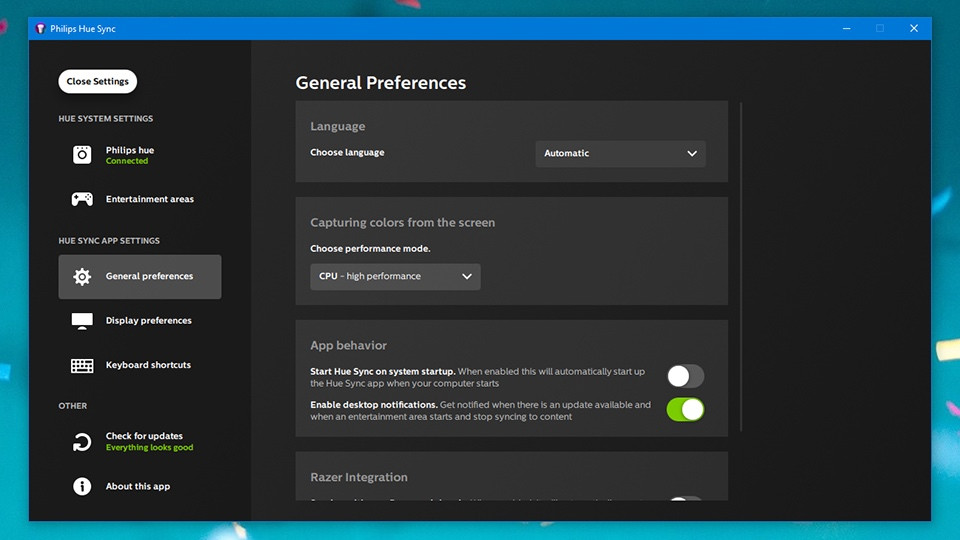 Set program options
If you click on the Settings In the upper right corner of the control panel, you can configure several different options in the Hue Sync program. One of these, under Display Preferences, allows you to select a second display if it has not been identified automatically.
You can also configure certain keyboard shortcuts, through the Keyboard Shortcuts panel, to change the brightness of your lights or to switch between modes – this can be handy if you want to make adjustments without stopping the video.
In the meantime, if you're having issues with video or game playback, go to the General Preferences pane and change the performance mode. This can ease the strain on your computer's processor as it tries to capture screen colors.
As we mentioned above, other third-party apps will try to sync your lights with your movies for you, but we recommend that you start with the official tool and then continue from there if you need to.