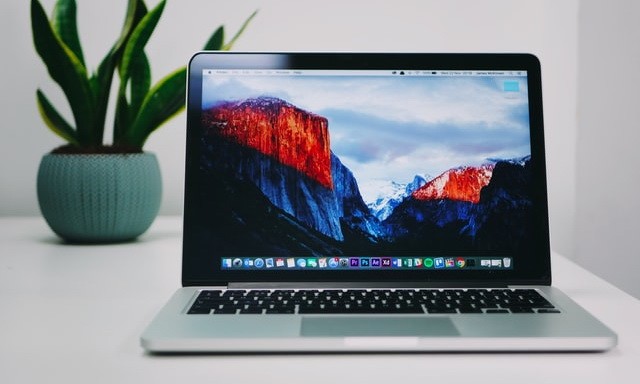 Your Mac may have several apps that you no longer use and want to remove. But there are several ways to uninstall apps on Mac depending on how you installed them.
For example, if you downloaded it from the App Store, uninstalling it is straightforward, but it gets a bit tricky if you installed it from other sources. Some apps come with uninstallation programs, some don't!
Read this step-by-step guide on how to uninstall apps on Mac running macOS Big Sur or later.
Remark : It is not possible to delete a running application. Make sure to quit the app before uninstalling it.
How to Uninstall Mac Apps: For App Store Apps
Open the Launchpad. You can also press command + space bar and type Launchpad.
Press theoption and hold it down.
Click on x at the top of the app icon.
Finally, click on To delete.
Trick : you can also drag an app from Launchpad to the Trash to delete it.
If you cannot remove an app using the above method, follow the steps below. It works for almost all apps (except main apps like Safari, Mail, etc.).
Uninstall Mac apps using Finder: for other apps
Open the Finder and click on Applications in the left sidebar.
Right click on an app. You can also press the Ctrl key and click.
Click on Move to trash.
If you see a pop-up window to enter your Mac password, please do so.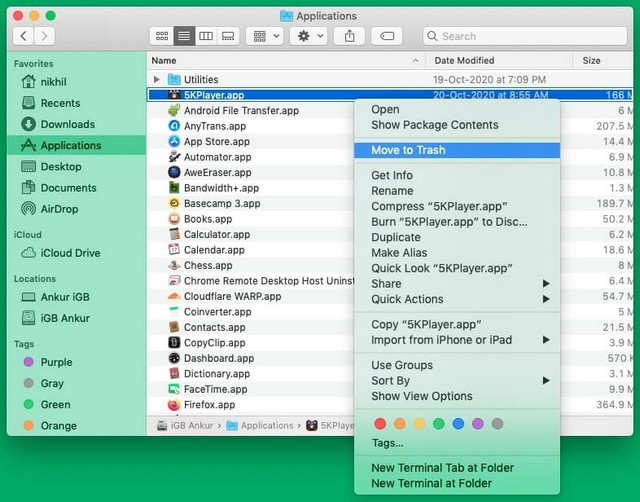 Finally, right click on thetrash can icon in the Dock and empty it.

Completely uninstall an application on Mac using the native uninstaller
When you delete a Mac application through the above two methods, it is likely that some application folders and files are left on your Mac. Only the actual .app file and some of its data are erased. I have listed a method below to properly uninstall an app on Mac.
Some applications (probably large companies like Adobe and Microsoft) may come with an uninstaller. This helps you achieve a clean uninstall without following any of the methods mentioned above.
You will find the uninstallation file in the Finder> Applications> application folder (very probably). Open it and run the uninstallation file. Then follow the simple on-screen prompts to remove said app.
What to do when Mac apps are not deleted?
Sometimes you may see the pop-up window indicating that the app you are trying to remove is open and therefore cannot be removed. In AppCleaner, you can see locked apps.
When you encounter this, quit the app. For that, click with right button on the application icon open in the Dock and choose To leave.
However, sometimes even after quitting, you may continue to see this pop-up window. Look at the top menu bar and make sure the app has no icons. If so, click on it, and most likely you will see the Settings icon which will have the "Exit" option.
Second, you can press command + option + esc for the menu Force quit. Now select the app and click on Force quit.
If nothing works, restart the Mac. This will close the app, after which you can delete it. (Make sure that said app isn't set to automatically open on startup.)
Locations from which you can manually delete app data
After deleting an app, you can also manually delete support files, cache, cookies, preference list, etc. Below are the locations where you will find these files. To access these locations, open the Finder > click on Go in the top menu bar> Select Go to folder > copy and paste the location shown below.
Once done, see if you find any folders and files with the name of the app you just deleted. Once you locate these junk files, right click and choose Move to trash .
Remark : The options below may look similar, but they all open different folders.
/Library
~/Library/
/Library/Caches
~/Library/Caches
/Library/Application Support
~/Library/Application Support
/Library/Preferences
~/Library/Preferences
/Library/LaunchAgents
~/Library/LaunchAgents
/Library/PreferencePanes
~/Library/PreferencePanes
/Library/LaunchDaemons
I think now you know a bit more about uninstalling apps on your Mac. My favorite (and most used) method is AppCleaner.
Conclusion
In this guide, you have learned how to uninstall apps on Mac. If you have any questions or suggestions let us know in the comments. Also consult this guide if you want to learn how to Secure your Mac.