There are many people who are looking for how deactivate the button of alight of a Pc with Windows 10. There is an easy way to turn it off. We can even configure it to perform a different action, which we can also do with the suspend button.
Changing how it works is extremely simple. We're not just going to be able to turn off the Windows power button. If not, we can also change its behavior to perform a completely different action and that is extremely simple.
Turn off or turn off the power button on a Windows PC
The first thing we are going to have to do is go directly to the Windows Control Panel. For that, we will have to click on "Start" or press the "Windows" key on our keyboard. Next we will write "Control Panel" and press "Enter".
In the panel we are going to sort the view by categories, we do it from the top right corner of the screen. Once the way we see the different sections has been ordered, we will have to choose "Material and sound".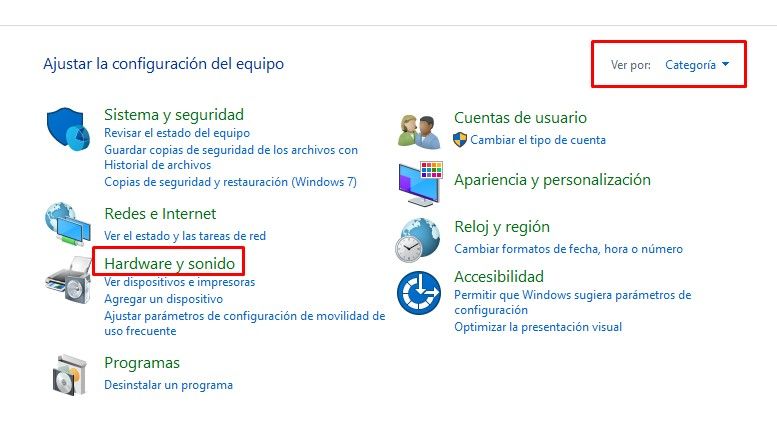 Here we will have to go straight to the "Power Options" section and if we take a closer look we can find a section called "Changing the actions of the on / off buttons".
Next, we'll see a screen where we can set what will happen when we press the computer's power or suspend buttons. In "Configure Power and Suspend Buttons", we'll click on the drop-down menu to the right of each of these options.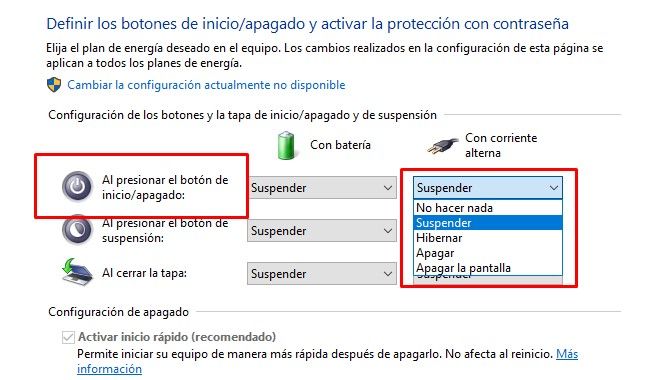 We will see a few things the power button can do and these are:
Do nothing: Basically, when we press the button, nothing will happen.
Suspend: When we press the button, the PC will automatically suspend in low power mode. However, it still works.
Hibernate – The PC saves the state of system memory to disk and shuts down. Although we can resume the system whenever we want and avoid losing information or having to wait for it to boot.
Turn off: I don't think we have to explain too much what this is for. This is the default setting for the PC power button and turns off the computer.
Turn off screen: it is responsible for turning off the screen, but the computer is working normally.
Once we have chosen which action to perform the power and sleep button. Just click on "Save Changes" and close the Control Panel.
The next time you press the power button, it won't turn off. Rather, it will do what you specified in the control panel. Now, to be able to shut down the PC, you will have to do it from the Start menu.
Share this with your friends!