Chrome is not only the most popular of the Chromium-based browsers, but thanks to Google's multiple operating environments on PC and mobile, it is the most widely used program in its class in the world. This isn't bad news in and of itself, but the dependency it engenders can prove to be counterproductive any time the North American firm steps outside the box a bit, as with the recent Federated Learning of Cohorts. It is precisely for this reason that we want to tell you about it and teach you how to disable FLoC at Chromium.
First of all, it must be said that it all started at the beginning of last year, when The Big G announced its intention to end third-party cookies in Chrome, a long-standing issue. They also hinted that they plan to replace this tracking of user activity on the Internet with this new mechanism, FLoC.
is federated cohort learning, a type of federated learning web monitoring, was posted by Chetna Bindra, a top executive at the U.S. company, who explained that the service meets all of Google's privacy and transparency requirements, within the Privacy Sandbox platform.
A year and a half later, this FLoC method is already a tangible reality within the Google Chrome browser. One that, on the other hand, caused a huge controversy among customers.
In principle, the latest versions of Chrome have a feature that allows us to disable FLoC in the browser. Until now, the only possibility for users to be excluded from this tracking was to disable or delete third-party cookies. But, faced with this new scenario, we have to learn other techniques.
Fortunately, the folks at gHacks bring us a tutorial that could be of great help in these cases. The curious thing is that it is a parameter which is not visible by default. You must deactivate a "flag" To get there :
In the address bar of the latest version of Canary, type "chrome: // flags / # privacy-sandbox-settings-2"
The result that interests us will appear, "Privacy Sandbox Settings 2", which is the one that provides the solution.
You need to turn it off. For this, you must click on the Default option and choose Enabled
Then restart the Chrome Canary browser for the change to have an impact.
The next thing is to write "chrome: // settings / privacySandbox" in the url
When you have completed all of the previous steps we just taught you, you will be closer to being able to control your privacy. Google specifies, about its federated cohort learning, that this trick allows FLoC to be disabled for a period of one week, after which the procedure must be repeated. For now, it is possible to do this deactivation, although it is not clear whether in the future it will not be absolutely mandatory, without an option.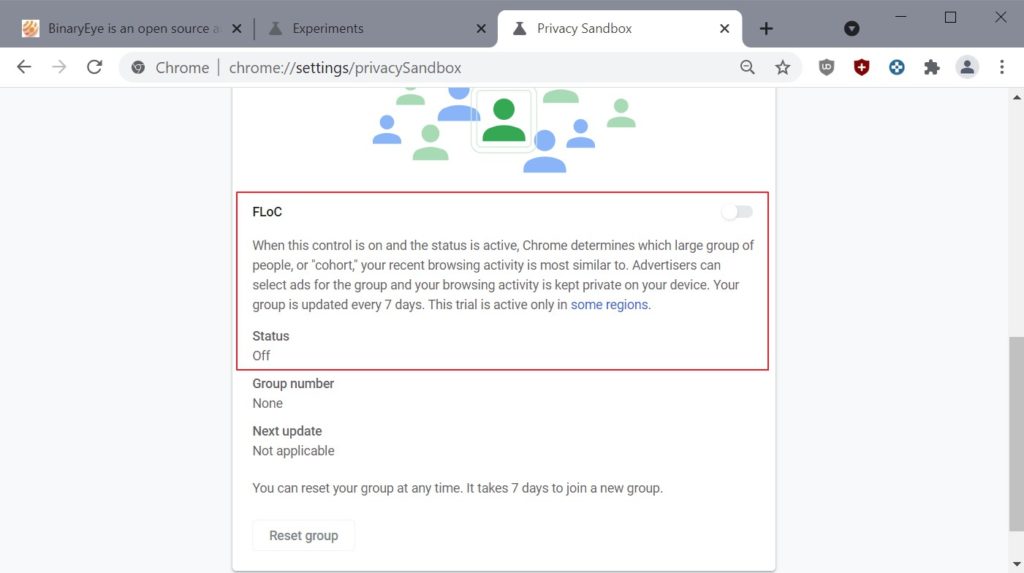 The Electronic Frontier Foundation -EFF- have you created a website called Am I FLoCed? which, as we can assume, aims to make it clear to us if we are being watched by this new Chrome system. "Google is testing FLoC on Chrome users around the world. Find out if you're one of them, "the site says.
If you absolutely do not want to be followed by FLoC, another of the greetings, perhaps the only one, is change browser. You can try Edge, Microsoft's browser which has improved a lot in its latest versions.
In any case, this does not mean that no one will follow your activity anymore. As Google itself has duly stated, websites today depend on various technologies that allow them to serve ads for performance measurement portals. This suggests that they are hardly going to forgive us for this follow-up.
Share this with your friends!