Your iPhone no longer holds a charge and you spend your time recharging it? It could be that there is a problem with your battery. Before you make an appointment at the Genius Bar and pay a 55-75 € bill to replace it, here's how to test your iPhone battery yourself.
Your iPhone is no longer holding a charge and you need to charge it more regularly than usual? This may be the time to have the battery replaced. Rest assured: as Apple points out, this process is normal. " Rechargeable batteries are consumable components that wear out naturally and deteriorate in performance over time. Their chemical aging leads to a decrease in their ability to hold a charge ".
But before you sound the death knell and head to the Apple Store, know that you can know the state of your battery right now, by yourself. In order to make sure that it should be changed, or not.
Things to check before going to the Apple Store
Do I have to replace the battery to replace it? No. Normally, Apple does not replace batteries upon customer request. The operation is recommended by technicians only and if the battery is deemed to be at the end of its life. This is the case for Lithium-ion batteries when they generally exceed 500 full charge and discharge cycles.
Via the official channel, namely go to a Genius Bar at Apple, you will be told whether your iPhone's battery needs to be replaced or not. A process that costs € 55 for iPhone 5S to iPhone 8 Plus, and 75 € for iPhone XR and newer models.
But if you do not want to go immediately to an Apple Store, know that it is still possible to do test your iphone battery remotely. By contacting Apple support, a technician can for example carry out a series of online tests – the only requirement being to be connected to Wi-Fi. And if you prefer check the battery health status by yourself, the thing is quite doable. Here is how to do it.
How to test the battery of an iPhone yourself?
It is possible to check the battery status of your iPhone by your own. The process is childish. To proceed, go to Settings > Battery> Battery status. Here you will have everything you need to know its condition.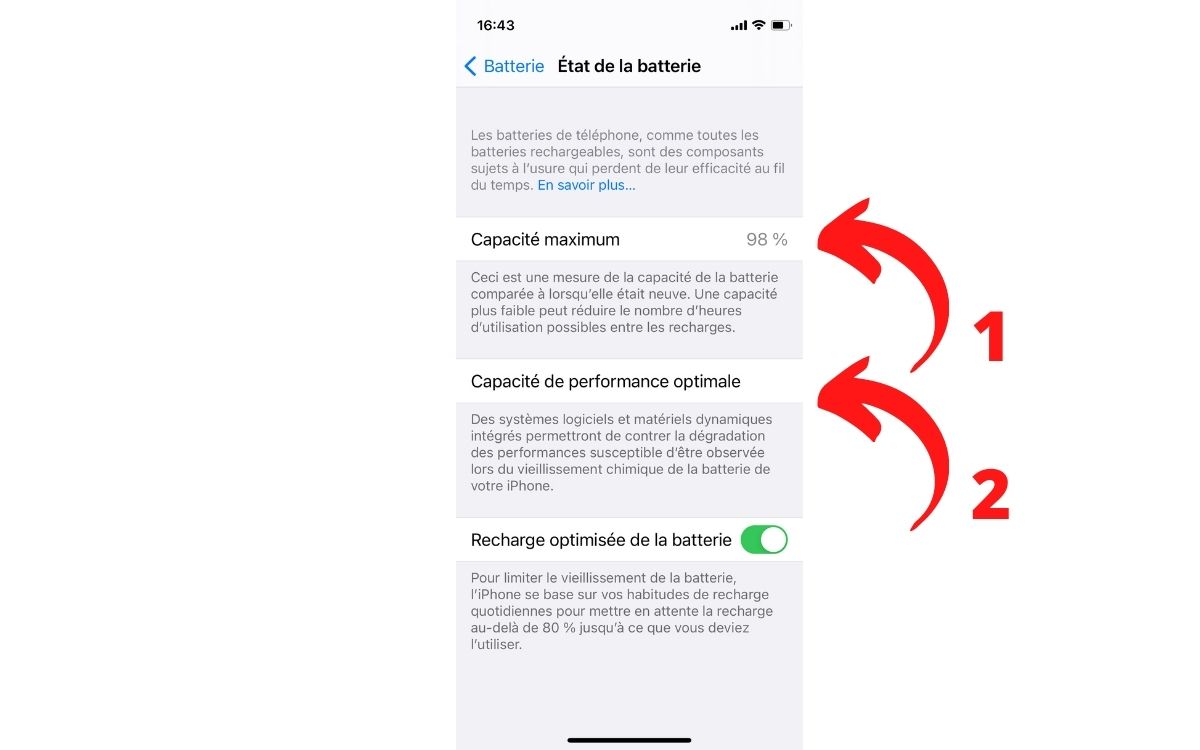 Its maximum capacity (1). This is a measure of comparison with its condition when it was new. It is this figure that interests us the most. The lower the percentage, the healthier the battery. It is considered that this starts to become problematic below 80%.
A message telling you its current capacity (2). If there is a problem, iOS will show you a message there. If not, it is still healthy and does not need to be replaced. Here, iOS displays " Optimal performance capability »The battery therefore does not need to be changed.
There is another third option, which is not related: the possibility of activating optimized recharging, which we strongly recommend that you activate to optimize the state of your battery.
Alternatively, the battery tab lets you see at a glance the last charge level (over 24 hours or over the last 10 days). This graph is useful because it allows you to see your battery activity. Has it suddenly discharged during the day when you do not use it or very little? It is that there is probably a problem.
Below is what a "normal" iPhone battery activity looks like, at 4:49 p.m., after an end of charge (100% reloading) at 8:56 a.m. and "normal" use of the smartphone in a day. As you can see under Battery level, the unloading was not too abrupt. This indicates that the health of the battery is quite good. After 4 hours of screen and 1 hour 30 minutes of standby, the iPhone has lost only 30% of its charge. If this curve suddenly drops when you haven't used your iPhone, there is a problem.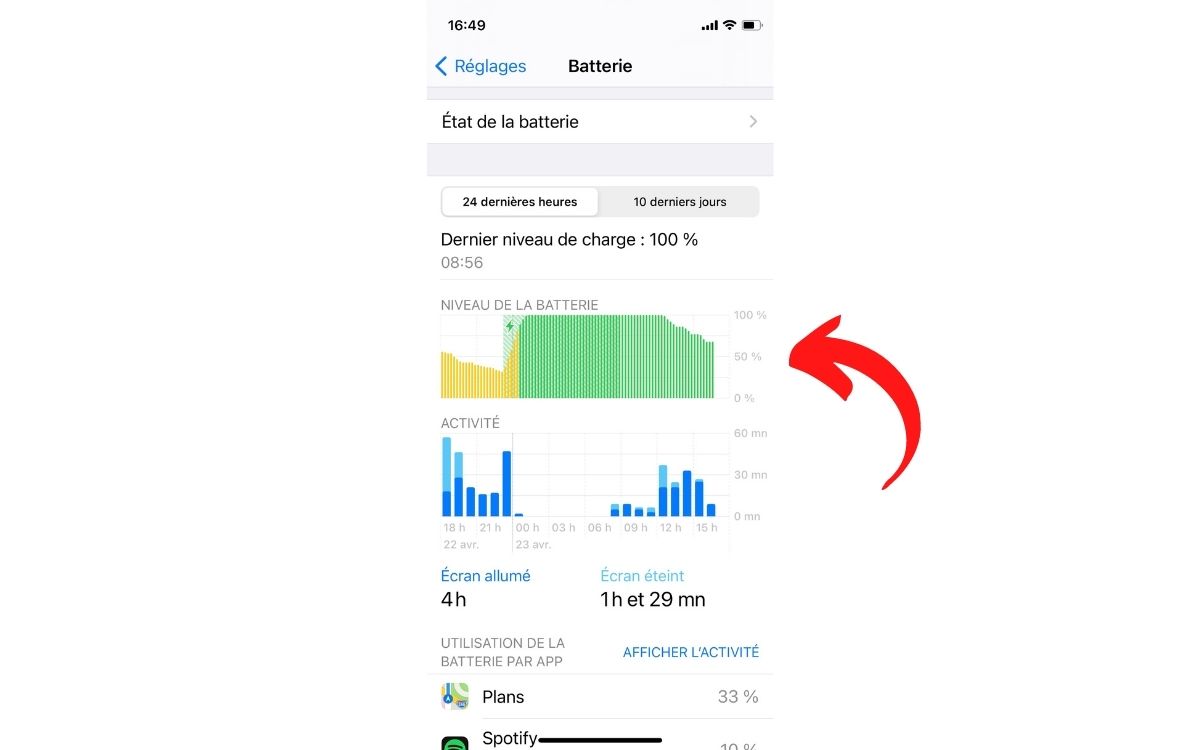 In addition, there are several apps that allow you to test your iPhone's battery. This is the case of Coconut battery providing a slew of information about your iPhone battery. In particular, the number of charge cycles and its exact maximum capacity. Download then open the app and go to the section iOS device when plugged in to bring up the information. There you will see the age of the battery, the total charge capacity in mAh, and its current charge capacity (here, 98.8%, which means that it is in excellent health, the peak being 100%).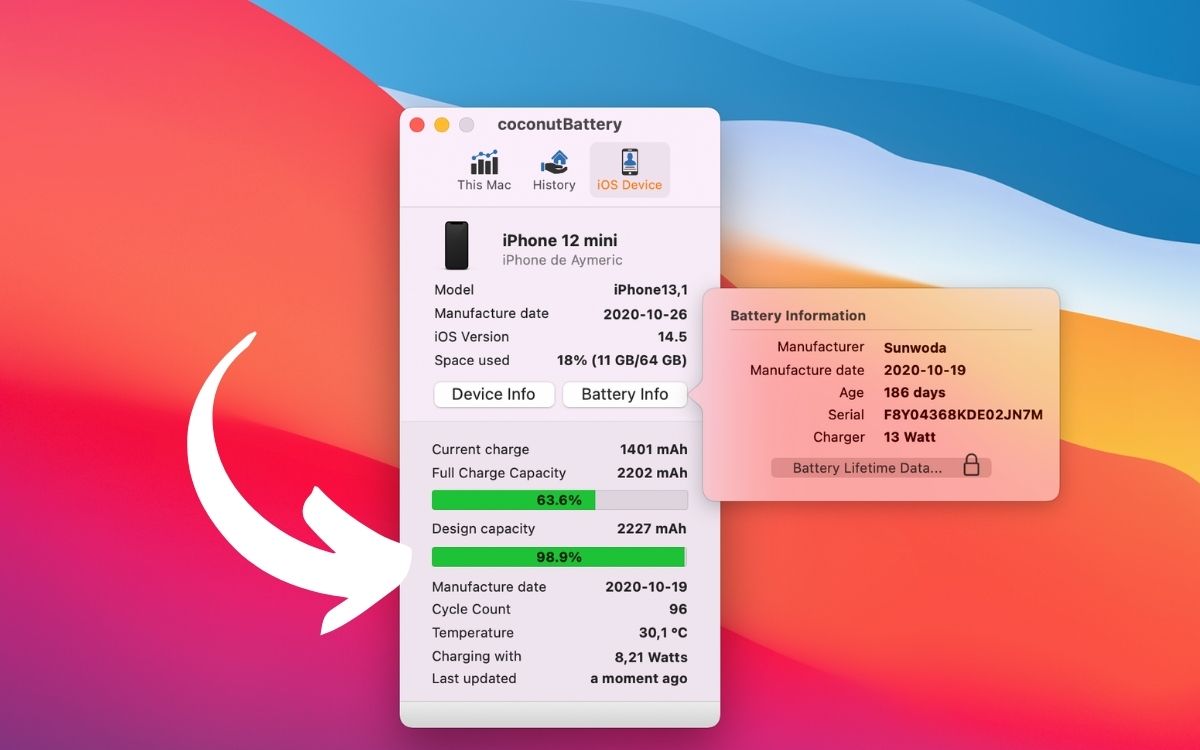 As a reminder, Apple explains that the batteries are designed to retain around 80% of their initial capacity after 500 charge cycles. If this is your case and the battery capacity has degraded by at least 20%, you may already consider a replacement.
Finally, if your battery no longer holds up but it displays correct figures in its state of health, you can try to reset your iphone but without turning your iCloud or iTunes backup back on. A radical process, however, since you will lose your personal data. Remember to save your images, videos, documents, contacts and others somewhere before proceeding with this operation. This will allow you to eliminate any software problem. If the problem persists, contact Apple Support.
See as well : iPhone: how to take a screenshot?