When we buy a VPN, the first thing we need to know is if it is really secure before we surf the Internet. That's why we've created this in-depth article to test if one VPN work and like detect leaks.
Through a VPN we can improve our internet privacy, the problem is when information is leaked. This can be a serious problem, so let's see if our VPN is working and how to detect it. leaks. But first we have to review the types of leaks they exist and we will then test some tools to be able to detect them quickly.
Types of VPN Leaks
If a VPN broadcasts the IP address instead of the VPN server, then that would be a leak. There are three types of leaks that can be detected very easily with simple and quick tools: IP, WebRTC and DNS leaks.
As far as IP leaks can occur by IPv4 and IPv6. In the case of IPv4 leaks, they occur when the VPN does not properly protect our address. Usually, these types of outages aren't very common, let's say they only happen when a VPN fails.
When an IPv6 leak occurs, it happens when you try to connect to a site that supports IPv6, but your VPN only supports IPv4. This way, the IPv6 is not protected and the website can detect the IP address. The only way to avoid these kinds of leaks is to update your VPN or switch to a compatible VPN.
Leaks WebRTC They are different: Web Real-Time Communication (WebRTC) is a set of standardized technologies that gives browsers the ability to communicate with each other without the need for an intermediary server.
In between this process, it may happen that the IPv4 address and our location are accidentally revealed. In this case, we will have to disable WebRTC requests with a simple extension in our preferred browser.
The last of the leaks would be the DNS. They occur when DNS queries are sent to standard servers bypassing the VPN and using the VPN's DNS. Here, simply changing the server should solve the problem; In case this happens too often, we should consider switching VPNs.
Tools to test or test a VPN
Once we are clear on what we are looking for, we will need to use some tools to be able to detect the leak. For this we can use ipleak.net from AirVPN and ipleak.org from VPNArea.
Both have the same goal, so we can use the one we like the most. For this guide, we will be using ipleak.net.
Therefore, the first thing we are going to do is enter ipleak.net without activating a VPN. Here we won't find any welcome screen or something similar, it immediately sends us the test results.
At the top we can see the IP address, just below we will find the country and city where we live. A small detail is that on several occasions it can display a nearby town, it is not the fault of ipleak, but rather that the IPS or the Internet provider connects to a server which is located there. in law.
We will also find the IPv6 test to the right of our IP address. If it appears as "Not accessible", it means that there are no problems. Just below is the result of the WebRTC test, if it is empty it means everything is fine.
We can then visualize the DNS test where we will see a lot of IP addresses. These would be all the servers where the signal bounces before reaching ipleak.net. If so, then everything is correct.
For now, everything is fine, but we have to do the test with the VPN, with our protected connection. For that we will simply connect and reload the page, the analysis will be executed automatically.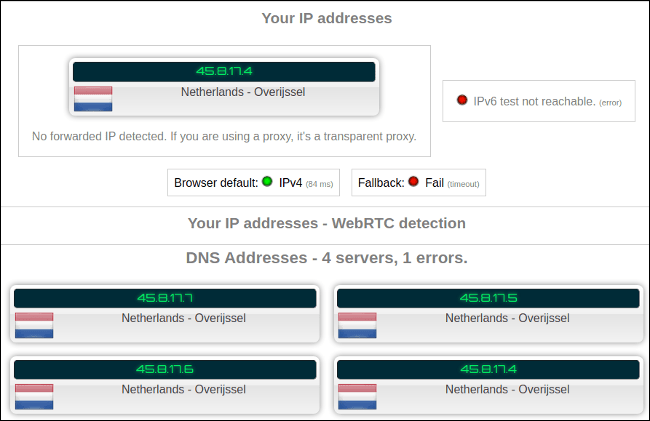 In the example that accompanies the article, we can see that the results of the IPv6 and WebRTC tests are found without problem. To find DNS leaks, we'll need to see if our real IP address is in the list. In case it was not found, there would be no problem of any kind.
It may also happen that the location of the VPN address is in a different location than the one selected. This happens because of the way IP addresses are recorded; IP addresses are constantly changing, but updating information takes a long time.
But don't worry, it's not really a security issue, over the days the IP address will show up where it's supposed to be.
It is very rare to find IPv4, IPv6, and WebRTC leaks. Instead, DNS leaks are more common, we need to make sure to check the DNS servers to make sure our original IP is between the addresses.
In this simple way, we can see if our VPN is working and most importantly, detect leaks ASAP to take care of all our valuable information and our security.
Share this with your friends!