Many people decide to abandon WhatsApp entirely and migrate to other similar services. The problem is that these apps are often not ready to support the number of active users who decide to quit WhatsApp. This is why it is essential that we learn how to know if Signal or Telegram is down.
We previously talked about Telegram billing for some options in its app. We don't know how Signal will solve the problem. But there are many times when the server for both applications is working fine and the problem is actually ours. check server status?
It is always very positive that new users are reaching different platforms, in this case we have no doubt that Telegram and Signal are growing by leaps and bounds. However, the problem arises when the servers cannot handle the number of users.
Signal has been struggling to keep its servers online lately. From time to time, many users have trouble using the app.
Even on many occasions, the services may not even be down. In fact, it could be a problem with our device or our connection. For that, it's ideal to have a way to check if they're online and luckily both apps have that option.
Check Signal Status Via Its Website
The only way to check if Signal's servers are working properly is through the company's website, they have an exclusive section so users can check if the servers are working.
We won't get much information about the issues that prevent the app from working. However, at least we can remove the doubt as to whether this is their problem or ours.
In the case of Telegram, it is better to use Down Detector to find out if the server is working. It is even possible to use this app for other services like Netflix, Xbox Live, Hulu, among others.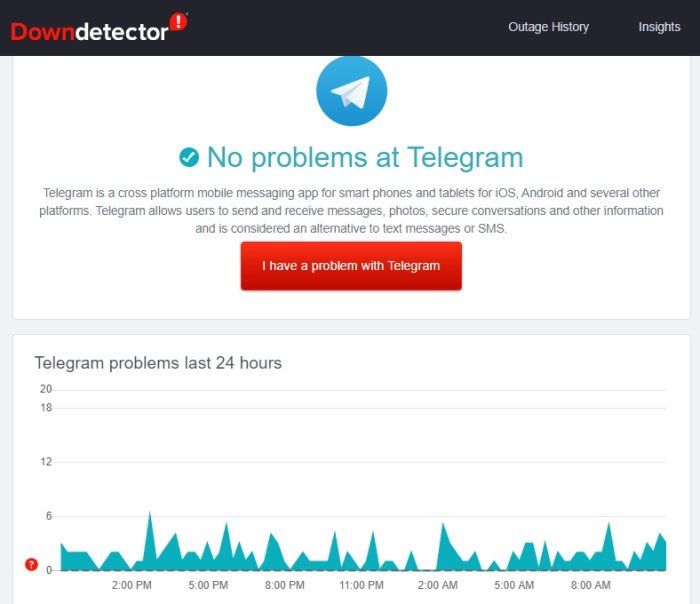 Therefore, we have a very interesting tool that works very well, we are just going to have to visit the Down Detector site and search for the service we are interested in to get more information on it. Hence, it is very good to know whether Signal or Telegram is down.
Share this with your friends!