There are several methods to take a screenshot on a Windows 10 PC. In this tutorial, we will show you how to do it via a combination of keyboard keys, via the system tool intended for capturing, and finally thanks to an extension. for your browser which can capture entire pages on the web.
Windows 10 offers several ways to take a screenshot and it's very easy either way. The keyboard shortcut option is the easiest. Your entire screen is captured, and accessible directly to the clipboard. The system also has a built-in tool that lets you manage your captures like a pro. Finally, there is a last method that applies only to your browser.
If you feel the need to capture an entire page and not just the content accessible above the waterline, you can do so with an extension. We describe all these methods below.
Windows 10: how to take a screenshot according to your needs
Under the Pc Windows, there is the well-known key PrtScn / PriScrn / Print Scr / Print system screen., depending on your keyboard, which is usually to the right of the F12 key. On some laptops, you must press the button at the same time. Fn to activate it. Basically :
Press on PrtScn / PriScrn / Print Scr / Print system screen. according to your keyboard
On some laptops also press the Fn key simultaneously with PrtScn / PriScrn / Print Scr / Impr screen syst.
Then open the app Paint

and paste the contents of the clipboard.
Directly save a screenshot of the entire screen to a folder
This method saves time by directly saving the capture in a folder. This frees you from pasting the contents of the clipboard into Paint at first.
Press on Win key. + Impr. Syst. Screen or Win. + Fn + Impr. Syst. Screen if you are owed a laptop. On some portable PCs, it is not necessary to press the Fn key.
Your capture is then in your file Images Screenshots
Use the Snapshot and Sketch Tool for more flexibility
The tool Screenshot and sketch Windows 10 replaces the old tool Screenshot which should soon disappear from the OS. It can be used to take screenshots of a window, a rectangular portion of the screen, or a free-form portion of the screen. You can also use it to annotate a capture with different colors, save the image and share it via email, etc.
As the tool has one annoying limitation though: it doesn't capture the tooltips that appear when you hover your mouse over it. If this is a problem you will have to use another method. Accessing and using the capture tool is very easy:
Start typing "Screenshot" in the menu Start then click on Snapshot and Sketch Tool
Click on New on the top corner left
In the toolbar that opens at the top, you have the choice between several capture modes: rectangular shape (to delimit the zone with a rectangular dial $), free form to select the zone freely, window capture to capture only the contents of the current window and finally full screen to capture the entire screen.
Once the capture is done, an editor opens. You can directly annotate it by clicking on it with your mouse. Contrary to Paint, the tool rubber erases your annotations, and only your annotations.
When finished, click on file to save the image, print it or send it as an email attachment, or take a new capture if you are not satisfied with it.
Use the Fireshot extension in your internet browser to capture entire pages
There are a few third party programs for taking screenshots with some advanced features. In general, what really motivates moving towards a third-party solution is when you realize how difficult it is to faithfully capture the rendering of an entire web page when it crosses the waterline at the screen. There is a 100% free solution to just do this.
It is in fact a very silly extension for your internet browser (Chrome or Firefox), named FireShot. The extension adds a very useful button to your browser which offers a drop-down menu with very precise capture options: capture of the whole page, of a portion, but also video capture of the page. The extension also offers a handy editor to edit your captures on the fly before sending it.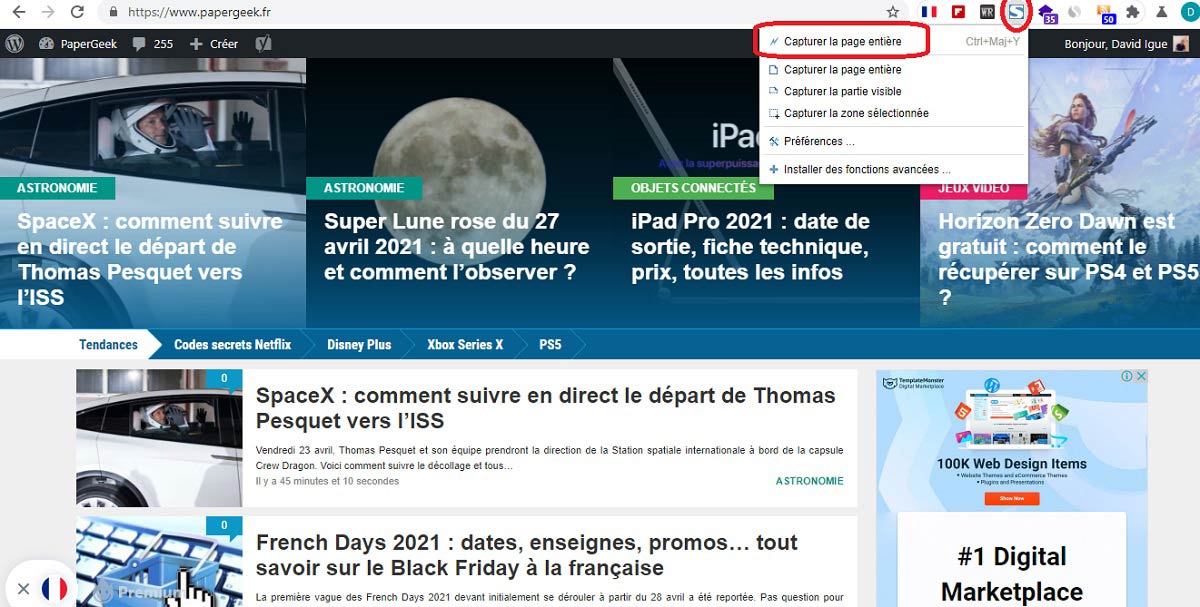 We have just seen all the options for taking a screenshot on Windows 10. If you are at Apple, here is how to take screenshots on iPhone and on Mac. Finally, find out in this article the methods to take a screenshot on Android. The builders all converge on a universal method. A few years ago, they varied enormously from one brand to another.