It is normal that we can synchronize the tabs of various browsers. If we are using Chrome on our mobile phone then we go to the computer, for example. However, how to sync tabs from different browsers? It's a little more complicated to do, but it is possible.
We might be at work using Edge and then it's time to go, we go home and want to continue reading a news that we have pending. The problem is that we are using Chrome and we don't know how to sync tabs from different browsers.
Fortunately, there are plenty of extensions for Chrome, Firefox, and Edge that many times make our lives easier. And to achieve this, we can find an add-in that will help us to synchronize all tabs and windows between different browsers.
To solve this problem we have Tab Session Manager which is an open source extension that works in Edge, Chrome and Firefox. Basically, it allows us to sync the tabs we have open between the three browsers and it's not too complicated to use.
The first thing we need to do is install it in all the browsers we are going to use, be it Chrome, Edge or Firefox. The way to configure the extension is exactly the same in all browsers and you will only have to do it once in the ones you are using.
We open Tab Session Manager from your browser's extensions or add-ons menu. A window will open and we will have to click on the settings icon in the upper right corner to start configuring the extension.
Here we will find a lot of options. But we'll focus on a few. The first one that we are going to modify is "Device name" and we will have to check the box "Save device name". This is important because it will help us identify where the tabs we are syncing are coming from.

We need to check the option "Save session regularly". We can adjust how often the tab sync is saved and the number of sessions that can be stored at the same time in the two options that appear just below the previous one.

Another option would be to mark so that the tabs are only synchronized when we close a window or the browser. We can even choose the maximum number of items that will be synchronized.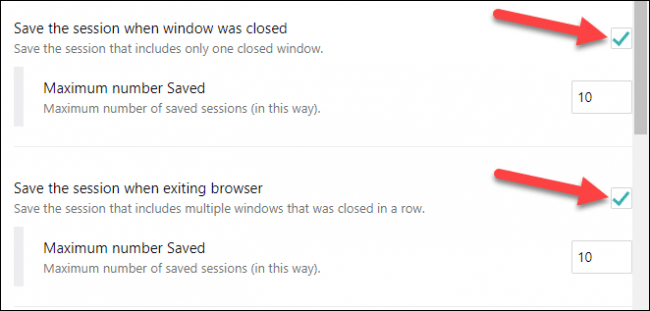 The most important thing for this to work is that you sign in to your Google account. In this way, all data is saved in the cloud. Therefore, when you log into another browser through the extension, the backup of the sessions that were saved to Google Drive in the previous browser will be loaded.

To do this, just click on the "Connect with Google" button. A message will appear to inform you that the extension is requesting permissions. We will just have to click on "Allow".
Then the Google login window opens. It will ask us to log in choosing an account (it must be the same in all browsers) and grant Tab Session Manager permissions.
All that remains is to repeat all the steps in the other browsers that we use regularly.
Once everything is set up, it's time to use the extension. The first time you use it, you may need to click the sync icon. From there it will not be necessary.
Since we take care of naming each browser, we've just started the guide. We can see where the synchronized tabs are coming from.
And that would be it. Sometimes you may need to click the sync button to force an update.
Share this with your friends!