If as part of your work you need to keep track of emails arriving on your account, you are probably used to it and you don't mind too much. The real problem is that it can take a while to disconnect in free times, like weekends or holidays. Therefore, if under these circumstances you do not wish to have to know about emails, we recommend that you keep reading, as you will find out how to establish automatic responses to the Publish of Outlook that come to you.
Best of all, this is an extremely simple tutorial with no major complications, thanks to which you will achieve a noticeable improvement in your quality of life, without wasting time and without having to worry.
First of all, know that you can take advantage of this simple trick to avoid losing customers, to get potential partners through a more professional image and shorten your response times, etc.
And, before we go into details, this solution combines very well with others that we have become accustomed to lately, like turning off notifications in Outlook. If you consider both solutions, you can make your vacation a real vacation, so that your weekends aren't ruined by work.
Determine automatic replies to Outlook emails
Setting up automatic replies to Outlook emails might seem a bit complex at first, but you can be sure to fix it without any major inconvenience by following these steps:
Open your Outlook account and go to the New email section
On the Message tab, set the subject to Auto reply
Add a fairly general automatic reply, which is suitable for any email, by clicking on File
The Save As dialog box appears and you need to create a new folder for it
After that, go back to the Home tab, go to Rules and finally to Manage Rules and Alerts
There, select the Mail Rules tab and New rule
Switch to the Apply rule on the message I receive
Next, tick Send to me only and click Next
You can verify the answer using one of the specific models offered.
In this case, we'll use the same template we just created and store in a new folder
Select the file for the automatic reply, then click to open and Next
If you prefer, you can add a name to the rule such as "Automatic email replies"
Finally, click on Apply and Accept to apply, with which you will have concluded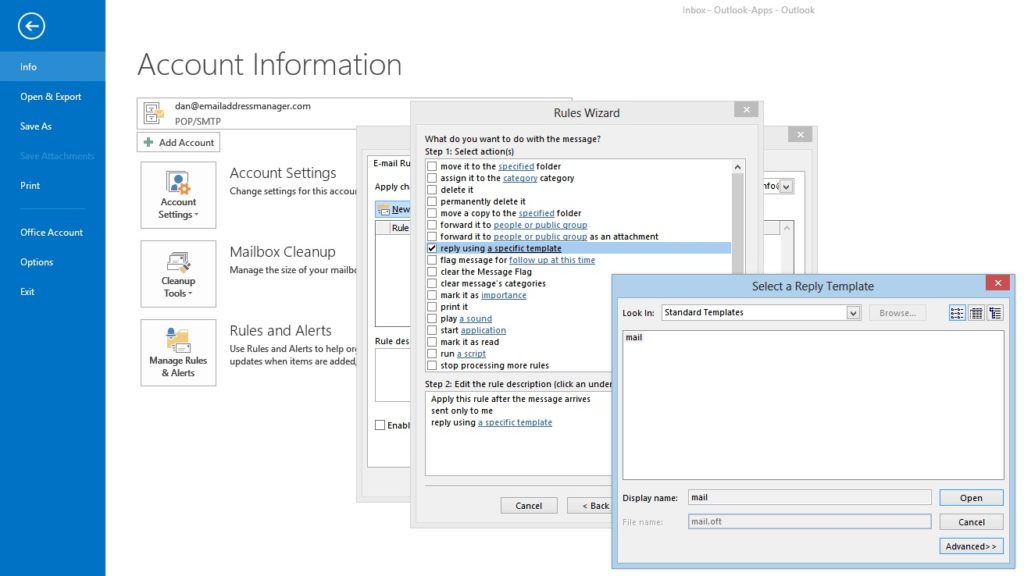 Conclusions
At this point, we've just shown you how to create a specific function Auto-reply to emails from Outlook, one of the world's most famous apps or clients.
This efficient method will help you respond to every request that comes to your account, with the main advantage that your partners won't get impatient or anything like that, being able to take your time to answer.
Either way, you can always make additional changes or go back with the procedure we just showed you. Also, if you have accumulated too many emails that you haven't really read and need to find a particular document, you can use Outlook's file view online.
Share this with your friends!