For a long time, a large number of users have been asking the same question: how to send whatsapp messages without saving number. And is that being such a popular medium is how everyone uses and when no further contact is required, it is better not to program it from the beginning. To do this, there are several methods to perform from a laptop or a PC.
First of all, it is possible to send WhatsApp messages without saving the number in the contact list copy a url in the browser, this is the simplest option and is also valid for mobile devices and computers. In the event that greater comfort is desired, it is possible to do so using third-party applicationsThese will make the process easier by automating it, although there are still no such programs that can be installed on the PC.
There are two different options for send a message on whatsapp without saving the number phone copy url in browser, but both have the same operation. Here is the procedure to perform.
Paste the URL into the browser, you can use one of two options:

"Wa.me/number".
"Https://api.whatsapp.com/send?phone=XXXXXXXXXXX".

Eliminate word count and X's to replace them with the contact you want to send the message to, including the country code and press Enter.
You will reach a page where you will have to press the button "CONTINUE TO DISCUSS"To start a conversation with the specified number.
Once done, you'll have started a conversation with someone, without having to schedule it first. Remember that these steps they work the same on mobile or on PC.
Use of third-party applications
There are third-party applications that can make it easier to send messages on WhatsApp without programming the contact. Here is a list of commonly used programs for this:
Messages without agenda
This application is very easy to use, the first thing to do is to create a new chat. Then you have to choose the country code and enter the number to which you want to write and finally click on "open chat"To start the conversation. Optionally, it is possible name the contact to have a recording in the app or even to write to you again at another time, this without being registered on the phone.
WhatsDirect – Contactless Direct Chat (Official)
It is a tool that allows its users send whatsapp messages to any number without saving it on the phone. The contact can be entered manually or choose it in the call log Recent Just write the message and tap on the option that says "SENDBut it has different buttons for sending text or media, making the process easier before starting the chat in the messaging app.
Wsp without adding contacts – Click to chat
It is a tool that allows you to create chats quickly, by counting on a history of inscriptions and recent names. All you have to do is enter the recipient's number with their corresponding country code and press the "Chat" button. Also is compatible with WhatsApp Business and even you can create direct chat links, either to the number of the account holder, that of his company or that of a third party.
Click to chat [ligero, sin anuncios]
This application to chat with unregistered numbers in WhatsApp It can be used without seeing any type of advertisement and it works the same as other apps of this style. In other words, the prefix of the country to which it belongs and the contact number are entered to finally start the chat. Further away, offers the possibility to create a link for the conversation with the indicated number and even a shortcut for the home screen.
Possible obstacles
If there are any problems with the methods described above, it is important to know that there are two obstacles that would hinder the operation so many links like apps and are as follows:
Block in WhatsApp: If a user tries to contact another who added them to the blocked contacts list, they will be unable to send a message to this person.
Dual whatsapp: By having an application installed to clone WhatsApp the above methods would not work on mobilebecause the messaging app cannot be opened.
Advantages of this method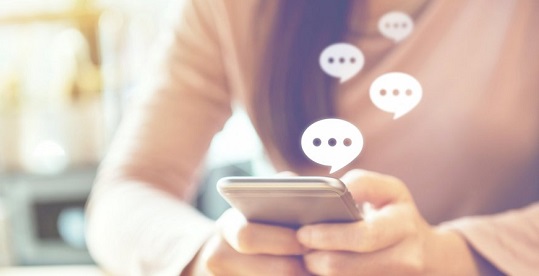 These methods for talk on WhatsApp with an unknown number without programming it in the contacts, they are used to avoid saving unnecessary numbers in the mobile. Some of the situations in which this tip may be necessary are as follows:
We need send a single message to a specific person without programming them in your contact list.
Shopping and inquiries to stores or other services.
that the user can start a conversation with yourself.
A call was received from an unknown number and you want to contact him by WhatsApp.
In addition, this it's a way to protect privacy of the user. Many of WhatsApp's privacy settings state that certain information will only be shared with contacts. For him, it is important not to program numbers of unknown people, because normally they will be able to see the states, profile picture and other exposed data.
Send WhatsApp messages without saving the number it is quite simple with the methods explained in this text. In addition, it offers several privacy-related benefits that will make the user's life easier by avoiding having to see the states of strangers and make them see theirs.