VLC Media Player is one of the best free media players around and open source and which can play virtually all audio and video formats as well as network streams and streaming links.
This player obviously integrates several features and playback options as well as tools to customize it and also to improve the quality of the videos being played.
Among the features, and since we have already covered topics in other articles around the screenshot and video recording of your desktop in Linux, VLC Media Player also allows this thanks to a built-in functionality that can be you do not know about Windows 10.
The method is very simple and you will be able to record in video all the scenarios, the activity of anyone and their actions on your Windows desktop even in the background, just like a software dedicated to video capture. Very practical for creating user guides and tutorials around applications, games in action, software and operating system installation guides and so on.
How to Record Windows 10 Screen Using VLC Media Player
In this method, we will need only 4 steps to configure our VLC player for recordings and video capture of our screens under Windows 10:
1. First of all, launch the VLC media player already installed on your Windows 10 or other versions of Windows (if it is not yet, go to the official VLC website to get it: VideoLAN.org), then select the option Media in the menu, then click Convert / Save (Convert / Save) or directly on Open a capture device.
2. A window will open, click in the "Playback Device" tab, then change the capture mode in the drop-down list from DirectShow to "Desktop"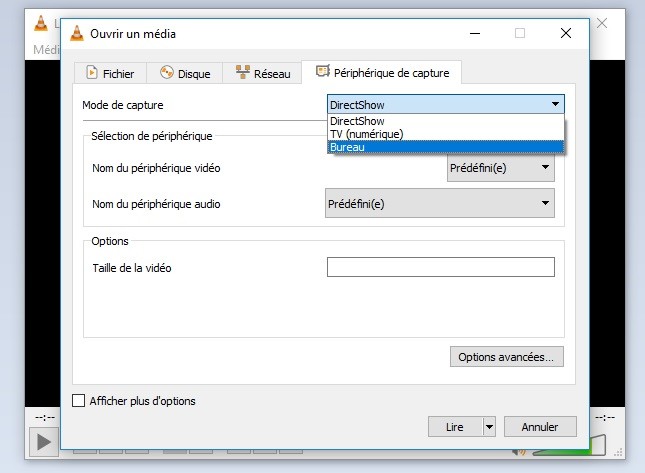 3. At the bottom of the window, you have an option that allows you to adjust the "Frame rate for capture", put values ​​between 15 and 24 frames per second for better capture.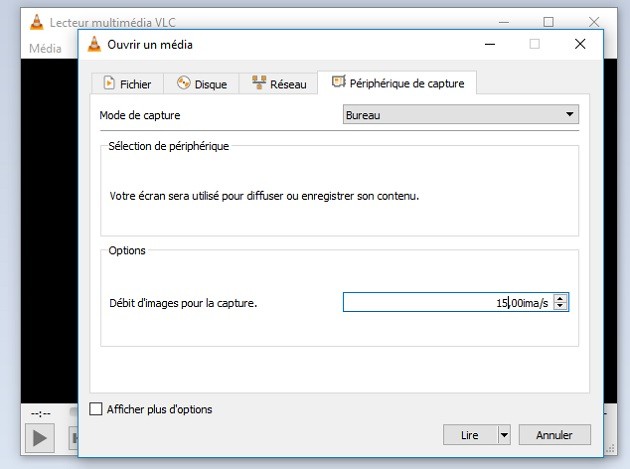 4. Now you only have to configure the output preferences of your capture video, for that and always in the same tab, click on the drop-down list around "Play" and select the "Convert" option. Set your output preferences, choose a destination folder, then click Start