Sometimes we need to find a file quickly on our computer. But it turns out that the search results are incorrect or that no file that actually exists is found. So it's time to rebuild the Windows 10 search index.
Fortunately, this is not at all complicated. What you need to keep in mind is that the process itself can take too long. Not because it is difficult, but because we have to wait a long time until the reconstruction is complete. After that, we will be able to search for files in Windows 10 from the Start menu without any problem.
Rebuild Windows 10 Search Index
With the passage of updates, the Windows 10 search index has improved significantly to limit the number of times files are indexed without impacting search experiences. In this way, Windows 10 can give you a better experience.
The easiest way to rebuild Windows 10 search index is to use Control Panel. For this we will have to press the "Windows + R" keys so that the "Run" window appears.
In this window, we will write "control" and press "Enter" to open the Control panel. We are now going to the upper right part of the window and we are going to click on "View by" to select "Large icons" or "Small icons".
Then we will click on "Indexing options". A new window will open and we will have to click on "Advanced".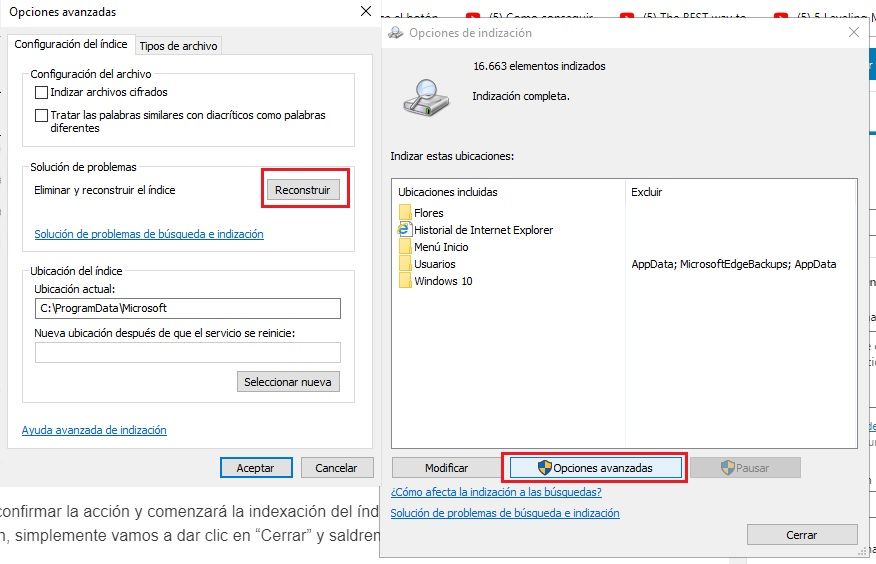 Here we will go to the tab "Index settings"And then click"Rebuild"In" Troubleshooting ".
Click "OK" to confirm the action and Windows 10 search index indexing will begin. indexingWe will simply click on "Close" and we will exit the control panel.
You should take into account that rebuilding the entire index can take a long time. At any time, you can press "Pause" to perform other tasks. However, we must arm ourselves with patience for the process to be completed successfully.
Ideally, leave it at night when we are falling asleep or when we have other tasks to do. In this way, when we return to the computer, open finished Windows 10 search index rebuild.
Share this with your friends!