It is quite annoying to constantly turn on our computer screen. But it is quite possible prevent Windows 10 from turning off the screen. This is something that we can configure as we like in the Microsoft operating system.
Even when we're with a laptop, we can also decide how Windows will act depending on whether it's connected to power or battery. Obviously, desktop computers only have the plug-in option.
It is really very annoying that every time we go back to our computer the screen turns off. We have to move the mouse or press a key to turn it on, in many cases enter the password again and only after that we can start using it. Not to mention if you don't have an SSD drive then this process becomes slower and more tedious.
Prevent Windows 10 screen from turning off
The first thing we will do is click on "Start", then we will need to click on the gear icon on the left side to access Windows settings. Another thing we can do to get into said setup is to press Windows + i.
Once we are in "Windows Settings", we will have to look for the "System" option and we will click to enter the system options. Here we are going to select "Start / Stop and Sleep" from the left sidebar.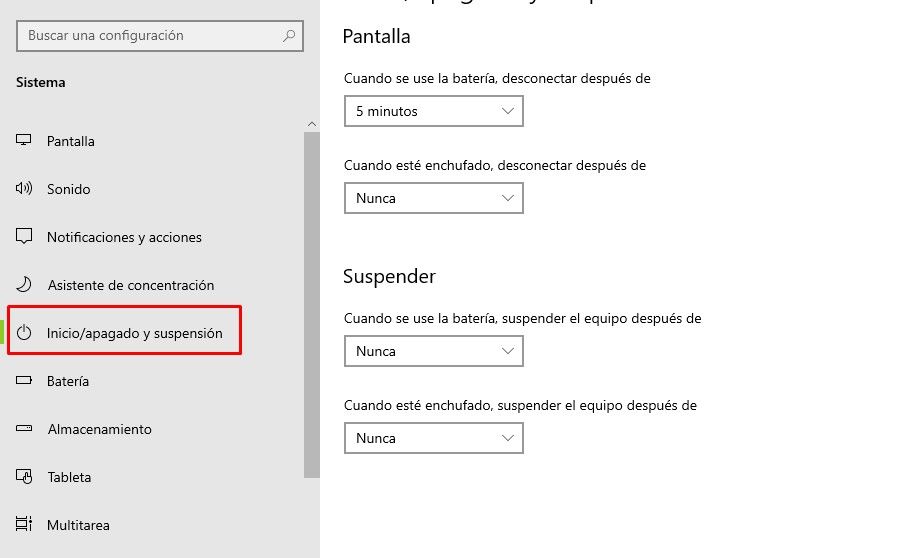 If you are using a laptop you will be able to appreciate that we have two options with drop down menus. One for "When Connected" and one for "On Battery". These options are available for "View" as well as for "Suspend".
Since we want to control what the screen does, we're going to select the "Screen" drop-down menu. We can choose to turn off the screen if we don't use it after several minutes, hours, or never. Here we will select "Never".
In case you have a laptop computer, it is ideal to set "Never" only when it is connected to the power supply. If you do this while using the battery, it obviously won't last too long, it will end up damaging its lifespan.
Share this with your friends!