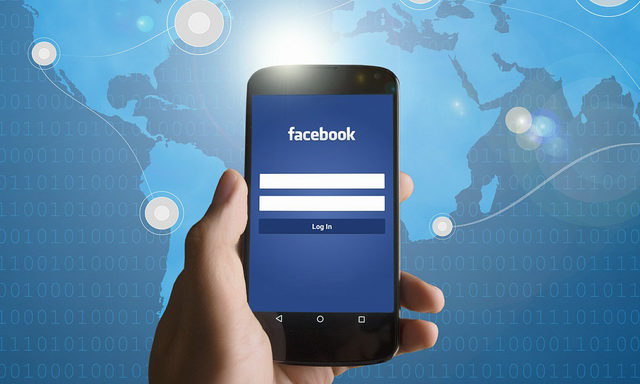 In this article, we will tell you how to delete your Facebook account permanently. If you're sick of the endless drama and politics, struggling with privacy, or worried about the recent Facebook hack, we've got you covered.
Years ago, Facebook brought family, friends, interests, hobbies and more together in a whole new way. Here in 2021, the world is different. Now the social network is so negative and has too many immature kids and fake news. Well, that, or your parents post all day, every day
Make no mistake, Facebook still has a lot to offer and is a great place for millions of people. It's an easy way to stay in touch with friends or family who move far away and it's a great place to waste time on the go or watch a fun video. However, all of it might not be worth dealing with the drama, rumors, negativity, and stupid people. And don't get me started on the many privacy concerns.
Here's how to delete your Facebook account so you can live life, not just talk about it.
The first thing we recommend is to just clean up the clutter. By that we mean to delete everything so that they can no longer use it after your departure. Log out of all related third party apps and games and delete all personal data. Do it in Settings> Apps> Apps and websites> turn off the platform and start deleting items.
Back up your Facebook account data, photos, etc.
If you want to keep your photos, information, memories, etc., you can download a copy of backup of your account.
On Facebook, go to Settings
Under "General account settings", click Your Facebook information.
Then click on Display your information by category. to see and save data.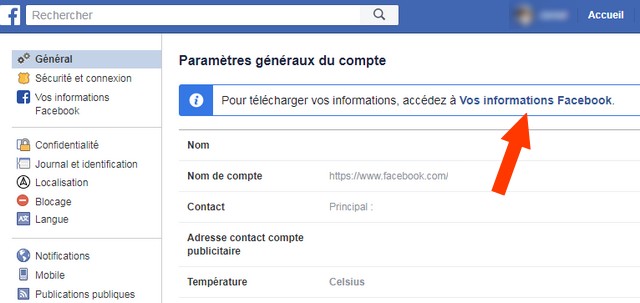 Deleting your Facebook account from your computer
Visit the website or Facebook app and click on the small downward facing arrow in the upper right corner of the web page. From there click on Settings.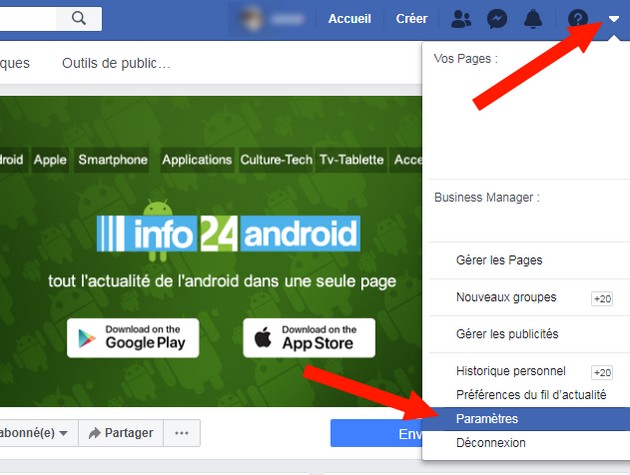 There will be a list of options and that is constantly changing. From now on, under General, click Your Facebook information or choose the Your Facebook information tab on the left.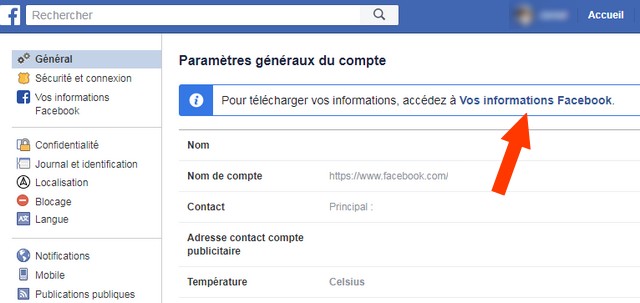 On the Your Facebook Info page, you will see several choices (shown below), we want the last one.
Where it is indicated Delete your account and your information, click on See.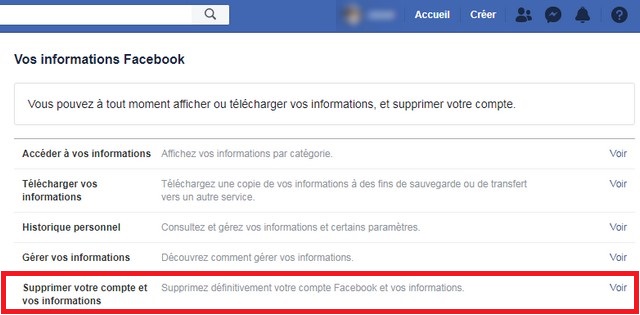 Instead of seeing a screen where Facebook is trying to convince you to stay and your friends will miss you (like before), we now have a simple page for deactivating, downloading information, or deleting.
Facebook gives you one last chance to upload your information
Once you've saved everything, click simply on the blue button Delete account.
Enter your password, submit the captcha and press To confirm.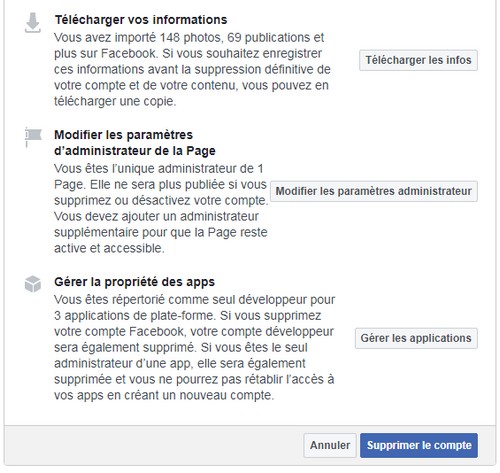 From there, Facebook probably gives you another big button to confirmation, or another opportunity to ask yourself if you are sure you want to delete your account. They might even show you what you will be missing and ask you for a reason why you are leaving.
As a reminder, everything is deleted and you will no longer be able to use FB Messenger or sign in to apps and games where Facebook is your only sign-in method. We therefore recommend that you change the login information for these applications first. Here is more info on what's going on when you delete your account.
And finally, you didn't think Zuckerberg would let you go that easily, did you? You actually have 30 days to change your mind and undo the deletion. Just log into Facebook within 30 days and click Cancel. Previously you had 90 days to cancel, but now you only have 30 days left.
Deleting your Facebook account on mobile
The process of deleting your Facebook account from your iPhone, Android, or mobile device is similar to what you would do on a computer, but there are slight changes in the menus you will go through.
Open the app Facebook on your mobile device and press the 3 lines tab More in the upper or lower right corner.
Scroll to the bottom and press Settings and privacy, then press Settings.
Then scroll down to Your Facebook information and press Account owner and control.
Again, Facebook gives you the option to upload your information to from the mobile application. Do this first if you want to save anything.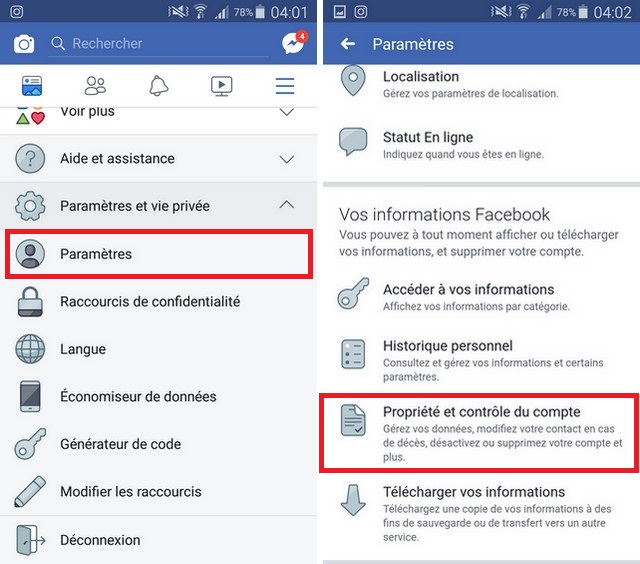 Then click on Deactivation and deletion
Select Delete account and click the blue button Continue deleting the account.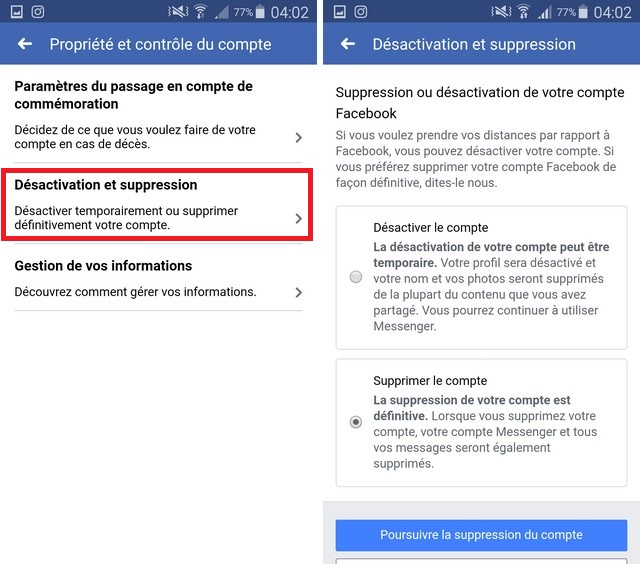 Facebook will ask for your password and some kind of security measure, then you will be asked to click sure To confirm to delete your account.
Again, you will likely see some sort of question or poll on your reasons for leaving. Do whatever you want in that category, then tap Delete, Confirm, OK, or whatever they ask you to do.
And we are all done. You have successfully deleted your Facebook account. Now get out there and enjoy the world. Take vacations, absorb them, and create memories instead of trying to capture them to share on social media.
In closing, just like on a computer, you can register your Facebook account if you change your mind within 30 days. Just log in as usual and follow the instructions to undelete your account.