We all know the embarrassment that comes with every time we send someone a message that shouldn't have been sent. The reason can actually be anything, a grammatical error, annoying typing errors, as well as accidentally pressing the send button. Fortunately, WhatsApp has also introduced a feature to delete the message sent from both sides i.e. the sender and the recipient. However, what about Facebook Messenger? Not many people know that Messenger also offers the option of deleting a message from both sides. In this article, we are going to talk about how to delete Facebook messages from both sides permanently. Let's get started!
We all know this feature as "Delete for everyone". It doesn't matter if you are an Android or iOS user. The Delete for Everyone feature is also available on both. Now you don't have to worry about all the regret and embarrassment because we will save you.
Just like the Delete for Everyone feature of WhatsApp, Facebook Messenger also offers its users the ability to delete messages from both sides, ie the "Delete for everyone" characteristic. Initially, this feature was only available in specific places, but now it can be used almost anywhere in the world. One thing to note here is that you can only delete a message from both sides within 10 minutes of sending the message. When you have passed the 10 minute window, you cannot delete a message on Messenger.
Follow the steps below to instantly delete the message you mistakenly sent from both sides.
First of all, just launch the Messenger application from Facebook on your Android or iOS device.
Then open the chat from which you want to delete the message from both sides.
Now, click and hold the message you want to delete. Now click delete and you will also see two options appear on your screen.
Click on on 'Do not send' if you want to delete the selected message from both sides, if not delete the message from your side only, click on the 'Delete for you'option.
Then, press Delete to confirm your decision. That's it. Your message will also be deleted on both sides.
To note: The chat participant (s) will also know that you deleted a message. When you have deleted a message, it will be replaced by the card "You did not send a message".
If this method didn't work, try an alternative to Permanently delete Facebook Messenger messages from both sides.
Alternative: Permanently Delete Message from Both Sides on PC
In case you want to delete a message from both sides and you are past the 10 minute window. Then you can always try the steps in this method. We also have a tip that might actually help you. Just follow the given steps and try it out.
To note: We strongly recommend that you do not use this method as it may create problems for your Facebook account and other chat participants. Also, do not select options such as harassment or bullying from the options provided, unless you do.
First of all, open facebook and head to the chat from which you want to delete the message.
Now just look at the right panel and press the option "Something is wrong".
You will now see a pop-up window which will also ask you if the conversation is spam or harassment, or something else. You can mark the conversation as spam or inappropriate.
Now Deactivate your Facebook account then reconnect after a few hours. Also check if the method worked.
Deactivating your account may also exempt the other user from viewing your message.
Can blocking someone delete posts from both sides?
It may also occur to you that blocking someone deletes messages and prevents people from seeing your messages. But unfortunately, this will not delete the messages already sent. When you block someone, they can see the messages you sent but cannot reply.
Is it possible to report abusive deleted messages on Facebook?
You can still report an abusive message on Facebook even if it is deleted. Facebook actually keeps a copy of deleted messages in its database. So you can select the "Bullying" as good as "Offensive"From the Something wrong button, and then send feedback indicating the problem. Here's how you can do it –
First, head to the chat you want to report. At the bottom right, Look for the 'Something is wrong' button. Tap on it.
A new window will then appear on your screen. Select "Harassment" or "abusive" from the options offered, or whichever you think is correct.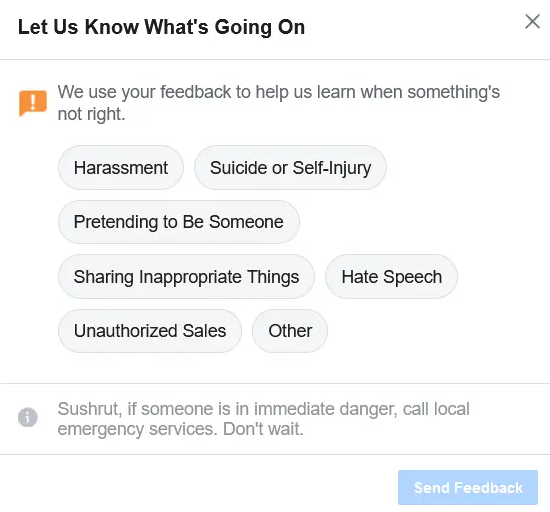 Now just hit the Send Feedback button.
Why is there only a 10 minute window to delete messages?
As we also mentioned earlier in this article, Facebook only allows you to delete a message from both sides within 10 minutes of sending the message. You cannot delete the message 10 minutes after sending it.
However, why is there a limit of only 10 minutes? Facebook has now opted for such a small window due to the rapid increase in cyberbullying cases. This small 10-minute window restricts deleting messages with the hopes of exempting people from erasing some potential evidence.
Conclusion
Okay, that was all folks! I hope you enjoy this article and that it is useful to you as well. Give us your opinion on it. Also, if you have other questions and issues related to this article. Let us know in the comments section below. We will get back to you shortly.
Have a nice day!