One thing we do quite often is run a virus scan on our computer. However, that does not cover all the safety of it. Something we also need to consider is do a security check on Google Chrome.
The Google browser offers us a series of tools that allow us to check the security of the browser. By browsing various modules, passwords, saved data, versions, extensions, etc. Basically, Chrome is responsible for making sure everything in our browser is as secure as possible.
If some kind of vulnerability or error is discovered. He will offer us a detailed guide so that we can solve the problem as quickly as possible. Performing a security check in Chrome is very easy and a little bit below we'll show you everything you need to do step by step.
The first thing we are going to do is start the Chrome browser on our computer. After that we will have to click on the three dots that are in the upper right corner of the screen.
A new menu is displayed with several options, you go down until you find "Configuration".

Once we are in the Settings page, we will need to scroll down until we reach the "Security Verification" section and we will need to click on the "Check Now" option, which would be the blue button that is on the right side.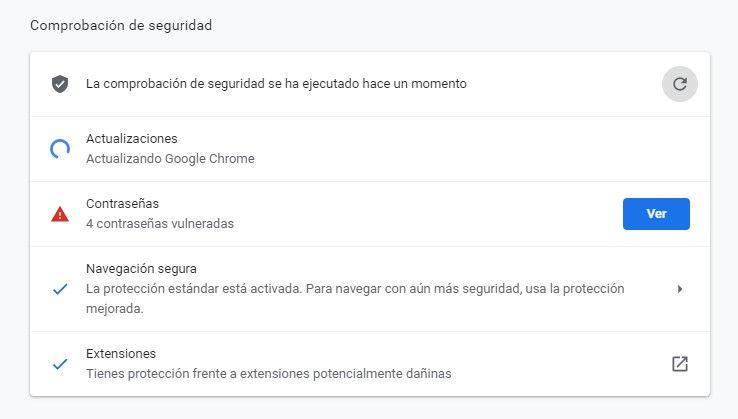 This way, Chrome will launch the security check. How long does it take? It will depend more than anything on all the browsing data you have. Therefore, it may take from a few seconds to several minutes.
During this process, the browser scans a total of four main modules for malicious code. It is also responsible for checking that we have the latest browser version to avoid vulnerabilities and that any extensions we have installed are safe.
It also checks passwords. To be sure none of them have been compromised. After completing the security check, Chrome will provide us with shortcuts in case something needs to be manually checked by us.
After following the browser recommendations to improve browser security. It would be best if you re-do a security check in Google Chrome to make sure the changes you made take effect.
Share this with your friends!