By default, when we click on the Windows Explorer shortcut in the Windows 10 taskbar, it opens in quick access. However, it is possible to do Open File Explorer at "This team" instead of in quick access.
Usually when we open File Explorer we see a list of frequent folders and files that we have recently accessed. We even have "Quick Access" on the left side of the screen.
But in case you don't like this feature. It is possible to deactivate it so that it does not happen again. Instead, we'll see "This Computer" every time we open File Explorer. A little further down we will see a step by step guide so that you can configure File Explorer like this.
Make File Explorer open on this PC and not Quick Access
The first thing we're going to have to do is open any File Explorer window. Once it has been opened, we should go to the top left corner of the screen and click on File> Change Folder and Search Options.
A little window called "Folder Options" opens and what we need to do is look at the first option on the "General" tab. It says "Open File Explorer In". We click on the drop-down menu and the option "This team" will appear.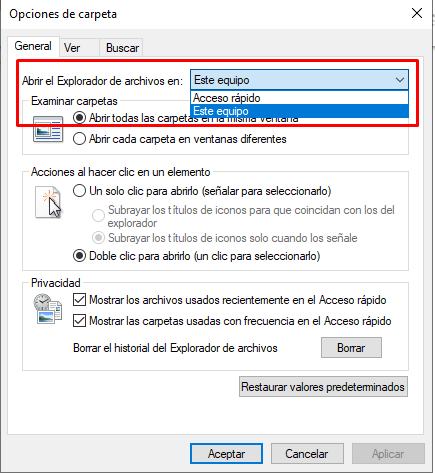 In this way, we can see internal drives, external storage devices, network locations, frequently used folders, etc. Every time we open File Explorer.
All you have to do is press "OK" to save the changes and close the "Folder options" window. From now on. Every time we open File Explorer we will see "This Computer" instead of Quick Access which can be a bit annoying at times.
Remember if you have any other questions on how to open File Explorer on this PC instead of Quick Access. You can leave it in the comment box which you will find a little bit below and we will be happy to help you as much as possible.
Share this with your friends!