Have you decided to quit WhatsApp for Signal? In this tutorial, we show you all the steps to get started. You will be able to invite your contacts and quickly migrate your discussion groups. The two apps have several things in common. However, the user experience is not the same.
Signal is not a newcomer to messaging applications. Yet it has long evolved in the shadow of WhatsApp and of Facebook Messenger. His moment of glory has finally come. Signal has been on everyone's lips since January 2021 and it was thanks to the help of Elon Musk who joined Edward Snowden to promote it. This new wave of recommendations follows a Facebook decision announced on January 7.
The parent company of WhatsApp has indicated that the general conditions of use will evolve from February 8, 2021. The major change in the new T & Cs concerns systematic sharing of several data of WhatsApp users with Facebook. These include: the user's nickname and profile photos, the user's phone number, their IP address and other information relating to the device being used.
Signal is more respectful of user privacy
Knowing that Facebook does not have a good press on privacy issues, these changes are questionable. Worst, WhatsApp reserves the right to suspend your account if you do not agree to the new conditions. Result, WhatsApp users looking for alternatives are many migrate to Signal.
This app is more respectful of privacy. The messages are encrypted there like on WhatsApp and Telegram. The difference with Signal is that it is Open Source and developed by a non-profit foundation. This movement can be seen all over the world, including in Europe. However, the extent of data shared with Facebook on the old continent is visibly less due to strict GDPR rules.
How to install and configure Signal?
The operation of Signal is more or less the same as with WhatsApp. First, download and install the app from the Play Store or the App Store.
When opening Signal, you have one of the links to read the terms and conditions, continue with the configuration or restore a backup
If this is your first use, click To pursue after reading the T & Cs
Press continue again in the window that opens to to grant the necessary authorizations for the functioning of Signal
Enter your phone number (serves as an identifier like on WhatsApp)
A 6-digit verification code will be sent to your number. You won't need to enter it. Signal will retrieve it automatically if you use the number on your current smartphone.
On the screen that follows, set a PIN code which serves as a password
Then configure your profile by choosing a photo. Also enter your first name (or nickname) and your last name (optional).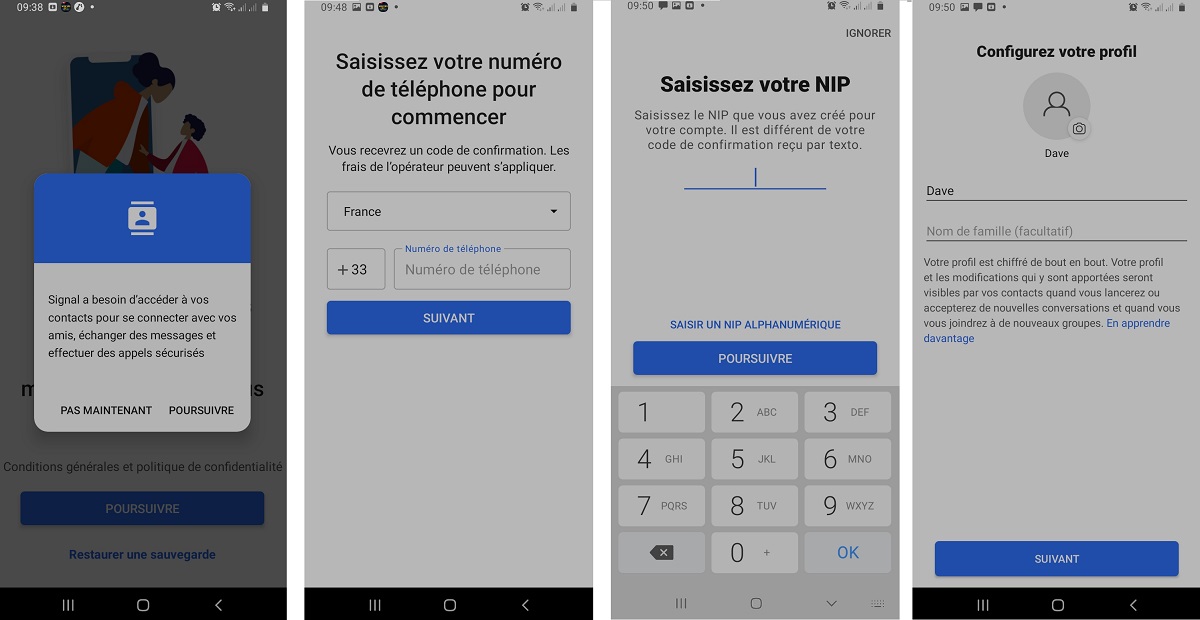 You are finally ready to use Signal. As you can see, the list of your conversations is empty. It can be confusing if you had a long list of chats on WhatsApp. Don't panic, now just gradually build your history by starting new conversations. To do this :
Tap the blue circle with a pencil at the bottom right
You have a list of all your phone contacts
Select a contact to start a conversation.
Like WhatsApp, only your contacts who already use Signal are displayed in the list. You can invite your friends who are not there by clicking on the link Invite to Signal completely down.
How to quickly migrate your WhatsApp groups to Signal?
First of all, be aware that it is not possible to directly transfer a WhatsApp group to Signal. Ditto for individual chats with your contacts. You can nevertheless facilitate the migration of your WhatsApp groups to Signal by creating a link which serves as a bridge for the passage of limbs from one side to the other. To do this :
Press the three vertical buttons at the top right of the main Signal interface
Choose New Group
Start by adding members by selecting the contacts of your choice then press the blue button at the bottom right to go to the next step
Enter a group name and press Create.
Once the group is in place, all you have to do is create an access link and then share it in the WhatsApp group you want to migrate in order to allow members to join the new destination.
In the group on Signal, tap the three vertical dots in the upper right corner again
Select Group settings> Group link
On the screen that opens, activate the Group link option then click on the button Share
All you have to do is share the link in the WhatsApp group whose members you want to migrate to Signal.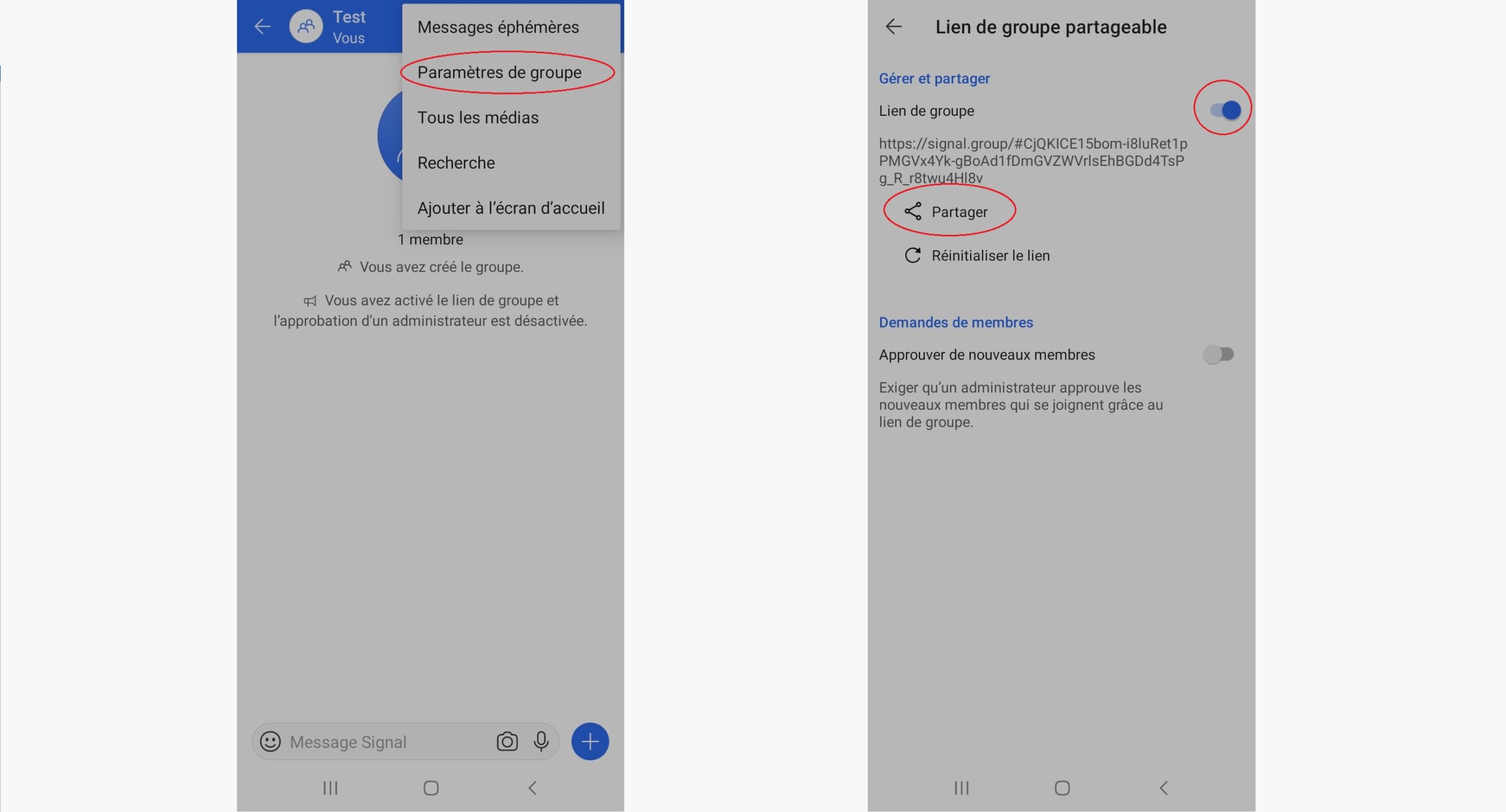 This method helps tremendously even though it is not a quick fix. In particular, all members must have Signal installed to join the new group. It is in this that WhatsApp, with its two billion users worldwide can be quiet. Signal still has some way to go to reach its level of popularity.