After creating a presentation to share with other people, one of the things we don't want is for them to edit this document. For this reason we will see how to make a PowerPoint file read-only so no one can change it.
Create a read-only PowerPoint file
There are a lot of people who ask this question and it is not at all complicated to make a document read only and no one can edit it. Even if we collaborate on a PowerPoint presentation. Even the software gives us a lot of tools to protect our document, not only.
We will see in detail below everything we need to do to make a PowerPoint file read-only.
The first thing we are going to have to do is open PowerPoint and once it opens we will have to click on "File" and open the document we want to edit. Then we go back to "File" but in this case we go to the left side of the screen and look for the "Info" section.
Here we will be able to modify various things in the document that we have currently opened. If you take a closer look, one of the first options is a box that says "Protect Document" and when we click on it, several more options appear.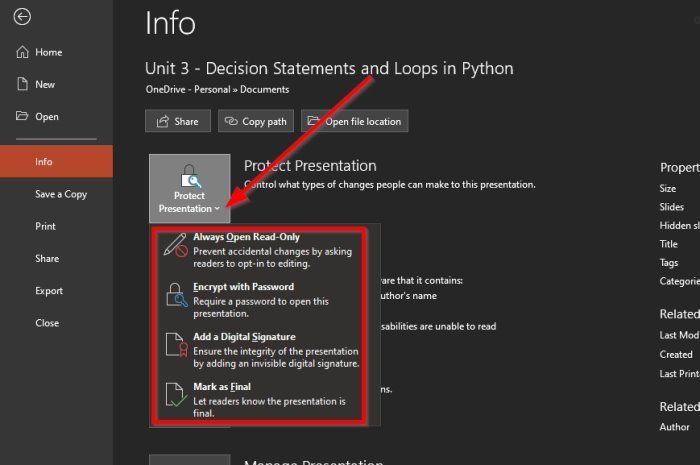 Always open read-only: this way it will always be open read-only and cannot be edited unless this option is changed.
Encrypt with password: so that only people who have the password can open the document.
Restrict Editing: Control what changes other users can make to the document.
Restrict Access: You can view the document, but you do not have permissions to edit, copy, or print.
Add digital signature: You add your digital signature to the presentation.
Mark as Final – Notifies readers that this is a final document.
What we're going to do is choose the first option "Always open as read-only". The changes will take effect immediately and you will be able to save the document as read-only.
If you want to delete it as read-only, all you need to do is repeat the steps previously described.
Share this with your friends!