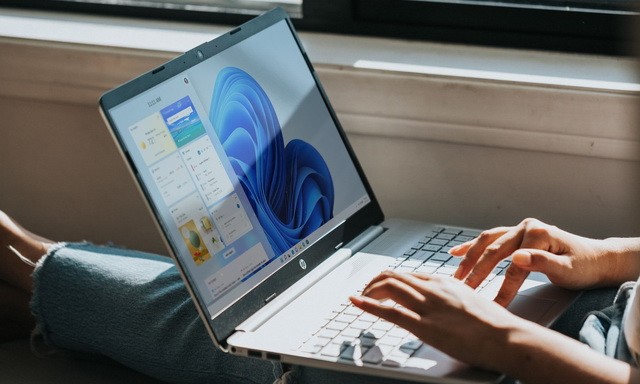 Windows 11 is the new operating system in town that seems to take everyone by surprise. The new operating system brings a host of new changes including the ability to emulate and run Android apps, a new frosted glass user interface, background optimizations, kernel changes, integrations applications and much more.
Everyone seems to be eager to get their hands on Windows 11, but unfortunately the operating system has a few hardware requirements that make it difficult to install on older systems. A recent registry hack seems to be able to get around these requirements, but should you use it? And if so, how do you use it? Let's find out!
What is Windows 11 Registry Bypass?
Registry bypass is a nominal change in your registry that will disable TPM 2.0 checking on your system when installing Windows 11. TPM or Trusted Platform Module is a secure chip on your motherboard that stores important data such as as your Windows login information, passwords, encryption keys and more. These checks and requirements for TPM 2.0 can be bypassed by using the registry hack for Windows 11.
TPM 2.0 is a requirement for Windows 11 that is unfortunately missing on PCs purchased before 2017-16. This prevents users of these systems from installing Windows 11 on their system despite having sufficient resources to properly run the operating system.
Under the registry bypass, you will need to create and modify a DWORD (32 bit) value called "AllowUpgradesWithUnsupportedTPMOrCPU" in the registry editor which will help you bypass the compatibility checks when installing Windows 11. Use the guide below below if you want to bypass the same on your device.
How to use registry bypass
You can follow the guide below to use registry bypass on your system. Once you have changed the necessary registry values, you can then use the next section to install Windows 11 on your system. Let's get started.
Option 1: Manually disable the TPM logging register
Press Windows + Ron your keyboard, type regedit, then press Enter on your keyboard to open the Registry Editor.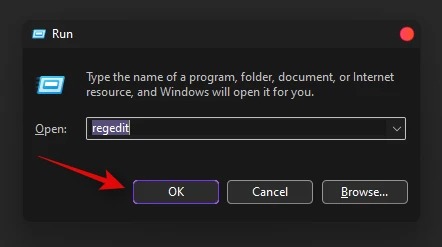 Navigate to the next path. You can also copy paste the address below into your address bar at the top.
HKEY_LOCAL_MACHINESYSTEMSetupMoSetup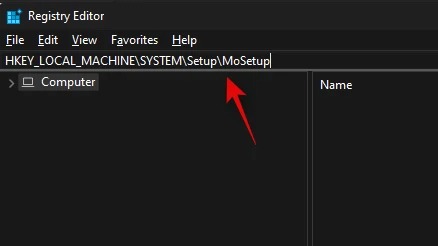 Now right click on the empty area to your right and select "New".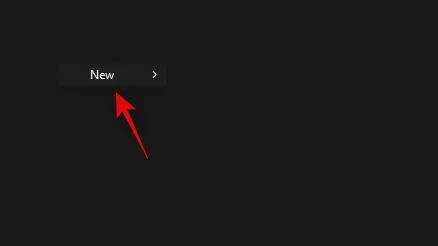 Select 'DWORD value (32 bit)'.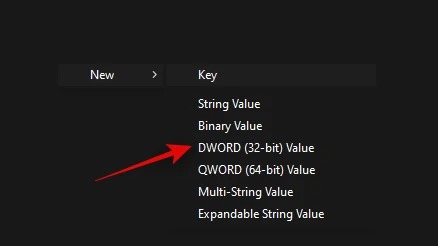 Enter the following name for your new value and press Enter on your keyboard to confirm the changes.
AllowUpgradesWithUnsupportedTPMOrCPU

Double click on the newly created value and enter "1" as the value data.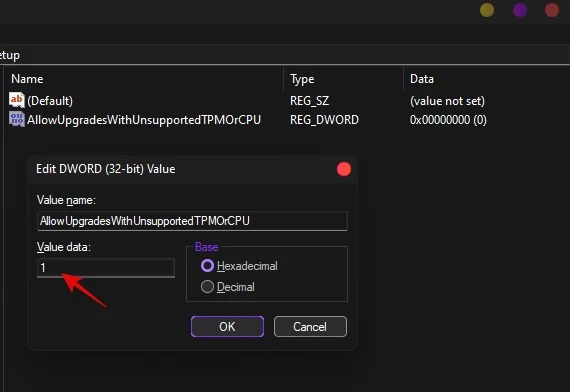 Click 'Ok' to save your changes.
You can now install Windows 11 on your system and you should no longer be limited during installation.
Option 2: Automatically disable TPM logging registry with registry script
If you want to change your registry values ​​automatically, you can just use the file linked below.
Download the file to your PC and run the 'DisableTPMcheck' file.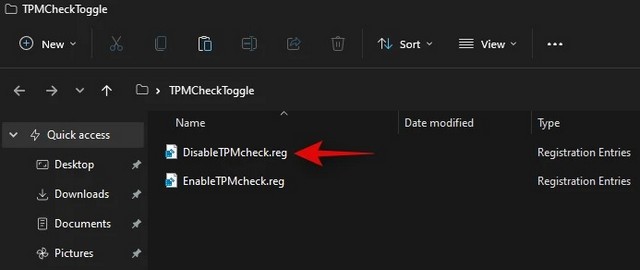 Click "Yes" to confirm your changes.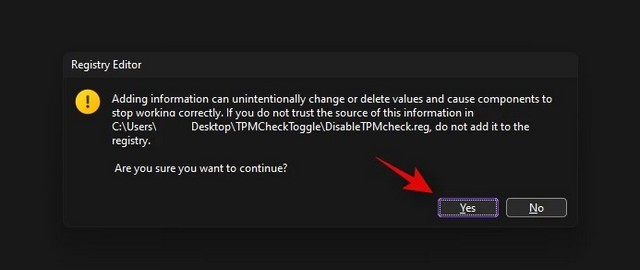 You can now install Windows 11 on your PC. If you ever want to undo your changes, just run the 'EnableTPMcheck' file in the .zip archive linked above.
Next step: upgrade to Windows 11
Now you can easily upgrade to Windows 11 without worrying about TPM verification. We recommend that you use Windows 11 Setup Assistant, a dedicated tool from Microsoft developed to help you upgrade without losing any of your files or settings.
You can also use an ISO from Microsoft. This will allow you to create bootable USB drives that can be used to install Windows 11 on more advanced systems, create dual boot drives, or if you just want to start from scratch by formatting all of your drives.
Should you install Windows bypassing the requirements?
This is a very personal choice, but there are some drawbacks to bypassing the requirements, primarily the loss of security features, security updates, and fixes in the future. Microsoft hasn't revealed many details about it, but it looks like users might miss future Windows updates as well, in some cases when the hardware is old enough. You will need to be careful when browsing the internet and installing untrusted applications on such systems as they could easily get infected. If you are confident in your security, you can just use a third-party antivirus and continue using Windows 11 as usual.
Faq
Bypassing Windows 11's requirements is fishy at best, and it's sure to raise important questions. Here are some frequently asked questions that come to mind when using Registry Hack to bypass Windows 11 requirements on any system.
Is it safe to modify a registry value?
No, it is never safe to modify an unknown registry value in Windows. Registry values ​​contain important information that records your current configuration, preferences, and other aspects of any program or service. They also help communicate all the settings required by an application or service to function properly on your system.
Changing registry values ​​without prior knowledge of their functionality could damage your system in ways you never could have anticipated. Therefore, it is recommended that you always back up your registry before attempting any changes.
Additionally, we recommend that you check every registry bypass hack offered on the internet from other sources to verify its functionality and stability.
Is it safe to install Windows 11 using registry bypass?
No, because you will be vulnerable to online and offline threats after installing Windows 11 bypassing the requirements, it is not safe. It is recommended that you keep a firewall blocker and third-party antivirus on hand before proceeding with the bypass. This will help you stay protected even if you don't receive any security or privacy updates from Microsoft.
What are the disadvantages of installing Windows 11 on an unsupported PC?
As stated above, you will lose all Windows Updates released for Windows 11. You might end up getting new drivers and software for your hardware components through Windows Update, but that's it, you won't receive any. security update, no security fixes or feature updates in the future.
Feature and incremental updates are still a debated feature as none have been released yet. Users might end up receiving them in some cases in the future, but you shouldn't bet on the same.
Can it seriously affect the performance of the system?
No, bypassing TPM checks or requirements should not adversely affect your system performance. However, this will make you vulnerable to threats and if you are not careful, malware or adware infection could end up slowing down your PC considerably.
Deleting this will restore the registry to the way it was before you attempted to install Windows 11 on your system.
Can I restore the registry later without reinstalling Windows 11?
Yes, you can easily restore your registry later as long as you have backed it up before making any changes to your system. If you haven't backed up your registry values, you're still in luck. You can go to the affected registry value and change its value data to "0" or simply delete the value completely.
Conclusion
That's all. In this guide, you have learned how to install Windows 11 on an incompatible PC. If you have any questions or suggestions let us know in the comments. In addition, also consult this guide if you want to learn how to check if your PC can run Windows 11.