It is possible and simple to install Windows on a MacBook Air, MacBook Pro, iMac, Mac Pro or Mac mini. With Boot Camp software in particular, you can install Microsoft Windows 10 on your Mac, then switch between macOS and Windows on the fly.
If the reverse is much more complex, there are now several methods to run Windows (or Linux) on a Mac. Each has its own advantages and disadvantages. The most practical is undoubtedly to virtualize Windows 10 in software like Parallels Desktop. This method allows you to use Windows directly from macOS and juggle applications from both systems.
On the other hand and if you play Windows games on your Mac, virtualization does not make it possible to achieve the best levels of performance, the virtual machine only mobilizing part of the resources of the device. To avoid this constraint, nothing like an installation in dual boot for start directly in Windows 10. In other words, install Windows 10 on another partition, and choose to be able to start either under Windows or under macOS. Rest assured, the process is easy.
Apple has made it easier for those who want to install Windows or Linux on their Mac for several years. A named assistant Boot Camp, included in almost all installations, allows you to partition the drive on the fly, without even having to reboot to a recovery partition. The wizard then automates the installation of any version of Windows.
Best of all, Boot Camp installs all of the drivers so that all devices on your system work just as well on Windows as they do on macOS. Conversely and even if there are solutions, Apple fiercely bans installing macOS on a PC. It seems that thanks to this policy, Mac users have a small advantage over PC users.
Which Macs are compatible with Boot Camp and what conditions must be met?
Warning, Boot Camp requires (for now) a Mac equipped with an Intel processor. In other words, Macs equipped with an Apple Silicon (M1) chip are not yet compatible.
Here is the list of Mac compatible with Boot Camp :
MacBook released in 2015 or later
MacBook Air released in 2012 or later
MacBook Pro released in 2012 or later
Mac mini released in 2012 or later
iMac released in 2012 or later1
iMac Pro (all models)
Mac Pro released in 2013 or later
In addition, you must have at least 64 GB of free disk space. You must also have an external USB stick with a capacity of 16 GB or more, unless you're using a Mac that doesn't need a key to install Windows. You must finally have a 64-bit version of Windows 10 Home or Windows 10 Professional on a disk image (ISO) or other installation media. If this is your first time installing Windows on your Mac, it should be a full version of Windows, not an upgrade.
How to install Windows 10 on a Mac with Boot Camp
Before you start installing Windows 10 in dual boot on your Mac with Boot Camp, as always we advise you to back up your data. Although, rest assured, in the majority of cases resizing the boot partition will go off without a hitch.
For install Windows 10 on Mac :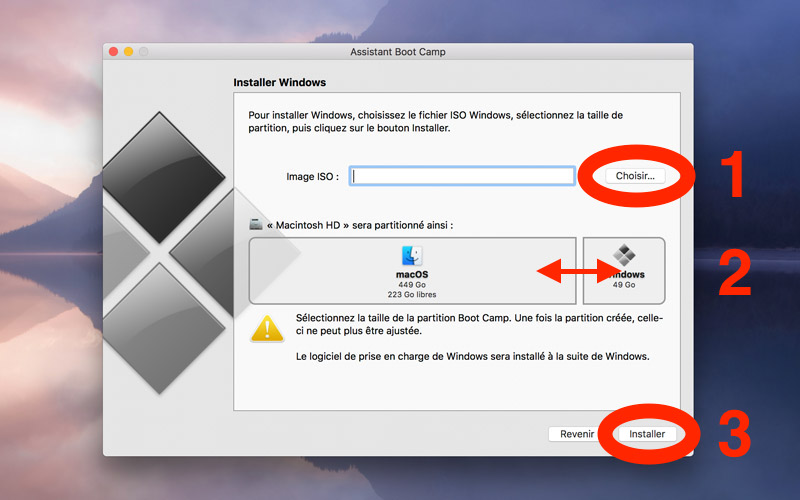 Simultaneously press ⌘ + Space, type Boot Camp then Entrance
When you see this screen:

1. Choose file .iso you just downloaded
2. Adjust the size of the two partitions by dragging the slider (favor at least 64 GB, knowing that 128 GB is ideal if you plan to update Windows)
3. Unplug any external devices that are not needed during installation
4. Click on Install
5. Be patient: the process is automatic, but can take some time.
Once the installation is complete, to switch between Windows and macOS, restart the computer, and then hold down the Option (or Alt) key ⌥ during startup. The two partitions will then show on the screen and you can click on one or the other, as desired!
To read also: how to install all software at the same time when changing PC