Install apps on the SD card it is very useful for saving storage space in internal memory. Performing this procedure is extremely helpful when the internal memory is insufficient or you want to have SD memory as the preset storage method. CA will help to avoid running out of space on the device and it will allow the user to make the most of what is available to them.
To install the applications on the memory card, there are two different methods, one of them is move the application when it has already been installed. Another option is install applications directly to SD memory, so that the data transfer is automatic and much easier. However, this is a complex procedure and can only be performed with third party apps or root permissions.
Moving an app to the SD card is extremely easy on some devices because can be done easily from settings. However, some models need to perform some additional steps for the procedure to be possible. Therefore, take a look at these available alternatives:
Move parameters
The simplest method, generally available on high-end mobile devices, is from the application's own settings, which is achieved by following these steps:
Enter inside "Settings" in the section "Applications".
Choose the game or application you want to move to the memory card.
In the application information it will be necessary to enter "Storage room".
Press the button that says "Switch".
Check the option "Memory card»And subsequently confirms the operation.
Not all apps can be moved by following these steps. Besides, some devices require a procedure Previously, it involved forcing the installation of the application from the developer menu.
To activate the force installation of the application in memory external is required first activate the developer menu, said procedure to be followed is as follows:
Enter the parameters mobile and click on the option "About the device"You can talk about the phone or something similar.
Press "Build number"Until you see a message that says developer mode has been enabled.
Then, you will have to go back to the settings to locate the "Development possibilities"And come in.
Finally, you must activate option it says "Force application permissions from f …"Or something similar. This button has a description where it indicates that its function is to allow writing applications to external storage.
Format Micro SD as internal storage
Finally, an interesting method for move applications to external memory is when formatting the micro SD card as internal storage, this from the settings menu. The process is very simple and is done as follows:
Enter the settings application and click on "Storage room".
Select the option that says "SD card".
Open drop-down menu which is in the upper right corner to enter the "Storage settings".
To choose "Format internally"Or as internal storage and validate the operation. Once the micro SD memory has an internal memory format, the data migration option will appear.
So that applications can be install directly on the external memory you have to use some tricks. However, it should be noted that this it cannot be done from the play store directly on the micro SD. For this reason, the alternatives available to users with root and non-root permissions are listed below.
For non-root users
Some restrictions do not allow apps downloaded from the Play Store to be installed on external storage. Therefore, the best alternative for non-root users is install .apk files who can be saved directly in SD memory. However, some private user data and other files are also stored in internal memory.
On another side, this database can be moved to external memory manually using a file explorer. Some users do not have this option and have to use a third party application that performs this function. On this occasion, it is recommended install Cx file explorer, an application that gives access to virtually all the folders on your computer.
In root users
The procedure for users with root permissions is to create a partition on the external memory. In this way, can be partially used as part of internal memory and the other part will continue to operate traditionally. Yes indeed, data migration is automatic and much simpler. Both procedures can be performed using an application designed for this purpose, called App2SD.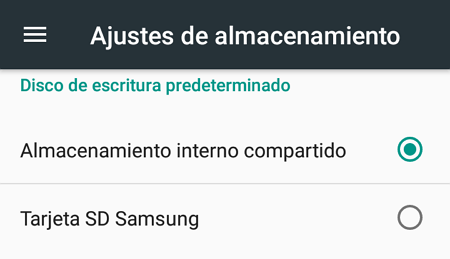 It is important to note that defining the external memory as the main storage space, does not imply that requests from the Play Store can be installed directly at this location. To fulfill this objective, the preceding statements are much more useful. However, do this it's used for data is written directly to external memory so that you can better enjoy your internal storage.
The route to follow for the micro SD to be the main memory are: "Settings> Storage> Storage settings". Once there, there is only select SD card as the default write disk. In this way, many files will be saved directly to external storage, which will serve to free the load of internal memory.
Additional information
In some cases, move apps to SD card or the simple fact of converting it into internal memory, may slow down the device. This is because data transfer may take longer than ideal. Here are some tips on how to avoid this inconvenience:
It is recommended buy a micro SD card with warranty, preferably from recognized brands such as Sandisk or Kingston, among others.
It is also recommended memory is class 10 or higher. The higher the class, the faster the data transfer.
Also important check device compatibility before buying a new memory card.
On another side, not all apps can be moved. Anything that was preinstalled at the factory should remain installed, except phones with superuser or root permissions.
Steps for move apps to SD card they are very simple, but unfortunately not possible with all devices nor with any application. Moreover, most of the procedures only make the process of transferring files with the app installed easier.