The preview of the next version of Google's operating system has been released for the developers of Google I / O. It is not intended for all users, but we can sign up for the beta program to try it out. A little further down we will show you how to install android 12 beta so you can see everything this version has prepared for us.
Pixel phones compatible with Android 12
For now, only these devices Pixel can get Android 12 beta since the first day. However, remember that this is a beta version, it means that when the stable version is released, more phones will be able to install it.
Google Pixel 3 and Pixel 3 XL
Pixel 3a and Pixel 3a XL
Google pixel 4
Pixel 4a and Pixel 4a (5G)
Google Pixel 5
Install Android 12 beta with Android OTA Beta
This simple method to install Android 12 beta can be done from the official program of Android Beta by Google.
The first thing we will do is visit the Android 12 beta program site. We will see a list of eligible devices and what we need to do is press the "Accept" button that appears under the name of our device.
Once we are registered we will have to wait for OTA to arrive on our cell phone. We can go to Settings> System> System Update to try and find the update manually in case we don't want to wait for the notification to appear.
Android 12 Beta Manual Download
Another thing that we can do to install Android 12 Beta and not wait for the OTA version to arrive on our device, is to download it manually. It doesn't erase anything from your device and we can even do these steps with the boot blocked.
Likewise, it is advisable to have a backup of our phone, we also need to install ADB on the computer and enable USB debugging from the developer options of the device before we start.
Having said that, we will download OTA Android 12 beta for our phone from this link. Now we will have to run ABD and navigate to the folder, for this we will have to run the following command: adb restart recovery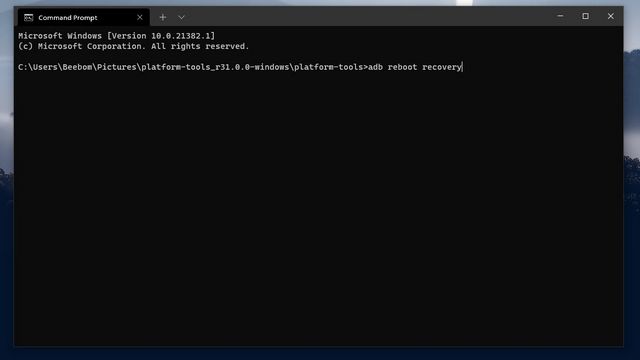 Once we are in recovery mode on our device, we will have to choose the option "Apply update from ADB". We can use the volume buttons to navigate the menu and the power button to confirm.
The next thing we will need to do is start the installation process with this command adb sideload .zip It is very important that you keep in mind that should be replaced with the name of the file we downloaded in the first step.
Once the update is installed, we will just have to choose "Reboot system now" to have our mobile device restart. In this way, you have already successfully installed Android 12 beta on your mobile phone.
Share this with your friends!