Plex is a powerful media player that lets you manage your media library with a host of handy features. Plex is multiplatform and can be installed on a smartphone (Android or iOS), a computer running Windows, Mac and Linux, or even on a NAS for the server part. We cover all of these aspects in this guide on how to install and operate Plex Media Player and Plex Media Server.
Having a good media player like VLC is good, but for advanced users, nothing beats a complete media center capable of pleasantly managing the content of your media library. Albums, films and series: everything is presented with metadata such as covers, information sheets, synopsis, etc. This is for the frontend part, that is to say the user interface whose user-friendliness is an important criterion of choice and this is not what is lacking in Plex.
Plex: how does it work?
All traditional media centers make it easy to read content stored locally on your smartphone, PC or tablet. Plex works differently. The application requires a server hosting your files. In this, Plex is different from its competitor kodi which can play content directly on your hard drive or internal storage without configuring a server first.
Fortunately, Plex has everything you need to easily configure both aspects: the Player and the Server. And the good news is that the player and the server can be set up on the same device.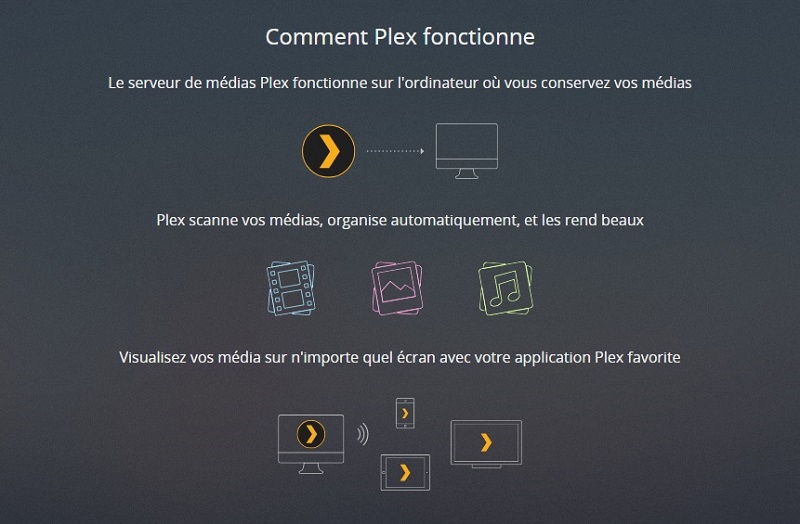 The principle is therefore simple. Many users have at least two devices from which to play their movies, series and music. Whether from a smartphone, a PC, a tablet, ideally, you can access all of your content from any device. To do this, the best solution is to configure a server to centralize all your data.
Plex is entirely designed for this. It is possible to create a server on a computer, a NAS (there are several cheap ones like Synology NAS), or a TV box as Nvidia Shield TV where Plex is available as an all-in-one solution (client and server). It would be better to have a substantial storage space to house your entire media library.
Plex media Player and Server: installation and configuration
Installation and plex setup can be done very easily in a few minutes. Note that the Player and the Server are two different applications. The first, as the name suggests, is the media player which allows you to manage your media library in a pleasant and intuitive way. As for the server, it can be configured using the application Plex Media Server.
In this tutorial, we will configure the server on a Windows 10 PC and access it from Plex Media Player on Android.
Installing and configuring Plex Media Server
Plex Media Server will automatically scan your content and add it to the corresponding categories. Your films, series, your music albums will be automatically organized in an ergonomic way with all the information (metadata). When adding new content to your folders, don't forget to update the library on Plex. To do this, click on the three horizontal dots to the right of the category (Movies, Series, etc.) then on scan library files.
Installing Plex Media Player
Once the Plex server is configured, you can now install the player which will fetch the content on the server. If the latter is on the same computer as in the present case, the link with the player will be done automatically to allow you to enjoy your content. To access it from another device, such as your smartphone for example, we will see how to proceed.
Install Plex from Play store or the app store.
The app will ask you for a connection. Log in with your Google or Facebook account or with your e-mail address as when configuring the server.
The magic of Plex is that you don't have much to do each time. If you are connected to the same WiFi network as the server, content synchronization is done automatically. Best of all, you can continue to follow your favorite movies and series where you left off before, no matter what device you're using.
While this all looks complicated on the surface, Plex is relatively easy to set up. Once the server is in place, you can easily access your movies, series and music. And as mentioned above, both parts can be configured on the same device. But the advantage of setting up a server is to allow you to read your content from any terminal.