It has been possible to install widgets on Android since the early days of the OS. Those familiar with the operating system know very well how to integrate them. But the This process is not always easy for new users, especially switchers coming from the iOS ecosystem. To enlighten them, here is a tutorial.
Installing Android widgets is a great way to customize your interface. They allow you to present content directly on the home screen. But also to take advantage of the functionalities of certain applications without having to open them. Weather, continuous flow of information, stock prices, clock, the display possibilities offered by widgets are almost endless.
In this case, some include a player to control your music. Others allow you to have precise details on the level of your battery or to have access at a glance to your tasks to be carried out. But to take advantage of them, you still have to know how to integrate them. Many applications come with their own widgets after installation is complete. That being said, there are some widgets that need to download directly from the Play Store.
How to add an Android widget
Press long time with your finger on an empty space on your home screen.
Then click on the menu Widgets whose icon is located below.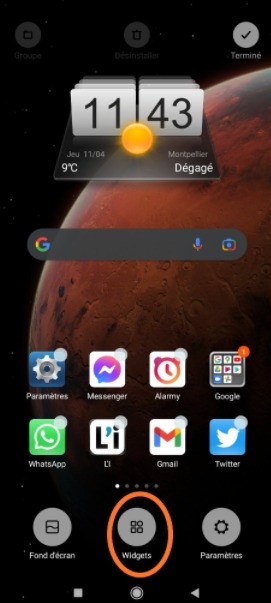 You now have in front of you the list of all the widgets available on your phone.
Select the one you want to install.
For this test, we have chosen the widget Flashlight which allows you to quickly turn the flashlight on and off.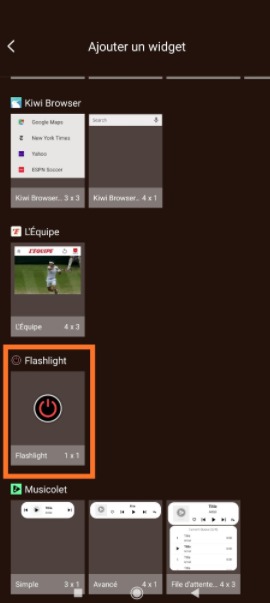 Press on Ended. Your widget is now ready to use!
Important precision, be aware that some widgets take up a lot of space. Thus, it is sometimes necessary to leave a space large enough to be able to accommodate it. Depending on the size of the widget and the space available, it may be necessary to move some apps first before you can place it. When you select your widget, several sizes can also be offered (1 × 1, 4 × 2, 4 × 1, 3 × 2, etc.).
Also, if the widget can be resized, a blue dial appears all around it. If necessary, make any adjustments, tap anywhere outside of the widget and you're good to go. And to remove a widget, it's even easier. Just keep it pressed and press To withdraw.