Want to hide photos on your iPhone or iPad? Note that iOS has a native feature to hide any photo. Whether it is through your device directly or through a third party application, we are going to see how to hide your photos on iPhone.
It is not uncommon for one to have to spend his iPhone to a friend or relative. In a matter of minutes or even seconds, your Pictures or videos that you want to keep private could end up within the reach of a third party. There are several ways to hide a photo on iPhone. Third-party applications are designed for this specific need. iOS also comes with a feature that lets you hide pictures in the Photos camera roll.
iOS: how to hide a photo on your iPhone?
To hide photos or videos on a iPhone or one iPad, proceed as follows.
Go to the app Pictures
Tap on Select top right
Select the photo or photos you want to hide (tap once on the image, a blue icon will appear at the bottom right).
Press the share button down (the square with an arrow pointing up) then on Hide in the options that appear.
Confirm the action and you're done.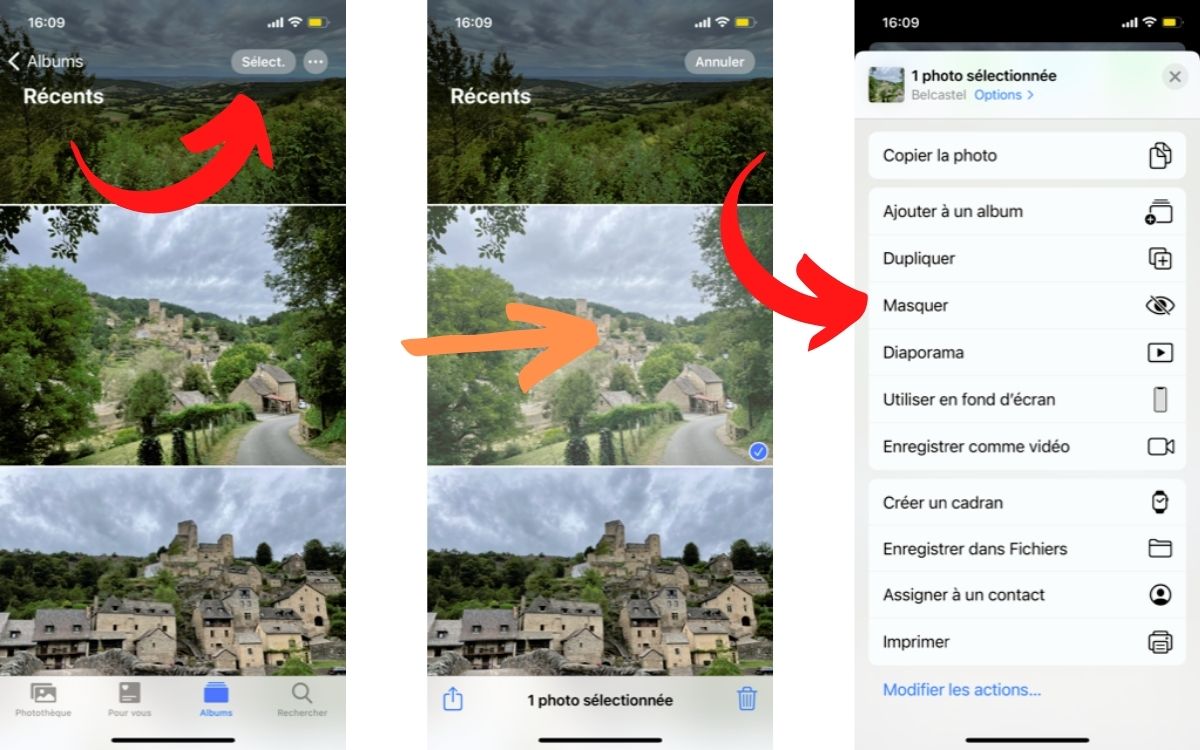 Hidden photos and videos will no longer be displayed in the Camera Roll, but will be placed in a special folder. To access it, go to the view Albums then scroll down until you see the folder Masked which contains hidden media.
Hide a photo on iPhone with a specialized application
The method described above has an obvious flaw. Hidden photos and videos can be viewed by anyone as long as they are curious enough to search the hidden media folder.
To avoid this, there's nothing like an app that makes your photos really private. We have tested several of them. One of the best in the category is Vault, by NQ Mobile.
The app is intuitive and easy to use. You only have to set a password and import your photos and videos to hide into the app. These automatically disappear from the Photos gallery. It is also impossible to find them elsewhere than inside the application, not even from a PC or Mac with iTunes.