This article describes all the ways you can hide desktop icons (files, folders, and shortcuts) in Windows 11, Windows 10, Windows 8, Windows 7, Windows Vista, and Windows XP.
How to Hide All Desktop Icons in Windows
It's simple: right-click on an empty area of ​​the desktop and choose Display > Show Desktop Items.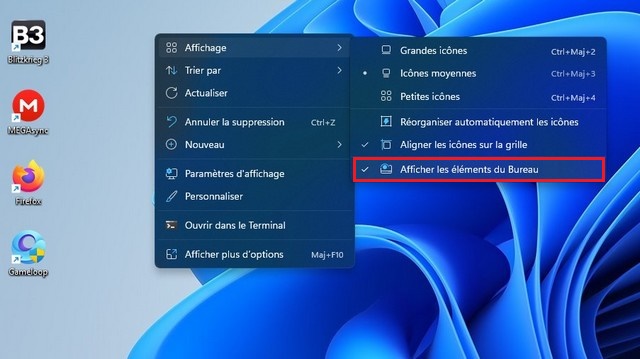 If you are using Windows XP, the context menu option is Arrange icons by > Show desktop icons.
Immediately, all desktop icons including the Recycle Bin will disappear. Any new shortcuts or files added to the desktop will also be hidden.
How to Hide Specific Desktop Icons
There are several ways to hide desktop icons if you only want to hide some of them.
Hide the desktop trash
In Windows 11/10, open Settings ( WIN + I ), then navigate to Personalization > Themes > Desktop icon settings. In older versions of Windows, right-click on the desktop and navigate to Personalize > Change desktop icons.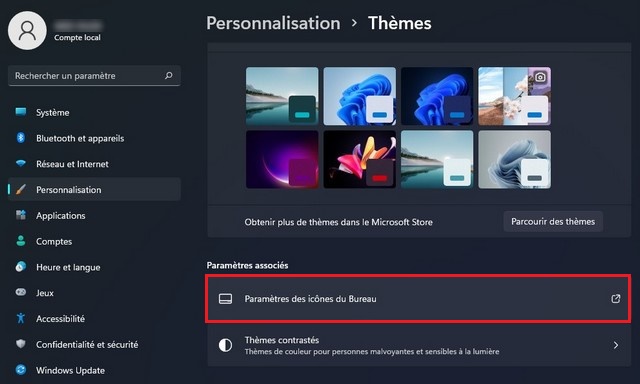 Uncheck the box next to Basket and any other system icons you want to hide, then select OK.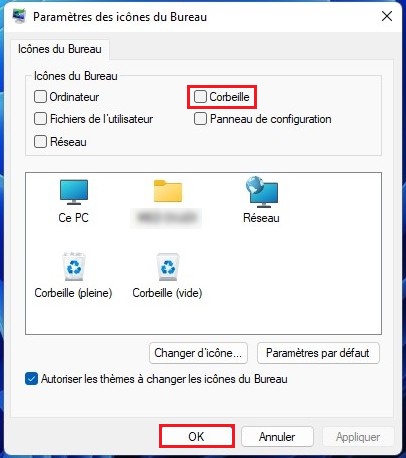 Note : Hiding the Trash does not disable it. It's still fully usable, so things you send to it will stay there until it's emptied, and you can always open it from File Explorer to restore deleted files (more details here). below). It just won't be accessible directly from the desktop.
Hide files/icons with hidden file attribute
Using the hidden file attribute is a trick to hide files and other items from any folder, including the desktop.
1. Right-click on the file, shortcut or folder you want to hide.
2. Select Properties in the menu.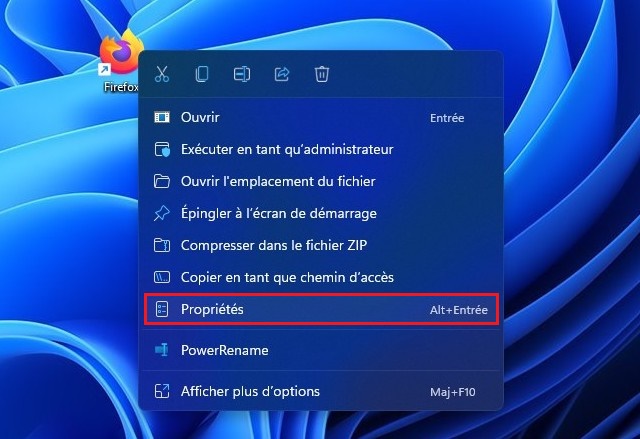 3. Choose tab General if not already selected, then select Hidden in the section Attributes downstairs.
4. Select Apply to see the file disappear. If it is a folder, you must also select OK in the confirmation box.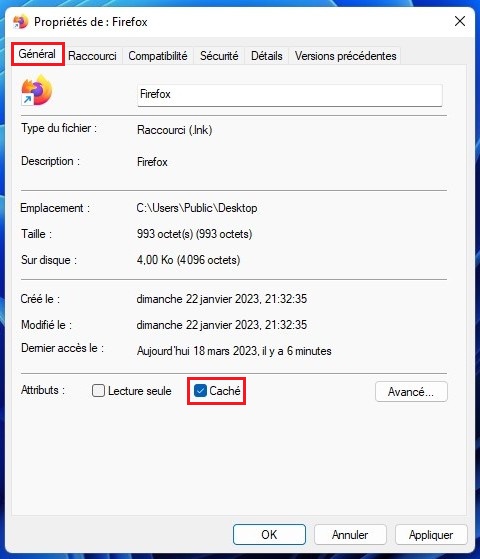 Create an invisible desktop folder
Do you have a lot of files or icons that you want to hide? You can put everything in a hidden folder that is on the desktop. Unlike the method above, you can create a single hidden desktop folder, but you can place others folders, and anything you add to them will be automatically hidden.
To do this, change the folder icon and type special characters in the filename box to make it all invisible:
1. Create a new folder on the desktop if one doesn't already exist and move everything you want to hide there. You can also add files and icons to it later, but it'll be easier to do that now while it's still visible.
2. Change the folder icon. When choosing a folder, scroll right until you find one that is empty.
3. Rename the folder, but type Alt + 255 as file name. This is the only way to hide the folder name, because deleting the name or adding a blank space is not allowed.
The fastest way to open the rename option is to click once on the folder with the left mouse button and select the key F2. After typing the keyboard shortcut alt, press Entrance or click elsewhere on the desktop to save it.
How to show hidden desktop items
We've explained different methods to hide desktop items, but what if you want to show said files and shortcuts without undoing the steps above? There are several ways to do this, depending on which method you used.
If you hid all desktop items at once, open File Explorer and change the path to Desk (type Alt + D to change the path). This will show you everything that was previously visible on the desktop. The exception is the Recycle Bin; change the path to say Basket to see him.
If you've used the hidden attribute on a file or folder, use our How to Show or Hide Hidden Files and Folders guide to learn how to make those items visible again. When showing hidden files/folders, they appear a bit darker than non-hidden items.
A hidden desktop folder is easy to locate if you highlight everything on the desktop with CTRL + AT. You can also open File Explorer in the desktop folder to see it listed alongside everything else on the desktop.
---
FAQs
How to change the background in Windows?
The fastest way to change the wallpaper in Windows is to right-click Desktop > Personalize > Background. Then you can select the images included with Windows.
How to take a screenshot?
There is a key on your keyboard labeled PrtSc. Press this key to take a screenshot of the entire screen and place it in the clipboard, ready to be pasted into another application. If you hold down Win pressed, your PC will take an entire screenshot and save it to the folder Screenshot In Pictures. We go into more detail in our article how to take a screenshot in Windows 11.