On some occasions you will need flip or rotate a picture on Android. If so, then you have come to the right place as we are going to teach you step by step everything you need to know to be able to rotate photo on Android. It is too quick and too easy a process.
Flip or rotate a photo on Android
The first thing we'll do is download Snapseed from the Play Store. It is an application that will allow us to edit photos with many options available. And one of these options is precisely the ability to rotate the photographs.
Once the application is installed on our device, we need to open it and press the "+" sign that appears in the center of the screen.
The first time we use the app, it will ask us for permissions to be able to access media on our device. We will have to click "Allow" for this to work.

Now touch the "+" sign again and we can choose the image we want to flip. Once the photo is selected, we will have to click on "Tools" or "Tools".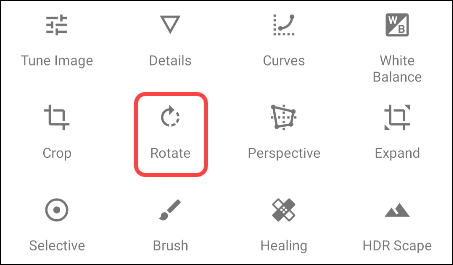 A large number of tools will appear to edit the photo. However, the only one that interests us is the one that says "Brokenr "or" Rotation ".
Once we click on this option, we will see the image we select. Here, we will have to press the flip button which is in the lower bar, on the left. With this option we can rotate the photo horizontally.
On the other hand, if we want to do it vertically, we will have to press on the icon that is in the bottom bar, but on the right side.
If we want to save the image, we will simply have to click on the check mark in the lower right corner of the screen. Now we will have to click on "Export" and we will have several options to save the photo.
Selecting Save creates a copy of the original image. When we use the export, it is precisely to have additional options after registration. In case we choose Export As, this allows us to save the copy to another folder. The last option would be "Share" to share in an app.
Although, as you can see, it is extremely easy to learn how to flip or rotate a picture on Android. In seconds, you can do it with any photos you want.
Share this with your friends!