Activate the authentication of two factors at Discord or any application that allows it, it is essential to improve the security of our accounts. Fortunately, most apps that handle sensitive data allow us to turn on two-step verification to protect our accounts.
Enable Discord two-step verification
The great thing about enabling two-factor authentication on Discord is that the only one who will be able to log into your account is you. No one else will be able to access it and best of all, enabling this option is a considerably quick and easy process.
The first thing we are going to do is open Discord and then we will have to click on the "Settings" icon which would be the one at the bottom left of the screen, the one in the shape of a gear.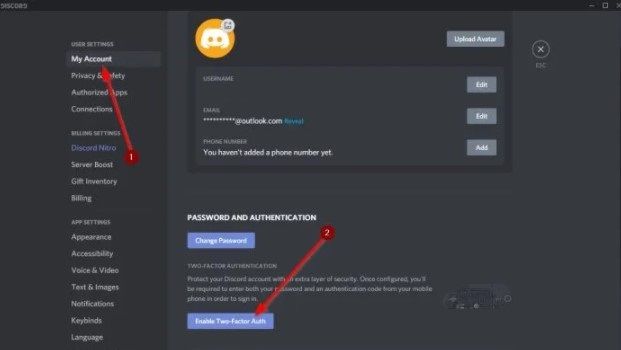 This brings us to a new screen with lots of options. We're interested in the one that says "My Account" and that we can find at the start of the left sidebar. In this section we will find different options like changing password, email, username, etc.
But most importantly, it allows us to enable two-step verification. This option is at the bottom of this section, just click on the button in question.
Once we click on the "Enable two-factor authentication" button, we will have to type in the Discord password and press "Enter".
Before proceeding, you must download the Authy or Authenticator app on your Android or iOS mobile device. Once one of these apps is downloaded, it doesn't have to be both. You need to open it on your device to scan the QR code you'll see in Discord.
The app will give you some code that you need to write at the bottom of the window which we can see in Discord. Then we will simply click on the "Activate" button located to the right of this box. This way, no one will be able to log into your Discord account, even if they know your password.
Add a phone as a verification method
You might lose the authenticator app, restart the phone, or uninstall the app by mistake. Then we can add our phone to Discord to authenticate our identity with it.
After activating the security function, we will need to click on "Add phone number" in the pop-up window. This way we can add an extra layer of security to our account.
Leaving aside two-factor authentication. It would be better to use a strong password to avoid any kind of security issue.
Share this with your friends!