Facebook offers software and SMS dual authentication to more effectively secure your account. Protecting your cyber identity in this way can prevent hacks which are unfortunately common on the social network. We explain how to activate it in a few steps.
Two-factor authentication, also known as two-factor identification or 2FA, increases the level of security of your Facebook account. The app adds an extra layer of authentication on top of your password. While it is relatively easy for hackers to hack a password, they do not control the second authentication factor, which consists of entering a connection code received on your smartphone via SMS or via an authenticator application.
This makes it possible to generate a different code for each connection, which makes hacking almost impossible. To learn all about double-factor authentication, we advise you to read our special 2FA file.
Double authentication to protect your Facebook account
To enable double-factor authentication on Facebook, it's simple. Follow the instructions below. If you are on a PC:
Go to facebook.com and login
Click on the little down arrow at the top, far right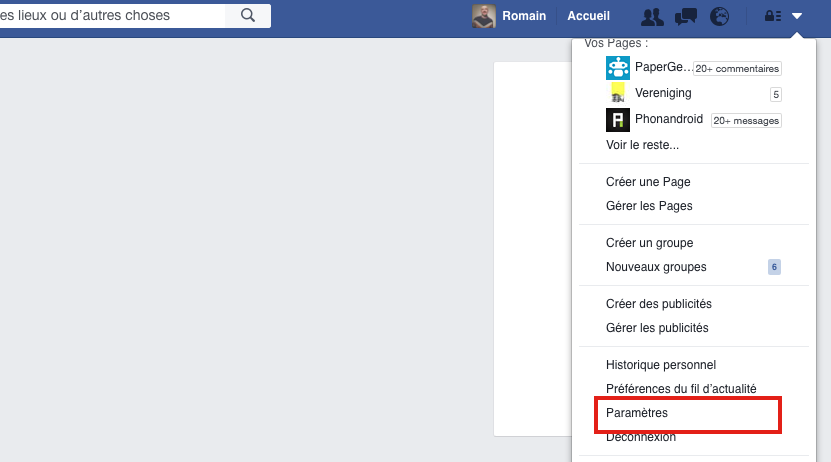 Click on Settings and privacy> Settings
Go to Security and connection in the left bar
Under section Double factor authentication, click on the first modify button on the right
Enter your account password
On the next page, choose your authentication method to enable it. You have the choice between: use an authentication application (Google Authentificator or Duo, etc.), use a code by SMS or a physical security key.
Facebook recommends the first method. But be careful, when you lose your smartphone, you can no longer access the account unless you initiate a recovery process which is not always easy.
Choose your method and follow the on-screen instructions to enable two-factor authentication.
Activate two-factor authentication on the Facebook app (smartphone)
If you're on Android, iOS, or iPad OS, enabling two-factor authentication is done in a similar way. However, the paths are different:
Connect to Facebook from the mobile app
Press the three vertical lines at the top right to access the menu
Go to Settings and privacy> Settings
Under the Security section, tap Security and Connection
Scroll down to the section Two-factor authentication
Choose option Use two-factor authentication
Choose an authentication method and then follow the instructions to activate it.
As explained above, you have the choice of using an authenticator app, SMS texting, or a physical security key. The second method is the easiest. You receive a verification code by SMS to enter when logging in. But this option is less secure than using an authenticator app like Google Authentificator.
If your smartphone is lost, it will be difficult for you to access the account. If you plan to change your smartphone, take care to activate the authentication application on the new smartphone before getting rid of the old one. Or turn off two-factor authentication on the old device before you sell or dispose of it.
How to log in to Facebook with two-factor authentication
Go to Facebook and login normally with your usual password
You will be asked for a second code in the next step, use the one given by the code generator or received by SMS.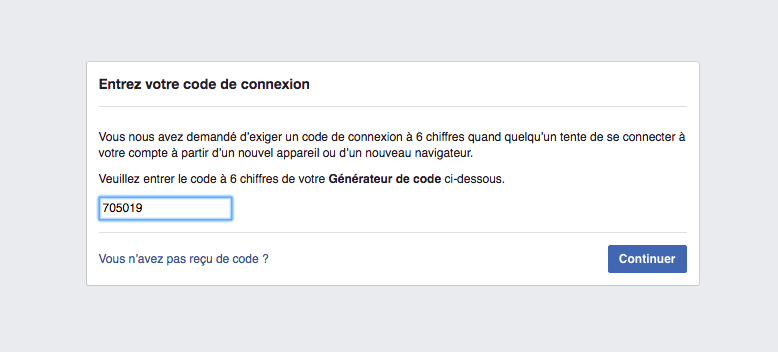 Facebook will ask you in the next step whether or not you want to register the browser.
Facebook will only ask you for the second code if it doesn't recognize the browser you're trying to log in to. As a general rule, therefore, at home, two-factor authentication will not change your habits. When you are with friends or on a public computer, remember not to save the browser in question when Facebook asks you to do so.
As you can see, two-factor authentication is not a forbidding measure that will ultimately make your life harder. On the contrary ! You can now use Facebook with peace of mind. For more security, we advise you not to neglect the security of your usual password. This is indeed your last defense against piracy if you have accidentally registered an unwanted browser!