It is essential that we know how to enable or enable recycle bin on Chrome OS. There are many times when we may delete files by mistake or thinking that we may no longer need them. The problem is that without trash, we will not have the possibility of recovering them.
The features of Chrome OS keep growing and one of the most useful is the trash. Just having one is very important. This may not happen to you often. But if you accidentally delete some work that took you several hours or maybe some important study material. Surely you wouldn't like to face the consequences.
With a recycle bin, recovering accidentally deleted files is as easy as going in and restoring them to their original location. Therefore, it is important that you know how to enable or enable recycle bin in Chrome OS.
Enable or enable recycle bin in Chrome OS
The first thing to keep in mind is that you need to have Chrome OS version 89 or later before proceeding. From this version, the recycle bin is available in the stable version. So it is much easier to activate it.
You will now have to open Chrome and write in the address bar "Chrome: // flags" without the quotes. Then press "Enter". Then you will need to search for "Recycle Bin" or "Recycle Bin", this can be done from the same search engine which is at the top of the screen.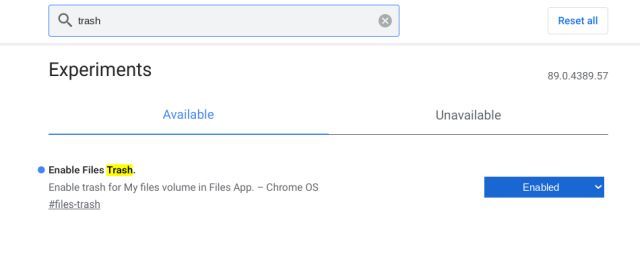 We will click on the drop-down menu on the right and we will choose the option "Activate" or "Activate". A pop-up window will appear asking us to restart. We just click on this window and Chrome OS will restart. Therefore, if you have something to save, it would be best to do so before restarting to save all changes.
After restarting Chrome OS, in the "Files" application, you will notice that the recycle bin has appeared. Whenever you delete an item from the system, it goes directly to it. From there we can restore them or delete them permanently.
In case you don't want to have the trash, we will have to repeat the above mentioned steps. Only instead of choosing "Enable", we're going to select "Disable".
Share this with your friends!