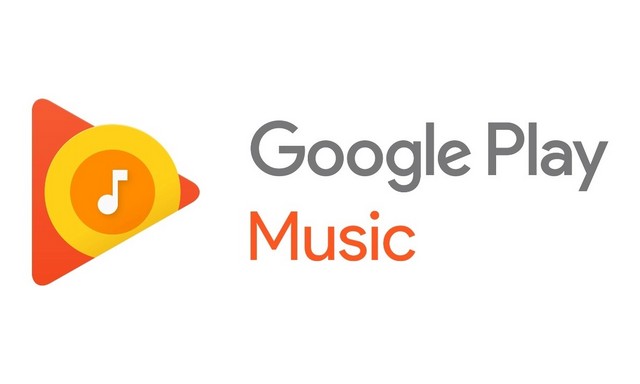 Google is killing the Google Play Music streaming service, so you might want to migrate to another location. However, many people have purchased music from Google Play and probably want to take their music with them. Don't worry, it's actually not that hard to do. If you don't own any music, you can transfer everything else directly to YouTube Music and continue using it there. Here's how to download music from Google Play Music so you can take it with you if you decide to leave.
How to Download Music from Google Play with PC/Mac
Downloading music to your PC is the best, easiest and fastest method. There are actually three methods, the slow and painful method, the faster and better method, and the manual method. All three are still working as of this writing, though that may change as the service moves ever closer to retirement.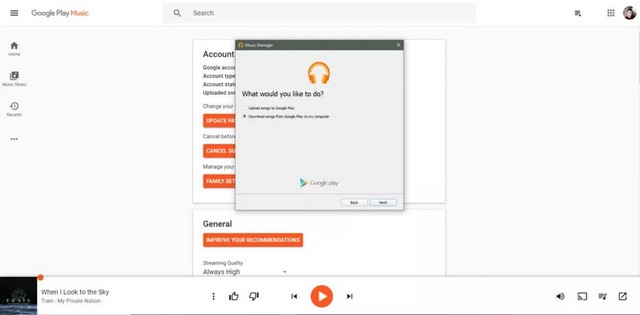 The slow and painful method
Click here to access the Google Play Music Manager page. Download and install the app as you would any other app.
Open the app and click the Download tab at the top of the window.
Select the option to upload your library. We recommend the option with the highest number (usually Download my library) because it contains all the songs you have purchased or downloaded.
It will ask you for a download location. You can choose iTunes, your computer's music folder, or a folder of your choice. We recommend a folder of your choice so you can sort your music later. Click on the button Start download to begin.
Start watching the full extended editions of The Lord of the Rings movies as the download is going to be very slow.
Remark : This method does not actually stop. If you stop it and resume it, it will restart about half the time, re-downloading the songs you've already downloaded.
Kidding aside, this is actually not a terrible method if you don't have a lot of music, but it quickly gets worse and worse the bigger your collection gets. This is the only method that doesn't require a specific browser and the only time we recommend it is if you can't or don't want to download and use Google Chrome.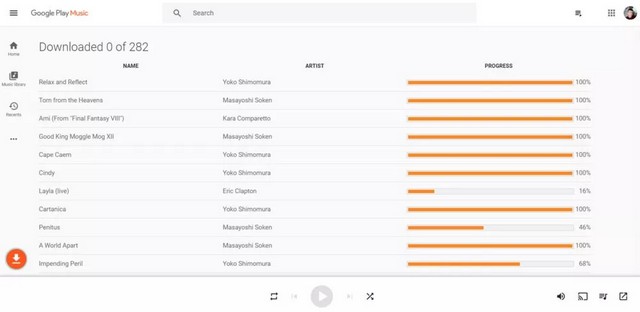 The fastest and best method (recommended for everyone)
Remark : This method requires you to use the Google Chrome browser. It works on Chromium-based Microsoft Edge if you enable the ability to install Chrome extensions.
Click on the 3 line menu in the upper left corner of the window. Select option Settings.
Scroll down until you find the section Music from this computer. Push the button Add your music and follow the instructions. We recommend pointing it to a folder with no music since you're here to upload your music, not add more.
Remark : You must also download a Google Play Music extension for the appropriate sections to appear if you haven't already installed it.
After that, two new sections should appear in the settings. The first is the download folder. Set it to the folder where you want your downloaded music to go. The second is Download your library. Click on it to download your library.
In the lower left corner, an orange arrow icon will appear, tap it to view the download progress in your browser.
This method downloads music much faster than the previous method by a large margin and it's also quite easy to do. Plus, you don't need to download and install a horrible app to get the job done because it's all in the browser. Use this one, trust us.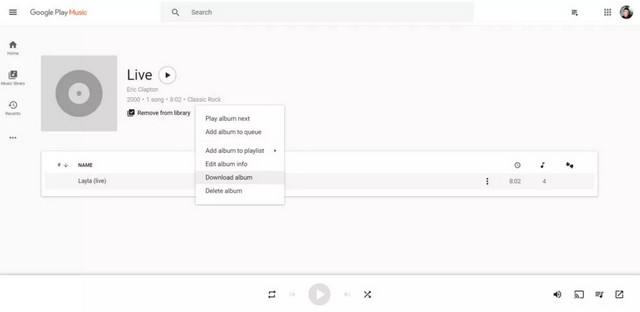 The manual method
Remark : This method requires you to use the Google Chrome browser. It works on Chromium-based Microsoft Edge if you enable the ability to install Chrome extensions.
Access any song or album you own in Google Play Music. This can be music you purchased or music you downloaded.
Press the button of 3 dot menu on the album or individual songs and select the option To download.
An orange and white arrow icon will appear in the lower left corner of the window. Click on it to see the download progress.
This is actually just a manual, more granular version of the fastest and best method. You can just select the songs you want. However, unless your download failed and you need to retrieve a specific album or song that other download methods missed, you shouldn't need this one at all.
Download Music from Google Play with Android and iOS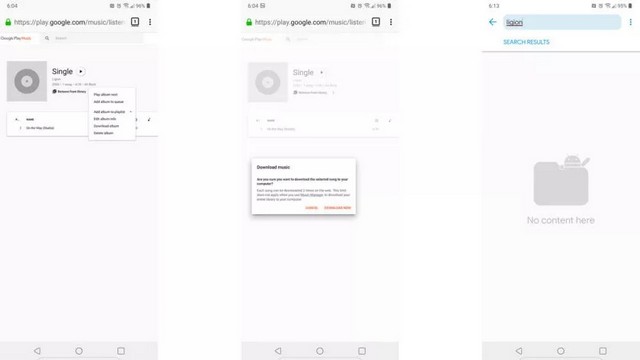 Unfortunately, the official Google Play Music app does not provide a method to download your library to your mobile devices at this time. We looked in the app settings on both platforms and there are no options to upload your library. You can only set playlists to download for offline listening, and unfortunately that's not the same as downloading your own collection for backup purposes.
We tried a few methods to circumvent this, including using a browser in desktop mode and trying to trick Google Play Music into letting us download something. We figured out how to access the option Download Album (using Firefox), but we never got the site to send us files because we couldn't install the appropriate extension. If that changes, we'll let you know, but at this time it's not possible to download your music for the purpose of backing up your library to your phone.
How to Download Music with Chrome OS
You can actually download your library with Chrome OS and it's the same process as with Windows and Mac. Since Chrome OS comes with the default Chrome browser, we strongly recommend the easiest method. fastest and best or the manual method described above. Additionally, we recommend using an SD card or external hard drive to store music since many Chromebooks don't come with a ton of storage.
Conclusion
If we missed anything, sound off in the comments. We don't know how Google intends to handle your purchased music once it retires the Google Play Music service, but we imagine you can still buy stuff and download it afterwards, because it's of a separate streaming service.
If you have any questions or suggestions, let us know in the comments. Also check this guide if you want to learn how to create a Playlist on Google Play Music.